Members' Show – 8th–10th November 2013

Visitors' Choice Award
Donna Chamberlain
Snowy Sheet - Watercolour

John Godden Award - Members' Choice
Geoff Bennett
Lawn & Fields - Acrylic
This year we had the opportunity to celebrate the centenary of Alfred Russell Wallace who was educated at Hertford Grammar School. Members responded with a display of excellent work reflecting his great pioneering gift to mankind of knowledge of the magnificent natural world around us. Best Wallace picture was chosen by the Curator of Hertford Museum and awarded to Janet Benge for 'The Wallace Line'.

May Bennett Award
George Garbutt
English Delight - Acrylic

Alfred Wallace Prize
Janet Benge
The Wallace Line - Mixed Media
In all 130 framed pictures were submitted and hung, more than in any of the previous 5 years. George Garbutt's 'English Delight' was selected by the Mayor of Hertford for the May Bennett prize. The visitors' choice was' Snowy Sheep' by Donna Chamberlain (no relation to the illustrious Trevor) and the Members chose 'Lawn and Fields' by Geoff Bennett. This year three selections were made for the Most Intriguing Work – Celia Sanders 'The Herb Seller', Stella Hunt 'Gone Fishing' and Caryl Beach 'Wallace 100'. As Celia is unable to make use of the award (creation of an artist's web site) this will be taken up by Stella Hunt.

Most Intriguing Work (Winner)
Celia Sanders
The Herb Seller - Pastel

Most Intriguing Work (Runnner-up)
Stella Hunt
Gone Fishing - Acrylic
The weather was kind for two of the three days, less so on the Saturday. The gallery was well attended by the public: 236 people voted for the Visitors' Choice and considerably more would have come through our doors. Eighteen pictures were sold, which is about the going rate for the Members Show, together with 127 cards. Financially we did a little better than break even, which is all we look for in the Members Show. The traditional Friday evening party went well with plenty of food and drink. So a good show, providing all Members an opportunity to exhibit their work.
Member's Show Awards
We are grateful to our Sponsors for the following Awards.
Each year the following prizes are awarded:
The John Godden Award for the best in Show chosen by the Members, donated by the Godden family.
The Visitors' Choice Award supported by Hertford's Art Shop, Hertfordshire Graphics.
The May Bennett Award for the best Still Life, donated by the Bennett family.
The Most Intriguing/Innovative Artwork - from 2010, the additional prize is a free website design & hosting for 1 year, donated by Mark Ely of SG7.biz.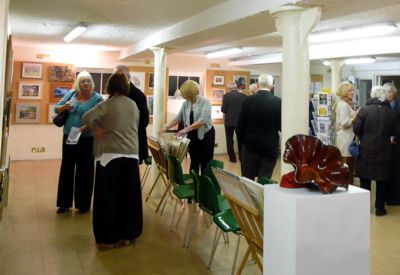 Members Show 14th Anniversary 2011