Review of the 17th Members' Exhibition - October 31st – November 2nd 2014
The 17th exhibition of members' work took place at The Millbridge Rooms, Hertford. Once again, the work was of an excellent standard, a fact commented on by a number of visitors, and we can be proud to showcase our work in this way.
This year we sold 8 paintings, 1 wall plaque and 1 3D figure plus 13 unframed works. This total of 21 works compares favourably with sales last year. Well done to those who gave their time to steward the exhibition. Card sales were good and my thanks go to all who managed the cards so well and to all those in the handing-in team, the hanging team and the handing-back team. The success of this exhibition is entirely due to willing volunteers who recognise that this is their own exhibition, showcasing, as it does, the work of the Hertford Art Society.

Peeled Orange
Best Still Life
by Lorenzo Rizzi - Oils

Waiting in the wings
Visitors' Choice Award
by Chris Baker - Pastel
Congratulations to our prizewinners:
May Bennett Prize (Best Still Life) - Lorenzo Rizzi for his oil painting 'Orange', a glowing little jewel of a painting.
Mark Ely Award (Most Intriguing Work) - Tony Freeland for his acrylic painting 'Squaring the Circle'. This almost monochrome study of men in hats gathered outside a café in bright sunshine has an odd sense of menace - are they planning something wicked or just discussing football?
Visitors' Choice Award - Chris Baker for his pastel artwork 'Waiting in the Wings'. A beautifully accomplished study of a ballerina, with a great sense of atmosphere.
John Godden Award (Members' Choice) - Marianne Handford for her acrylic painting 'Jandra's Pots'. Don't we all wish we could paint like this - a simple study of pots transformed into a harmonious and colourful composition with a fragmented surface which almost approaches abstraction.

Squaring the circle
Most Intriguing Work
by Tony Freeland - Acrylics

Jandra's Pots
Members' Choice
by Marianne Handford
There were many more artworks worthy of special note, but let me pick out a very few: Janet Benge's witty pencil drawing of a bus queue: Geoff Bennett's 'Autumn', a very successful print in which a farmer ploughs a lonely furrow in a field: Nigel Earle's ceramic wall plaque of Aldeburgh Fishing Hut, quite rightly snapped up at the beginning of the exhibition so we hope he makes more: and a delightfully humorous portrait of a cow, 'Cathy the Cow', by a new member, Georgia Smith.'
The Friday evening party was, as always, a most enjoyable occasion in which the members could meet socially and enjoy the exhibition and the food so kindly donated.
Congratulations to all who took part in the exhibition this year, whether you exhibited or volunteered or both. This exhibition is all about offering a platform to the Hertford Art Society members in which they can exhibit their work. For some it is the only exhibition they enter, for others it is only the first exhibition they enter, with many more to come. It is clear that the visitors love this show and we must make sure we attract even more visitors next year!
Member's Show Awards
We are grateful to our Sponsors for the following Awards.
Each year the following prizes are awarded:
The John Godden Award for the best in Show chosen by the Members, donated by the Godden family.
The Visitors' Choice Award supported by Hertford's Art Shop, Hertfordshire Graphics.
The May Bennett Award for the best Still Life, donated by the Bennett family.
The Most Intriguing/Innovative Artwork - from 2010, the additional prize is a free website design & hosting for 1 year, donated by Mark Ely of SG7.biz.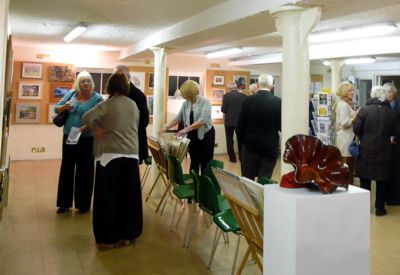 Members Show 14th Anniversary 2011