Hertford Art Society 19th Members' Show
Cowbridge Hall, Cowbridge, Hertford SG14 1PG
28th - 30th October 2016
Following the very successful and much admired launch of the Members' Show in its new venue at Cowbridge Hall last year, we are back there again this year. Once again we are previewing the show on the Thursday evening, 27th October from 6.00-8.30pm at our Friends of HAS evening, where artists, family, friends, fans and purchasers can meet over a glass of wine to view the show and perhaps make a purchase.
The members' show runs from 10.00am-6.00pm on Friday and Saturday, 28th and 29th October and from 10.00am-4.00pm on Sunday, 30th October. We invite you to drop in for tea or coffee and cake and to enjoy the artwork and the artists' greetings cards, all available for sale.
19th Members' Show poster, click here to download.
Review of Members' Show - 30th October - 1st November 2015
This year, for the first time, Hertford Art Society members held their annual show at their regular meeting place - Cowbridge Hall, Cowbrige, Hertford, SG12 1PG. In its new premises the Members' Show took on a whole new look – lots of light flooding in, room for double the number of pictures of previous shows, and a layout that beckoned you around each set of panels like a garden full of nooks and crannies. This larger venue meant that were able to exhibit more and larger artwork and 68 artists contributed 230 framed and 3D pieces as well as browsers full of unframed work and an exciting selection of greetings cards.
Strewards offered coffee, tea and cakes and the result was a totally relaxed and friendly show enjoyed by a good stream of visitors each day. If they didn't feel like buying a picture there was always a good selection of colourful cards to browse through.

Left: John Godden Award - Members' Choice - Dusk, Woolmer Green Pond by Andrew Clarkson - Oils; Right: May Bennett Award - Still Life with Fruit and Flowers by Maureen Batty - Mixed Media
| | |
| --- | --- |
| Awards were made to Andrew Clarkson for his 'Woolmer Green Pond at Dusk' (Members award); Maureen Batty for her 'Still Life with Fruit & Flowers' (Best Still Life); Marianne Dorn for her galloping horse: 'I fight the Demons' within' (Visitors Choice); and Fiona Pruden for her 'Forest of Love' (Most intriguing work). 'I fight with Demons' was also runner-up in the Most Intriguing work award and this image by Marianne Dorn and 'Forest of Love' by Fiona Pruden were lessons in the economy of brushwork that reinforces the 'less-is-more' mantra. Maureen Batty's 'Still Life with Fruit & Flowers' demonstrated the power of a good Ink Wash and Andrew Clarkson's Woolmer Green Pond breathed a gentle Summer's evening. | Visitors' Choice Award - I fight the Demons within by Marianne Dorn - Ink |

Most Intriguing Work - Forest of Love by Fiona Pruden - Watercolour
Among the other exhibits, the following really stood out:
- June Pickard's 'Circus Acrobat' was delightful – negative spaces emerging from the views between arms, legs and torso of the 3D model
- Amber Richards' two 'Fantasia' models deserved to be snapped up at the modest prices she was setting
- Ray Ward's watercolour of Hertford Basin was bought by Hertford Museum, no doubt to become part of the Museum's pictorial record of Hertford; a splendid accolade.
35 pictures were sold - 27 framed and 8 unframed together with many greetings cards - all of which were respresentations of Members' artwork or original images. This compares with last year's figures of 22 sold (8 framed and 13 unframed). So we did a lot better in the new premises. This successful Show was made possible by the efforts of many Members and thanks go to all who helped put up and take down the show, baked cakes, dispensed refreshments or acted as stewards.
Geoff Bennett
Member's Show Awards
We are grateful to our Sponsors for the following Awards.
Each year the following prizes are awarded:
The John Godden Award for the best in Show chosen by the Members, donated by the Godden family.
The Visitors' Choice Award supported by Hertford's Art Shop, Hertfordshire Graphics.
The May Bennett Award for the best Still Life, donated by the Bennett family.
The Most Intriguing/Innovative Artwork - from 2010, the additional prize is a free website design & hosting for 1 year, donated by Mark Ely of SG7.biz.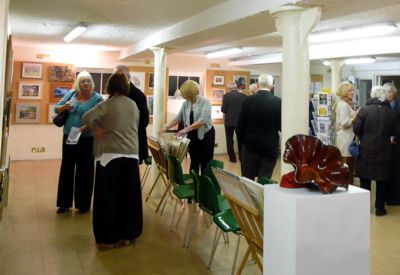 Members Show 14th Anniversary 2011