Online Life Workshop - 30th January 2021
One of our regular models, offered to undertake our January 2021 Life Workshop via Zoom from her home which made it possible to reinstate this Workshop. The model did an amazing job in structuring a very challenging and enjoyable workshop. These are comments from some of the Members who took part together with a selection of images of their work.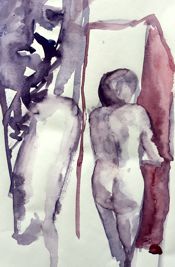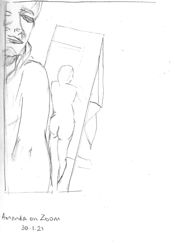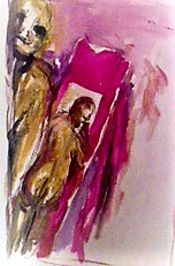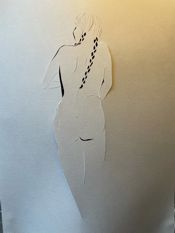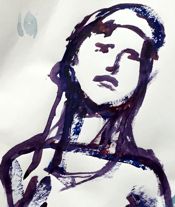 "An excellent model. She organized the session very efficiently with a great variety of poses. I would be very happy to have her again." Pat Mann
"I liked the Zoom session much better than I expected. The model is a natural, even on camera! I particularly liked the foreshortening effect of the model stretching towards the camera – the lens seems to elongate the near view. By & large everyone kept background noise to a minimum so I didn't feel the need to mute everyone, and it meant we got a bit of chat from time to time which was nice." Geoff Bennett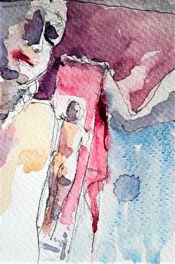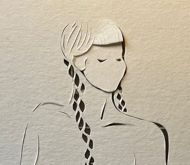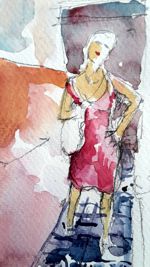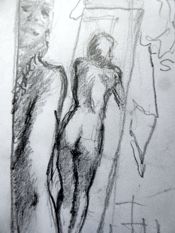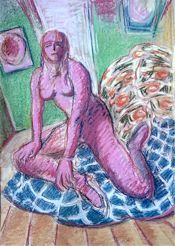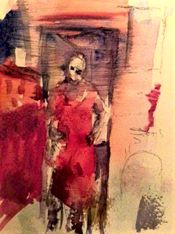 "I thought the session was very good and worked very well. A longer pose for painting would be appreciated in any future sessions. Jim Gooch

"I tried something new this time, I wanted to really slow myself down and push myself to focus on the form. Life is crazy for me at the moment with work and home schooling, etc, so the aim was to make myself 100% aware of the cuts I was making. I used my scalpel to sketch rather than drawing any of it in graphite first. It was fascinating to do and not something I've done before." Nicola Dobrowolski
"Enjoyed the session very much" Mikito Murata
"I haven't sketched for a long time, unsure what I would manage, particularly as the Zoom Life Workshop was a totally new experience. The model in her own home, created imaginative moves of various lengths of time. We were told when a position was to change, all in a professional manner. The decor was a treat too. I enjoyed the zoom session and look forward to the next one." Margo Ward
"Very enjoyable" Chris Baker
"I enjoyed the session though was too slow with the 5 min sketches but with practice, I hope to simplify the basic lines and hope to improve. It was a fun morning! On the mirror picture - Not quite sure if it is possible to make out what is happening here, but it was fun to try! Carol French
"She was terrific very imaginative with her poses." Ray Ward
"The model made brilliant use of various rooms in her home to conjure up imaginative poses for us. This was a great opportunity for us to respond to a life model within various interesting interior settings, and with the added personality of her own chosen backdrops." Marianne Dorn
From Reality to Abstract
Online Workshop with Nick Harrison Jones - 26th January 2021
Nick Harrison Jones studied Graphic Design and has won several awards for his paintings. In his work he focuses on a combination of observed architectural, landscape and abstract elements, based on drawing and technical experimentation.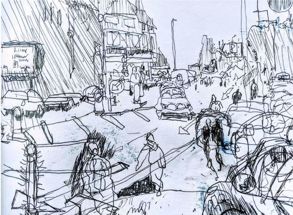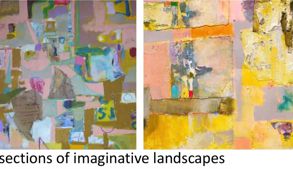 Work by the host, Nick Harrison Jones.
Nick conducted a workshop entitled 'From Reality to Abstract', aimed at getting us painting abstract pictures. It was Nick's first tutorial conducted via Zoom and it turned out remarkably well – below is a shot of 14 households, most displaying the fruits of the evening's endeavours, plus Nick front and centre.

Nick got us into the zone by asking us to imagine a beautiful park framed by a couple of foreground trees. We were given 10 minutes to capture the scene with a paint sketch. For the second version Nick asked us to walk through the park in our mind, picking up not just the sights but also the sounds, the smells, the textures. He asked us to think about linear shapes (distant buildings perhaps) and how we might also introduce circular shapes (the sun, a bouncing ball). We should think about how we might use the edges of the paper and about spaces in the composition. Nick suggested we paint on photocopied sheets to add further interest.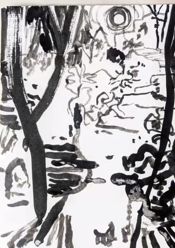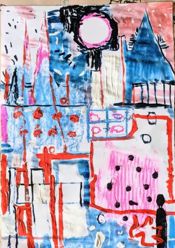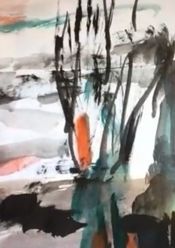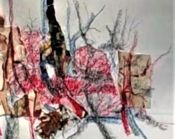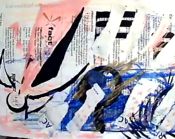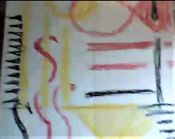 We were then invited to make a third painting, looser than the second, bringing together the above points to give a total experience of our imaginary walk.
The result was a rich array of wildly different abstracts and a thoroughly enjoyable evening.
January 2021 Critique
Each month Members are invited to submit a recent artwork to a Critique session with a professional artist, tutor or art critic. The January 2021 critique took place via Zoom and was hosted by Jean Noble RI SWA, a renowned abstract artist.
Children's Book Illustrations
On-line Talk by Michael Radley - 17th November 2020
In response to Lockdown Mk 2 the Art Society held its first ever on-line Winter Programme event on November 17th: a talk given by Michel Radley on Children's Book illustrations. He based it on material supplied by Annemarie Parker, who was originally scheduled to give the talk, but supplemented it with considerable additional research of his own.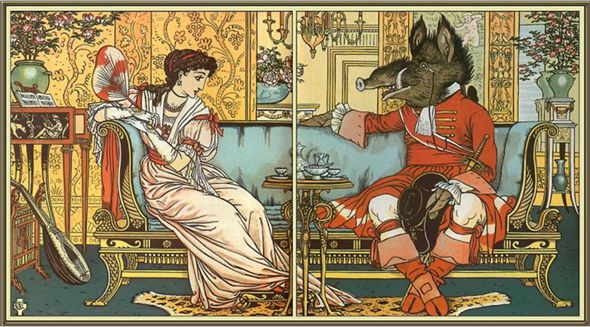 Beauty and the Beast by Walter Crane 1847
Michael gave us images of the very earliest illustrations aimed at children, austere woodcuts designed to educate the young without much consideration for their enjoyment. In the 19th Century the huge improvement in printing technology brought a range of attractive children's books with stories intended to entertain as well as educate. The move from black and white prints to increasingly opulent colour plates speeded this improvement.
Two artists in particular live on in awards made in their names to the very best of today's illustrators - Randolph Caldecote ('the father of the modern picture book') and Kate Greenaway.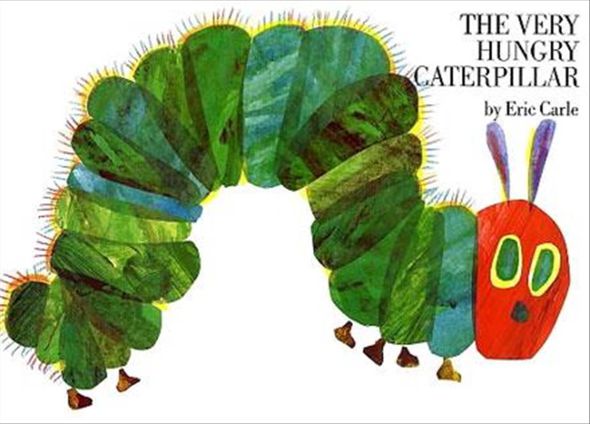 The Very Hungry Caterpillar by Eric Carle 1969
In the early 20th Century the Arts and Craft appears to have played a part in the design of the images and further encouraged original and imaginative illustrations to hold a child's interest. Writers and illustrators explored novel ways of integrating text and imagery; a highly successful example is the well-known 'The Very Hungry Caterpillar' by Eric Carle which at 50 million copies is the most successful children's book ever published. Interestingly the book that comes in second at 40 million copies is Peter Rabbit with its very dated water colours but a great story line. We also saw wonderfully collaged images by Chris Keeping Wisniewski among many others.
Michael's on-line talk was well put together, well received, and highly successful: Zoom provides the Society with a new channel to use in these times of lockdown.
'Preparation for a large scale commission'
Sculpture Demonstration by Rodney Munday
27th October 2020
Rodney Munday is a local artist who created the sculpture of Alfred Wallace and a bird of paradise adorning the outer west wall of Hertford Theatre. He is renowned for sculpting the human and animal form in an impressionist /expressionist style and works in clay or wax for casting in bronze or resin.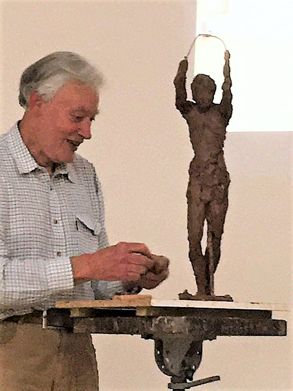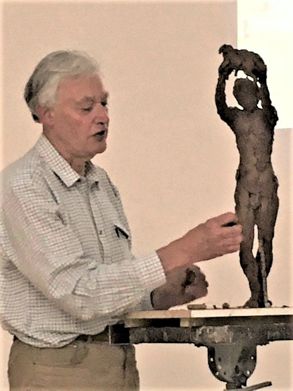 Rodney came and talked to us about a commission he is currently working on for two statues for the St John Baptist Church in Cirencester. As he talked he built up a maquette of one of the two statues, John the Baptist holding aloft a lamb - Rodney is a farmer as well as an artist - but equally, he suggested, the lamb could be seen as the Lamb of God. The clay Rodney uses is a red clay which for him gives more of a feeling for the bronze effect of the final product than the grey clay used by most sculptors. Rodney demonstrated how he can gently twist the emerging figure around its flexible armature to explore ways of creating the feeling of movement he strives to impart to all his work.
When he is happy with the maquette Rodney is able to discuss further his ideas with the commissioning committee, before starting work on the on the full sized figure. We were shown slides of how the finished clay figure is painted with several layers of a rubber solution that when set form a surrounding hard skin. The skin is then cut lengthways to form two mounds; the clay core is removed and a liquid bronze or resin poured into the moulds to form the two halves that will be combined to form the final sculpture. The mounds can be re-used, as was the case with a statue of St Edmond Rodney created for St Edmond's church in Abingdon, and subsequently re-cast for St Edmond's College in Cambridge and for St Edmond's School near Ware.
The St John figure will be 2.2 metres tall and occupy a shallow external niche halfway up the St John Church tower, several metres above the viewer. Rodney will make the upper half of the statue's body proportionately longer than natural to give people standing below the installed figure the impression of a fully proportioned work.
Rodney was warmly thanked for the talk and demonstration which provided an excellent illustration of what goes into the creation of a full scale work of sculptural art.
Workshop - An Evening of Heads
13th October 2020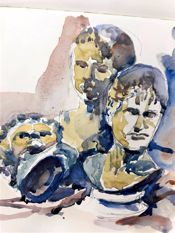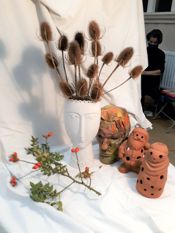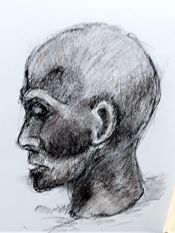 This proved to be a most enjoyable evening. Still life often presents the problem of how to make it interesting and challenging. An assortment of borrowed stone heads from a rather grand garden did the trick together with a few hips, berries and teasels for good measure. Many Members brought further varied and interesting heads and indeed there was almost one each.
The still life groups were set up beautifully with proper lighting etc. and the colourful display of artworks below illustrates a wide range of media and technique.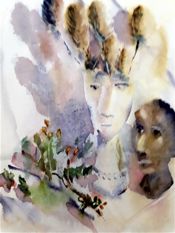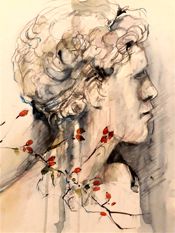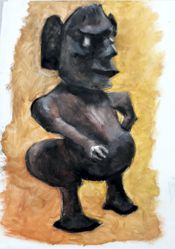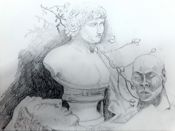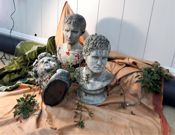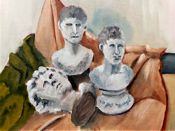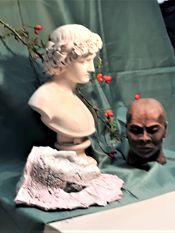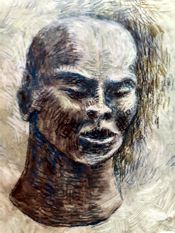 Pastel Demonstration by John Tookey
22nd September 2020
East Anglian artist John Tookey resides in the picturesque market town of Saffron Walden, Essex. John trained in Graphic Design and Fine Art at the Sir John Cass School of Art in London during the Sixties. He is justly famous for his dynamic, bold watercolours and pastels that sparkle with light. He has exhibited work with many prestigious galleries, is an author and tutor and a Member of the Pastel Society. John works in all mediums and trys to capture the essence of the subject rather than a very topographical likeness. He will frequently work on-site or from sketches completed at the scene, the effects of light and atmosphere on a subject particularly interest him.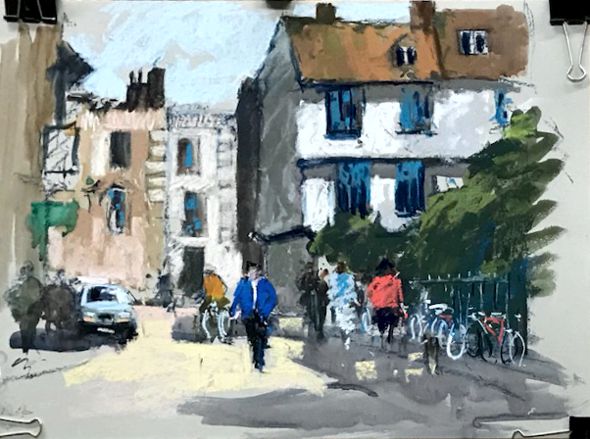 30 HAS members filed into our Cowbridge Hall that was well prepared with CV19 restrictions; it looked like an exam room as the chairs were placed at the required distances. It was good to see familiar faces - partially - as we were all "masked up" as necessary.
John started by informing us about the "Mount Board" he uses that suits this medium, because it doesn't cockle when a water-based paint is applied. He used a grey board as a good neutral base for the picture he was going to demonstrate - "A Street Scene in Cambridge" which he frequents with his sketch book as it is vital to have a sketch from which to produce a picture. He advised that even if we plan to paint from a photograph it would be a good idea to make a sketch of the photo first.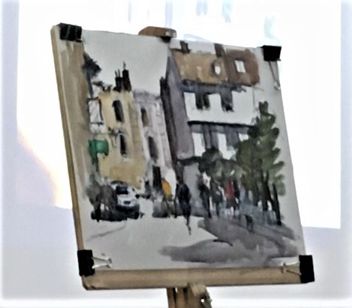 The pastels he had were the softer quality as, in his view, the harder ones are not worth buying. "Choose the softest that you can afford", he suggested. Always make notes of the colours as you sketch for future reference. He attached his sketch to the edge of the mount board and started to draw the outline of the street scene with a thin dark pastel; he said one could use a pencil or charcoal for this too. He went back and forth from the board to check that this outline was correctly proportioned.
Surprisingly he then went on to use water colour as a base for this pastel picture saying that it somehow gave a better base to his picture. Using large brushes he roughly painted in the darker bits of his picture eg: deep reddish colour for the roof / dark brown for the windows / yellow core for another stone building / lighter brown for the side of one of the other buildings / dark green for the bushes on the side etc. He added shadows where required as it was important to assess where the light was coming from. The first photograph of his painting shows his picture at the water colour stage. He kept going back and forth making sure that all the darker bits of the pictures were addressed rather roughly but properly and then dried it all with a hair dryer.
The next stage was to add colour with the pastels starting with the roof outline edges and then white walls of the building and so on till the windows and chimneys were all coming to life so to speak. To give contrast he added lighter shades of green to the bushes and touches of white for railings and bicycles leaning on them as they do in Cambridge. He filled in the car and people along the street in a very rough and suggestive manner with not a single detail outline as such and yet it all looked remarkably full of life at the end of this session. He used colour on the people in order to pick up on the main centre of interest - he dotted and dashed additional colours that brought the painting to life as we sat watching in wonder of his skill.
John ended by saying he did "Suggestive Pictures" with not too much detail of outlines etc and I would add an adjective to that by saying his picture was a "Wonderfully Suggestive Picture" as you can see from the second picture attached to this write up.
John was warmly thanked for sharing his expertise with us. This demonstration was accomplished and exciting and many of us will feel inspired to try and create a pastel painting using his method.
Winter Programme 2020 - 2021
From September each year Society Members and visitors enjoy a Programme of talks, critiques, demonstrations and workshops.
The Society plans to start the Winter Programme from 8th September 2020 subject to a number of social distancing and precautionary measures in accordance with Government regulations. Chairs will be set out 1.5m apart and we will expect attendees to wear masks, make full use of sanitizers and avoid grouping. More precise guidelines will be published on our website and sent to Members nearer to the start date.
These sessions are on Tuesday evenings from 7.30pm to 9.30pm at Cowbridge Hall, Cowbridge, Hertford SG14 1PG. Approximately half the evenings in the Winter Programme are for Members to paint or draw either from still life arrangements or a life model. The remaining evenings are taken up with talks, critiques of paintings brought along by Members, demonstrations from a professional artist or workshops. The Programme for 2020 - 2021 may be subject to change at short notice, due to the current circumstances.
Visitors are welcome to enjoy the non-practical evenings (marked with an asterisk).
It is also hoped to restart our monthly Saturday Life Classes commencing 26th September 2020 and to hold a Members Show at the end of October (29th October - 1st November), subject to precautions and the prevailing situation.
Saturday Life Workshops
WHY LIFE DRAWING AND PAINTING? – Some may say it is old fashioned, but practising Life Drawing enhances observation and accuracy. Interpreting the shape of the human body trains the artist to see almost every curve line and subtle undulation found in nature. The satisfaction of producing an acceptable image can be quite intense. It does not happen immediately and demands a great deal of practice to achieve.
Hertford Art Society runs Life Workshops in Cowbridge Halls, Hertford, SG14 1PG on the last Saturday of 9 months during the year. Although these are primarily run for Members we welcome enthusiastic visitors at £17.00 per session (£9.00 per half day), this includes coffee, tea and biscuits, available all day. The sessions are untutored and last from 10.00am – 4.00pm with a break of 1hr at lunchtime. We work in in all mediums including prep work for sculpture. Bring whatever medium and equipment you require with you. The photographs below illustrate the exciting variety of work produced by the artists.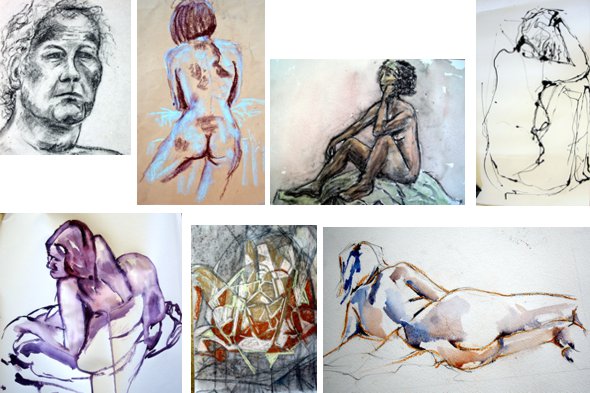 There are many different approaches to life drawing which become very obvious during the sessions. We are a very enthusiastic group artists and in a relaxed atmosphere we learn from each other different skills and methods of working, as well as experimenting with different mediums etc. There are normally 2 models unless the group is small, when there is only one. We do not have a set programme of poses, but usually include short poses, mostly in the morning and longer poses for artists who wish to produce a more finished piece of work. So why not join us if you haven't already.
Workshops take place on the last Saturday of the month for nine months of the year. They do not take place in April, August and December due to the annual Open Exhibition and holiday periods.
Life Models Workshops within HAS Winter Programme for 2020 - 2021
Saturday - 26th September 2020
Saturday - 24th October 2020
Cancelled - Saturday - 28th November 2020
Saturday - 30th January 2021 (10am - 1pm) Available to Members via Zoom.
Saturday - 27th February 2021 (10am - 1pm)
Saturday - 27th March 2021 (10am - 1pm)
Saturday - 29th May 2021
Saturday - 26th June 2021
Saturday - 31st July 2021
If you are interested please contact workshops@hertfordartsociety.co.uk for further details.
Summer Programme 2020 - Cancelled
Following Government Guidelines (Issued on 22nd May 2020 which state that all public gatherings are prohibited by law, the Hertford Art Society Summer Programme 2020 has been cancelled.
To see Guidance, click here for more details
Should the Guidelines alter, it may be possible to reinstate events later in the Summer at which time a revised programme will be published.
The Society's Winter programme of Talks, Demonstrations and Workshops is scheduled to begin on Tuesday 8th September 2020 at Cowbridge Halls, Cowbridge, Hertford and it is hoped that it will be possible for this to commence from this date.
Please refer to this website www.hertfordartsociety.co.uk for updates.
28th May 2020
Demonstration by David Hyde - Landscape in loose watercolours
10th March 2020
David Hyde lives and works in St. Ives, Cambridgeshire. He has exhibited widely, demonstrated at national art shows and runs and teaches watercolour painting. For David to choose to do a demonstration in loose watercolour was exceedingly brave. Not least is the issue of drying but also the fact that David was working with his board upright on the easel. Normally he would work on a shallow slant. He opted for a snowy landscape of a bridge, river, trees, reeds and a couple of small figures. The photograph had been taken somewhere in Cambridgeshire and David had already stretched the paper and lightly drawn in the view. He used Bockingford watercolour paper which is his normal choice for demonstrations, Arches being his preference for commissions etc.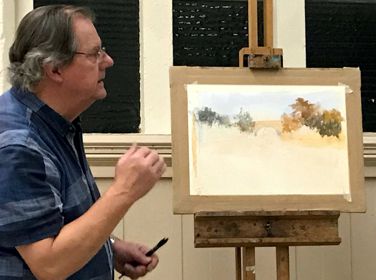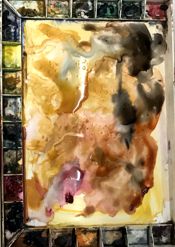 David had already drawn out the composition and talked at some length about it. He had changed it somewhat to suit his plan, less sky, more foreground and more trees. "There needs to be a focal point with lines and angles to draw in the eye", he said. He used a fairly limited palette of blues, yellows and browns. Amongst these were burnt sienna, yellow ochre, a strong blue which could be phthalo or cobalt, cadmium orange, burnt umber and a squeeze of alizarin.
He began by wetting the sky area, brushing on some blue and yellow glazes and progressing by building up layers. "Whilst it is wet you can do anything with it. Once dry you can do nothing."
It was surprising that, bearing in mind it was to be a snowy picture, he pretty much covered the whole paper in colour. He continued building up the painting, sometimes using his fingers and not always being particularly gentle with his brushes, commenting, "It looks rubbish at the moment." "It does get odd at times." He added darker tones to the trees and river as the painting moved along and cadmium orange into the reeds.
As he approached the final stages he talked about putting in the detail when you need to be a tad more careful with your brush marks. "Paint above your brush, turning your paper if needs be", was his advice.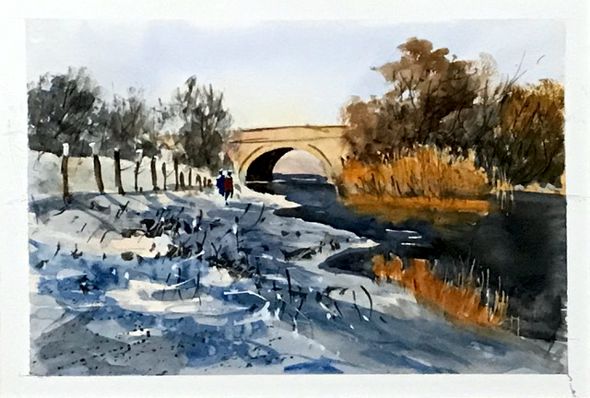 Finally he added some white gouache for highlighting the snow and mixed a little with some cadmium orange to put some detail into the reeds. The last and my favourite quote - "The success of the white is in its frugality."
In less than two hours David had produced a wonderful painting. We all learned a great deal and his relaxed, chatty and friendly demeanour made the occasion all the more enjoyable for us.
Summer Sketching Evenings 2019
The 2019 Summer Evening Open-Air Sketching Programme opened on 21st May with a visit to an indoor venue. Hertford Art Society Members were invited once again to sketch at one of the Hertford Choral Society's rehearsal evenings. This was an evening full of music and movement and was greatly enjoyed.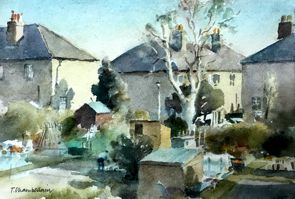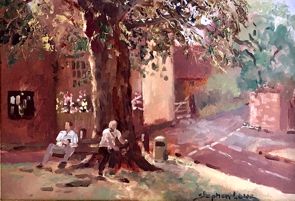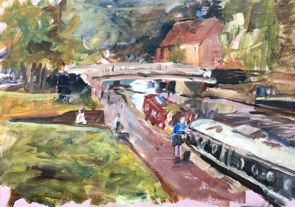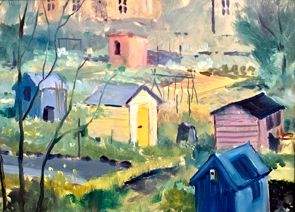 The following week saw us enjoying the bright evening sunshine on Hartham Common and the Folly Allotments. This particular evening turned out to be probably the best evening weather of the Programme.
Painting the villages of Bayford and Brickendon on 4th May was disappointingly cloudy, and the following week was no better at Sawbridgeworth Maltings with only 4 Members attending. However, the painting weekend at Aldeburgh on 7th to 9th June was enjoyed by about 19 Members.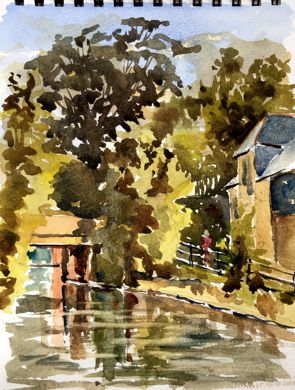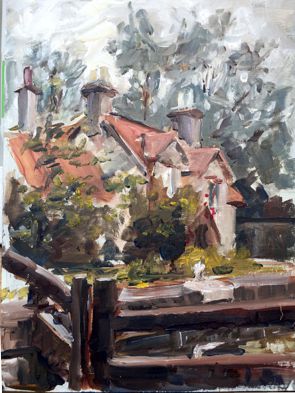 Rainy weather on the two following Tuesday evenings was disappointing. July improved with a sunny evening at Standon and a well-attended evening at Hertford Lock, despite a dull evening.
Stanstead Abbots on the 16th July was more as a summer evening should be. After another sunny evening at Westmill Village it was back to a dull, cold evening at Stanborough Lakes on the 30th. On 6th August a handful of members painted Ware Town and the Programme concluded with a very enjoyable meal out for the hardy artists.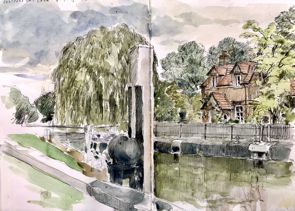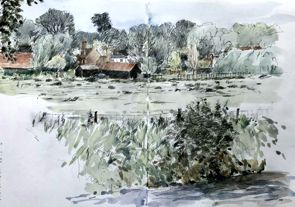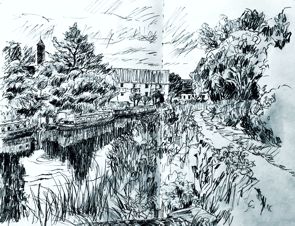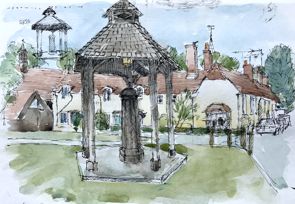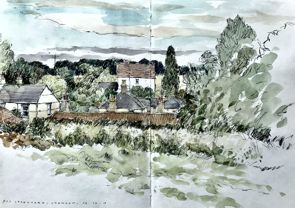 Advance Notice
During our Summer Sketching Programme next year, the Quakers are very keen to have us paint/sketch in the Friends Meeting House in Hertford as part of the celebrations to commemorate the construction of the building 350 years ago. One session would be on a Thursday evening and one all-day Saturday. Dates to be advised.