61st Annual Open Exhibition 5th May to 18th May 2013
Information: 07951 621532
Sunday 5th May
1:30pm to 4:40pm
Open weekdays 6th-10th
11:00am to 8:00pm
Saturday 11th May
11:00am to 8:00pm
Sunday 12th May
11:00am to 4:30pm
Open weekdays 13th-17th
11:00am to 8:00pm
Final day, Saturday 18th May
10:00am to 2:30pm
Running for two weeks each year, the Annual Open Exhibition is a highlight of Hertford's artistic life and attracts hundreds of visitors. Over 300 artworks are exhibited having been selected by a panel of judges from the work submitted. The 2012 Exhibition featured paintings, collage, digital images, prints, sculpture and fused glass and visitors praised the high quality and great variety of exhibits.
Summer Programme
Every summer following the indoor Winter Programme and the Open Exhibition, Hertford Art Society Members enjoy painting and sketching out of doors on Tuesday evenings at various venues in the Hertford Area.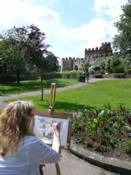 Painting in the grounds of Hertford Castle
Any local artists from the villages or areas to be visited are welcome to come along for the outdoor painting sessions etc. Parish dignitaries or councillors are also invited to join Members socially later.
Summer Programme 2013 (pdf) - click here for more details.
"Every mark asks a question" - Demonstration of Abstract Art by Laura Reiter – 29th January 2013
A pleasing number of members attended a very informative and lively demonstration given by Laura Reiter on Abstract Art in Mixed Media. She had brought along a number of colourful, stylised paintings and illustrated books for us to look at, and to whet our appetite.
'Every Mark you make asks a question'
(i.e. need to look at how to balance that mark with perhaps the same colour or mark somewhere else in the picture)
Working from photographs and a reference sketch, Laura began by putting a yellow & green watercolour & and ink wash over Bockingford watercolour paper already coated with a texture gel and a very feint drawing outline. She then stuck some handmade paper on with PVA glue and gave this a wash of ink. Buff Titanium and Cobalt Turquoise Light acrylic paint was applied next, and the shapes of the jug and birds outlined with Oil pastel. Flower shapes were made from a type of thin ''sponge'' material to use as a stamp for coating in paint to add a pattern on the jug, and other shapes were made by using a Lego brick dipped in fairly dry paint.
| | |
| --- | --- |
| | 'The colours or shapes you see in front of you are looking for somewhere to live in your picture' |
After the break, Laura carried on with adding a few more shapes with the stamps and then outlined some of the objects with a gold UNIPOSCA pen. These are apparently available in lots of colours and would look as though they would be a great addition to any art box. Tulips were then added in purple watercolour (she uses St.Petersburg ''White Knights'' ) and acrylic ink. A pipette used as a brush added the stems, also in acrylic ink.
The finishing touches were done by adjusting the colour of the birds and the jug with acrylic paint and again outlining some shapes with oil pastels. A very vibrant, colourful image was the result, and I am sure everybody present enjoyed watching the process.
Laura continued to work on the painting later in her studio and the final photograph is her completed work.
Demonstration by Jamel Akib, Illustrator – Portrait in pastel – 27th November 2012
On the face of it, pastel being a direct and immediate medium, it should be easy to use. To get the best out of pastel, however, experience and practice is needed to obtain the subtleties and tones which make it such a beautiful medium.
In getting commissions for magazines and newspapers, Jamel Akib had already demonstrated some skill with this medium whilst still a student.
The chosen subject for this demonstration was a portrait from a photograph. Jamel started by taking careful measurements with callipers and transferred them to the paper in a dark brown pastel. In doing this he made a framework on which he could place the colours.
The pastels were applied patiently and carefully, the tones and colours being built up by careful overlaying and blending. There are few straight lines in a portrait – the shapes of the features being suggested by the tones and blending one colour into another. All the time, Jamel was checking the proportions – it is easy to unintentionally change shapes whilst working.
Not all pastels are the same, even in the top makes there are differences in softness, pigments and handling. Jamel used a selection of makes to achieve the desired effects. When working from a photograph it is sometimes difficult to put in that little something which can be seen by observing the live model.
At the end of the 1 ½ hours of work Jamel Akib had produced an excellent rendition of the photograph and, during the extremely enjoyable evening, had perhaps inspired members of the audience to experiment with this delightful medium.
Winter Programme 2013-2014
From September each year Society Members and visitors enjoy a Programme of talks, critiques, demonstrations and workshops. These sessions are on Tuesday evenings from 7.30pm to 9.30pm at Cowbridge Hall, Cowbridge, Hertford SG14 1PG. Roughly half the evenings in the Winter Programme are for Members to paint or draw either from still life arrangements or a life model. The remaining evenings are taken up with talks, critiques of paintings brought along by Members, demonstrations from a professional artist or workshops. Visitors are welcome to enjoy the non-practical evenings .
Programmes
Winter Programme 2013-2014 (pdf) - in preparation.
Visitors' Programme 2014-2014 (pdf) - in preparation.
Summer Programme 2013 (pdf) - click here for more details.
Tuesday sketching evenings 2012

Woolmer Green by Ray Ward
All Winter, we look forward to Summer painting evenings, especially as we have a copy of the Summer programme temptingly given to us during February. After a frustrating start to Tuesday sketching evenings, due to "British weather", i.e. rain, we managed a few glorious painting evenings – although some were beset with pesky mosquitoes or dull, cool weather. On the evening at Little Berkhamstead, I boldly asked permission for us to paint in the pub, as heavy rain was imminent. Our chosen area for painting during the Bengeo venue, proved problematical, as tractors were busy in the fields, raising huge dust clouds and insects! They even seemed to follow us to the pub later that evening!

Left: Walkern; Right: The Bull, Watton at Stone. Both by Margo Ward
Trevor's selection of venues, as always, were excellent, the Summer season ended with the Summer painters meeting for a super meal, at the Axe & Compass, Braughing. Margo Ward
Saturday Life Workshops
Hertford Art Society runs Life Workshops in Cowbridge Halls, Hertford on the last Saturday of 9 months during the year. Although these are primarily run for members we welcome enthusiastic visitors at £14.50 per session, this includes coffee, tea and biscuits, available all day.
The sessions are untutored and last from 10.00am – 4.00pm with a break of 1hr at lunchtime. We work in in all mediums including prep work for sculpture. Bring whatever medium and equipment you require with you. These photographs are from a recent workshop and illustrate the exciting variety of work produced by the artists.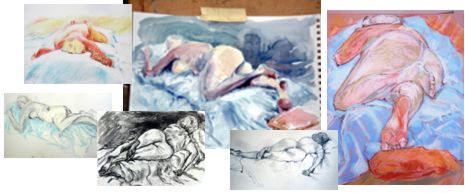 We are a very enthusiastic and relaxed group of artists and welcome looking at each, others' work (the best way to improve). Even so, we try to keep the working area reasonably quiet. There are normally 2 models unless the group is small, when there is only one. We do not have a set programme of poses, but usually include short poses, mostly in the morning and longer poses for artists who wish to produce a more finished piece of work.
The dates for the coming season are:
Life Workshops 2012 – 29th Sept, 27th Oct, 24th Nov
2013 – 26th Jan, 23rd Feb, 30th Mar, 25th May, 29th June & 27th July
If you are interested please contact workshops@hertfordartsociety.co.uk for further details.
WINTER PROGRAMME 2013 - 2014
The Winter Programme starts mid-September and runs through to mid-May. During this period the Art Society meets every Tuesday, at the Cowbridge Hall, Cowbridge, Hertford. The meetings start at 7.30 p.m. and finish at 9.30 p.m. Roughly half the evenings in the Winter Programme are for Members to paint or draw either from still life arrangements or a life model. The remaining evenings are taken up with talks, critiques of paintings brought along by Members, demonstrations from a professional artist or workshops.
Winter Programme 2013-2014 (pdf) - in preparation.
VISITORS' WINTER PROGRAMME
The Visitors' Winter Programme is a cut-down version of the full Winter programme. It comprises all of the sessions described above for the Winter Programme other than the 'practical' sessions of painting, drawing and workshops. It is designed to provide an opportunity for people who are not Members of the Hertford Art Society to enjoy any talk, demonstration or critique session being held for our Members.
The Visitor evenings include a 15 minute coffee break mid-evening which gives non-members an opportunity to chat to some of the 40 - 50 Members that usually turn up. We charge visitors a fee of £2 and would be grateful if visitors could introduce themselves to the evening's organiser at some point in the evening.
Visitors' Programme 2013-2014 (pdf) - in preparation.