Saturday Life Workshops
WHY LIFE DRAWING AND PAINTING? – Some may say it is old fashioned, but practising Life Drawing enhances observation and accuracy. Interpreting the shape of the human body trains the artist to see almost every curve line and subtle undulation found in nature. The satisfaction of producing an acceptable image can be quite intense. It does not happen immediately and demands a great deal of practice to achieve.
Hertford Art Society runs Life Workshops in Cowbridge Halls, Hertford, SG14 1PG on the last Saturday of 9 months during the year. Although these are primarily run for Members we welcome enthusiastic visitors at £16.00 per session (£8.00 per half day), this includes coffee, tea and biscuits, available all day. The sessions are untutored and last from 10.00am – 4.00pm with a break of 1hr at lunchtime. We work in in all mediums including prep work for sculpture. Bring whatever medium and equipment you require with you. The photographs below illustrate the exciting variety of work produced by the artists.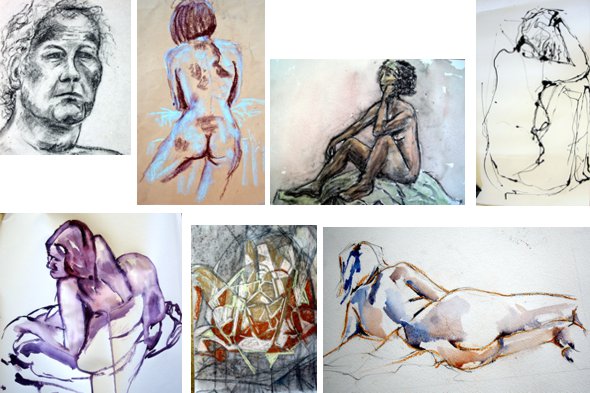 There are many different approaches to life drawing which become very obvious during the sessions. We are a very enthusiastic group artists and in a relaxed atmosphere we learn from each other different skills and methods of working, as well as experimenting with different mediums etc. There are normally 2 models unless the group is small, when there is only one. We do not have a set programme of poses, but usually include short poses, mostly in the morning and longer poses for artists who wish to produce a more finished piece of work. So why not join us if you haven't already.
Workshops take place on the last Saturday of the month for nine months of the year. They do not take place in April, August and December due to the annual Open Exhibition and holiday periods.
Life Models Workshops within HAS Winter Programme for 2018 - 2019
Saturday - 30th March 2019
Saturday - 25th May 2019
Saturday - 29th June 2019
Saturday - 27th July 2019
If you are interested please contact workshops@hertfordartsociety.co.uk for further details.
Garden Landscape - 20th November 2018
Acrylic painting demonstration by Kit Leese
Kit Leese is a professional artist who has been painting and selling his work for the last 40 years. He has always had a passion for landscape and likes to paint on the spot, often in East Anglia where catching the immediacy of changing light across the landscape is key.
Painting a garden is a major challenge – lots & lots of 'stuff', most of it green with some unpleasant brown. The challenge of demonstrating how one might tackle this was taken up by Kit who paints in a number of mediums but prefers watercolour, acrylics or gouache. For acrylics he works on primed hardboard or mount board. Kit came with a photograph of a complicated garden and a prepared board on which he had sketched the main elements. He started by very loosely blocking in the main structures using a large brush and a very watery mid-tone mix of Viridian Green and Alizarin Crimson, plus some Payne's Grey for the very dark patches. At this stage he is not too concerned with colour accuracy, but concentrates on getting the tones and the drawing right.
Having covered most of the area with paint he used the blade of a Stanley knife to scrape back some of it to get some light back in and liven up the picture. Diluting the acrylic with plenty of water enabled Kit to remove random bits of paint off with kitchen paper where he wanted sporadically lighter areas. For the sky he painted in diluted Cobalt Blue and 'something pink', then added a watery Zinc White to get a wet-on-wet watercolour effect. Kit explained the difference between Zinc White (very transparent, used to lighten the background colour without changing it) and Titanium White (a permanent white with a more drastic effect, washing out the underlying colour). At this stage Kit intensifies the darkest and lightest areas for greater contrast.
To create a variegated floral effect Kit pasted some paint on a scrap of paper, tested its tone on another scrap, then daubed appropriate parts of the painting; to streak up a solid area of paint he used the edge of his (large) brush, and some blade scraping.
The final touches were to use a light (Sap) green across several places on the picture to unify the colour scheme, and then to dab in flower heads. The result of the evening was a very loose, relaxed and coherent painting of a Garden Landscape. This was a very enjoyable demonstration and Kit was thanked for sharing his ideas and his very personal approach to painting in acrylics.
Remembrance Sunday - 11th November 2018
Display of paintings in All Saints Church, Hertford

Christian Soldier
- Chris Hewitt

Everyone's voice was suddenly lifted;
And beauty came like the setting sun:
My heart was shaken with tears; and horror Drifted away ...
(Siegfried Sassoon)
- John Jarratt
The Vicar of All Saints Church, Jo Loveridge, asked the Art Society if artists would provide large aisle paintings to commemorate the hundredth anniversary of the signing of the armistice. A chance to paint & display large, dramatic pictures? Well, of course we would.
The result was seven very different images – three were figurative (Chris Hewitt's Christian Soldier, Gillian Harman's scenes from the war in Egypt and Sudan, Geoff Bennett's despondent ploughman); one – John Jarrratt's 'Everyone's voice was suddenly lifted' - was largely textual; and three combined figurative and symbolic images (Janet Dobney's Hertford Lad, a soldier returning to scenes from Hertford, Persis Limbuwala's biplanes flying over text and poppies, Janet Benge's wry reference to WW1 Propaganda).
The overall effect of the seven pictures hanging down the central aisle of All Saints Church gave a varied representation of the Great War. The Vicar felt that these heartfelt images would be very well received during the service. They will remain on display for a further 3 weeks.

In memory of my grandfather William Angus 1884 -1919
In 1917 & 1918 he served in the Royal Army Medical Corps in Egypt as A.D.M.S. (Sanitation), 1st Echelon with the rank of Lieutenant – Colonel. I have a good collection of his photographs from this time, showing rarely seen views of WW1 in the Middle East, and have used some to create my picture. - Gillian Harman

[Left] Untitled - Janet Benge. [Right] Hertford lad - Janet Dobney.

No more the ploughman turns the turf
Exploding shells now churn the earth.
He gathers up their bitter harvest.
And dreams of home.
- Geoff Bennett

"Standing on the ridge it is possible to see what a lot of the country we have taken now."
(from a letter home)
- Persis Limbuwala
Portrait in Oils Demonstration - by Rob Wareing
16th October 2018
Rob Wareing was born and grew up in South Africa and still spends a great deal of time there. He studied the techniques of traditional classical painting and became a professional portrait painter at the age of 23. Since then he has had a very fulfilling career spanning over 40 years. He has painted numerous portraits of people of all nationalities and travelled extensively. His work is regularly featured in art magazines. He runs workshops, has demonstrated (on TV and YouTube) and published DVDs of his tutorials.
We are delighted to welcome Rob and his model, Amanda Allen, for this demonstration. He has prepared a canvas, painted in muted shades of acrylic - a typical background to his portraits. His first step is to sketch the model lightly in charcoal, indicating the features and measuring the distances from hairline to eyebrow, eyebrow to mouth, mouth to chin. This initial drawing is critical. He measures and plots the relationships of the model's features, sketches in the hair, the curve of the cheek and roughly indicates her clothes. The eyes are boldly drawn followed by the nose and the lips. He remarks that the drawing will alter as the painting progresses. He then sprays the sketch to prevent the charcoal mixing too much with the paint.
Rob mixes Burnt Sienna and Ultramarine Blue to achieve a rich, almost black, shade. This he thins with a varnish and turps mixture and boldly establishes the "dark notes"- the hair, eyebrows and eyes. Beginning with the dark hair gives him something to compare the other tones with as the work progresses. Burnt Sienna and Alizarin Crimson is mixed with white to varying degrees to apply mid tones and the highlighted areas of forehead, cheeks and chin. He then uses Cadmium Red and Burnt Sienna (or Yellow Ochre) , again in mixtures with white as he works around the face, placing bold strokes of colour and often smudging with his finger. He uses a variety of brush sizes as he works. Rob changes to a small brush in order to re-draw features in darker paint, re-measuring the distances between the eyes and using a plumb line for the verticals. He adds the whites of the eyes which really starts to bring the portrait to life. He defines the eyelids with small touches of paint. It seems that he likes to get some finishing touches in early, almost completing an element before moving on.
When he is working, he likes to complete a painting in one sitting to get a spontaneous effect. He remarked that "a much better likeness but a much worse painting can be the result of too much fiddling". He tries not to emphasise areas which are unimportant. He always uses life models, only occasionally resorting to photographs to complete a portrait if times runs out.
Rob now has many colours and shades on his palette and he works around the painting adding highlights, mid tones and darker shades, trying not to mix into the underlying paint, avoiding it becoming "muddy". Strong brushstrokes are an important aspect of Rob's work so he aims not to disturb them too much.
Having worked extensively on the face, Rob adds a variety of tones to the long dark hair. The model is lit with a spotlight, which really helps him to show the highlights on brow, nose, cheek and chin. Broad strokes of a light shade are applied behind the right side of the head which really brings it forward when set against the dark hair. Rob's portraits seem to blend into the background in a soft manner with the clothes rendered in loose strokes. The model's gorgeous red dress, which complements her complexion and rich dark hair, is finally indicated and some light tones added to shoulder and chest. Amanda was delighted to be presented with the portrait at the end of the session.
This demonstration gave a vivid insight into Rob's techniques and approach to portrait painting. To be able to bring this portrait to life in such a short time was remarkable. Rob was warmly thanked for giving us such an enjoyable evening and for sharing his hints and tips along the way.
Winter Programme 2018 - 2019
From September each year Society Members and visitors enjoy a Programme of talks, critiques, demonstrations and workshops. These sessions are on Tuesday evenings from 7.30pm to 9.30pm at Cowbridge Hall, Cowbridge, Hertford SG14 1PG. Approximately half the evenings in the Winter Programme are for Members to paint or draw either from still life arrangements or a life model. The remaining evenings are taken up with talks, critiques of paintings brought along by Members, demonstrations from a professional artist or workshops. Visitors are welcome to enjoy the non-practical evenings (marked with an asterisk).
Winter Programme 2018-2019 (pdf) - click here for more details
Summer Sketching & Painting Evenings 2018
Phew, what a scorcher!
That expression describes simply the wonderful weather we have experienced for our outdoor sketching evenings this summer, which was in complete contrast to last year's cold and dull Tuesdays. For over 25 years now I have organised the Hertford Art Society's Summer Programme and do not recall better conditions.
For the start of the Art Society's Summer Programme we met around the Port Hill area of Hertford, followed by a Tuesday evening at Dobb's Weir then another at Chapmore End Pond. The weekend at Blakeney in early June was thoroughly enjoyed by those attending with good work produced.
Cedars Park was the next sketching destination. On 3rd July, after two years of being thwarted by bad weather, Members enjoyed a truly delightful summer evening at Panshanger Park, with a welcome from Murray Brown of the Herts and Middlesex Wildlife Trust. The Tuesday following was at Wheathampstead village, followed at the weekend by a memorable visit to the Henry Moore Foundation. Four more fine evenings were spent at Great Amwell, Carnwell Farm, Braughing and Ware, although at Ware we did endure a light shower, as if to remind us that we live in England.
The last evening in mid-August saw 23 Members painting around Hertford Town prior to having a convivial meal at the Salisbury Arms.
This was truly a summer to remember.
Comments by Persis Limbuwala

[Left] This picture was started at Braughing Village and finished at home with the aid of photographs taken on the spot that evening. These three completely different buildings appeared to compliment this corner situation so typical of an English village over a long period of time. Buildings from different centuries seem to look like good neighbours and that was what attracted me to choose this location from all the other wonderful locations within this friendly village. I completed the basic sketch in situ and applied the first coat over each area and then waited for it all to dry - bringing it home to finish with several layers of watercolour paints.

[Right] This rough sketch is of a friend of mine who I invited to join our group on a practice summer evening and being local we met at the Ware riverside but the heavens decided to rain on us so we ended up in the pub where we were due to meet up eventually and in order to do some art work that evening we decided to sketch each other across the table and this was the result of my effort on that summer outing with our HAS group.

Comments from Craig Lee

[Left] Cowbridge Hertford. This was from my first evening painting with HAS this summer and was surprisingly chilly. What caught my attention here was the long shadows typical of early evening. Painted with oils on panel 12x10 palette knife.

[Right] The Caravan. The diversity in an individual's choice of subject matter when in the same place always fascinates me. On this occasion I believe I was the only person drawn in by this caravan and the last dappled rays of the evening's light. Oil on panel 12x10 palette knife
Trevor Chamberlain
Wildlife in Acrylics
Demonstration by David Hyde - 18th September 2018
David Hyde is a self-taught professional artist who lives and works close to the river Great Ouse in St. Ives, Cambridgeshire. He has combined a keen interest in wildlife and bird watching with a life-long passion for painting.
Having worked mainly in watercolour, David has, over time, developed a technique in acrylics to suit his style of portraying wildlife. He works mainly from photographs and had chosen an image of a barn owl against a dark background for his demonstration. He favours MDF board as a support, primed with several layers of Liquitex gesso on both sides and then sanded to a smooth finish as fine brushwork and detail is needed for wildlife painting. (He uses a board cut to the size of his framed painting with the area for painting masked around. The process of adding a mount and framing is thus simplified.) He favours Liquitex Soft Body acrylics as they can be applied thinly, rather like watercolour, without loss of colour. He uses a Liquitex medium to thin the paint and normally paints standing with the work on a tilted board.
David had prepared a sketch from the photograph and using a mix of Raw Umber and Paynes Grey he painted onto his sketch using a fairly large brush and light directional strokes to indicate the groups of feathers. He left this layer to dry so that further paint did not disturb the under layer. Acrylic can be used in countless layers as long as the surface is dry and he uses this technique to "build" the image, taking note of the underpainting and leaving some areas uncovered by further paint. Using a dark mix he blocked in the eye and shadows under the wing to give the bird character and form at this early stage, using a wetted finger to blend. He began to paint white feathers around the face using thinned gesso, following the direction of growth. As it is diluted the colour fades as it dries giving the feathers a soft appearance. The dark underpainting forms the gaps between feathers and separates the feather groups. David then added another layer of white for extra texture observing the direction and turning the board for ease. He floated a dark wash around the eye socket and added a light area to the iris of the eye to give life to the image. He defined the mask of the face by adding shadow below, blending with a damp brush. He created form and texture to the face area with a small brush, refining the image with Titanium White to highlight and lift the edges of the feathers around the face.
The Old Masters used the technique of underpainting, laying in the form and adding glazes of colour as the work progressed. David feels this technique works well with wildlife painting. He next used Cobalt Blue mixed with Burnt Sienna and Liquitex Gloss Medium as a glaze on the darker areas, allowing the underpainting to remain sharp. Opaque colour was added to the top of the head, a warm ochre, lightened at the top of the head with white, blended with feathery strokes into a rich red in the shadows. He prefers Galeria brushes by Windsor and Newton for these details. They hold their shape, come to a point and are quite robust.
David's process is one of building up the form by adding darks and lights gradually with the underpainting showing through a little, thus giving depth and form to the image. At the end of the demonstration the painting was well under way and will be completed later, the dark background adding drama.
This was an absorbing demonstration, the owl gradually coming to life though the careful and skilful application of layer upon layer of paint, with David generously sharing his knowledge and insights into the process he has developed. David was warmly thanked for making the evening so interesting and enjoyable.
Visit to Henry Moore Foundation -14th July 2018
A small group of artists from the Society enjoyed an extensive pre-arranged tour of Exhibitions, Studios and Gardens at the Henry Moore Foundation at Perry Green, Much Hadham. Our Guide, Diana Dale, was extremely knowledgeable about the life and times of Henry Moore and gave us an insight into his early life and emergence as a sculptor, his working practices and the themes his work followed throughout his career.

Large Figure in a Shelter 1985-86
The current Exhibition - Out of the Block - displays some of his early carvings alongside later pieces which echo his abiding themes. These are: the reclining figure, mother and child and forms within forms. (This Exhibition runs until October 2018.) There are huge sculptures within the grounds and many in the various studios that we visited - they ranged from a tiny dog (his first effort at sculpture) and grew in size over the years to spectacular forms to walk around in, such as his last sculpture, Large Figure in a Shelter, 1985-86. Depending on location and commission some had to be made at foundries abroad and at home.
Henry Moore started with wood carvings initially and he moved to Perry Green after his flat in Hampstead Heath was damaged in the Blitz. He worked and lived here for the rest of his life and was also buried not far from this home called "Hoglands" - as it was a pig farm when he bought the land. The original small house and garden were added to over the years as neighbouring land became available (and his finances improved).

Left image: Family Group 1954 -Hadene Stone - displayed at Gibberd Gallery, Harlow. Right image: Dog, 1922 - Marble
Born in 1898, Moore died in 1986 and at his peak he was as famous for his monumental artistic sculptures as Churchill was known worldwide for his success in WW2. He was born in Castleford, Yorkshire and his Father worked in a coal mine. He was encouraged by a tutor in college and a new sculpture department was formed especially for him to work in. His life's work spans from wood carvings to stone and marble and all that is in-between. Later works were fashioned initially from polystyrene in order that moulds could be made for the final piece, usually in bronze. He loved working in one of the studios which overlooked a field with grazing sheep and drew them often. He is also well known for his drawings, including those in air -raid shelters during World War II. Some of his drawings have been transformed into magnificent tapestries currently displayed in a barn which was relocated from a nearby farm.
A new Exhibition hall gives his life story in pictures some taken by himself as he was an accomplished photographer. He was a friendly and generous person who managed to reach great heights within his lifetime which is rare for an artist.
The Foundation was established in 1977 and welcomes visitors from around the world as well as many schoolchildren who cannot fail to be entranced by this stunning treasure trove of ideas made real by such a gifted and prolific artist. His past association with the Hertford Art Society is something to be proud of. Many thanks to Trevor Chamberlain for arranging this very enjoyable trip.

Left image: Out of the Block Exhibition with Reclining Figure 1959-64 on right. Right Image: Reclining Figure by Henry Moore - 1964 HAS Exhibition
Comments from Trevor Chamberlain:

"I was delighted to join in the recent visit to the Henry Moore Foundation, which for me brought back happy memories of Henry Moore and his involvement in the early days of the Hertford Art Society. The Society was inaugurated in 1953 with Mr Moore agreeing to become one of our Vice-Presidents, a post he held for nearly 20 years. Every year he readily agreed to lend a small work to grace our Annual Exhibition, held at the Corn Exchange, Hertford, and so two members would travel to Perry Green beforehand to implement this and, sometimes, I was lucky enough to be included.

Our recent guided tour started off in the Studio (a converted barn next to Hoglands) and I was immediately transported back to the late 1950s and 1960s when our little delegation would invariably be welcomed by Henry Moore in this very Studio, in order to choose a suitable work be it a maquette, drawing or lithograph.

The photograph shows "Reclining Figure" by Henry Moore (taken from an article in the Hertfordshire Mercury), which was the highlight of the 1964 Exhibition. Other exhibitors that year included Victor Askew, John Piper, Ronald Maddox, Ashley Havinden, Graham Rust and Michael Evans."
Summer Painting Weekend
Blakeney, Norfolk - June 8th, 9th and 10th 2018

Work from John Jarratt
The charming coastal village of Blakeney was historically a medieval commercial port transporting spices and oriental cloths, as well as a few smugglers! The estuary today is an amazing landscape of marshes, mud banks and sand hills. It made an ideal venue for the Hertford Art Society annual art weekend.
Malcolm Norris from Lea Valley Art Society joined us on our trip to Blakeney. Inviting other art groups is something we will continue to do in future as it opens up the club to all who are interested in painting outdoors. So feel free to invite others.

Malcolm Norris from Lea Valley Art Society
The members who took part all agreed that Blakeney was ideal for painting, it would have been better if the sun had shone on Friday and Saturday but still it managed to do its job on the Sunday enabling me to produce a pallet knife oil painting of the harbour.

Work from Stephen Lowe
The dining experiences were memorable with an above average Fish & Chip meal on the Friday night in the White Horse followed by a top notch private function at the Blakeney House Boutique B&B. The chef excelled himself and for the second year HAS members gave the Chef a round of applause at the end. Accommodation at the Blakeney Manor Hotel was comfortable and well priced.
Next year we are thinking of discovering Aldeburgh and plan to take in Snape Maltings. Depending on what's on we may go to a concert. This will take place on the first full weekend of June 2019 so please book it in your diary. Members will be advised as soon as details are available. Remember, feel free to bring non painting partners and/or painting friends.
Stephen Lowe
Self-Portrait Workshop - 24th April 2018
20 or more artists ventured along (somewhat nervously) to this Workshop armed with pencils, paints etc and each with a mirror. Each set up their mini-studio, some with rather smart mirrors on stands, others with small mirrors attached somewhat precariously to the top of an easel with masking tape. After settling in, a hush descended as each of us made tentative marks on canvas or paper in order to start this most challenging of tasks.
We measured, gauged angles, tried out positions and wondered if Rembrandt and Van Gogh ever felt this anxious when face to face with themselves. Some of us stuck to pencil and charcoal, others mixed paint, and fretted about colour and tone as well as whether both eyes were the same size.
Creating a self-portrait is so different to drawing or painting a model. We are fortunate, as a Society, to often have Life Workshops, giving us the opportunity to study the human face and form and observe the planes, angles and colours as we work. Modelling for oneself is a whole other thing. You need to come back to exactly the same position, having looked down at your work. A serious face is the only possibility, and who likes one's own serious face?
At times the work went well, and just as you thought you were winning you realised that your nose was much too long! There were a few groans and giggles. We soldiered on and displayed the work at the end of the session for all to see. They were all so different and, yes, many actually looked like the artist. All had great character.
This Workshop was unusual. There was no tutor. The silence was deafening as each artist concentrated on finding just the right line to express something about themselves. It was an introspective and thought-provoking exercise and certainly increased our respect for artists who have accomplished some of the great self-portraits of the past.
Artist, Trevor Chamberlain, visits Bengeo Primary School - March 2018
"Good afternoon, Mr Chamberlain!"
This was the chorus of welcome from two classes of 7 - 9 year olds at Bengeo Primary School in mid-March. Headteacher, Mrs J Starkiss had previously contacted me to say that the school had discovered my paintings on the Internet, had used them as visual aids in art lessons, and that it would be fantastic for the children to be able to meet a "real live artist" and to see some pictures first hand.

Left: Arc Welding, Forge in Doncaster. Right: Nagshe-Rostam, Nr. Persepolis, Iran.
After a little "arm-wrestling" I agreed to come to the school and conduct the visit on the basis of a Question & Answer format. I commenced with the pupils sitting on the floor listening to me giving a brief outline of my career. They were fascinated to know that I too attended Bengeo Primary School, albeit when it was located next to Holy Trinity Church and the boys and girls were separated but that was a few years ago now!

Wellington Arch, Hyde Park Corner, London.
My presentation attracted numerous questions and responses especially when I displayed a variety of unframed examples of on-site oils and watercolours depicting a range of subjects - for instance, India, Iran, local landscapes, architecture, interiors and flowers.
Both classes were very attentive, interacted well, and, I am sure, thoroughly enjoyed the experience. At the conclusion I was treated to another chorus: "Thank you Mr. Chamberlain!"
Demonstration by Simon Pemberton - Illustrator and Artist
20th March 2018
Is there a difference between illustration and fine art? Simon Pemberton is an artist whose illustration work has been commissioned by a wide variety of major design, publishing and advertising agencies worldwide. He was born on the Wirral near Liverpool, studied at Central St. Martin's College of Art and now lives and works in London's East End with a studio overlooking London fields. He was much inspired by Andrew Wyeth and landscape figures quite significantly in his work.
Simon originally worked in traditional materials. His grandfather was a commercial artist and Simon initially followed in his footsteps. Having experimented with photography, 3D, welding, printing (in all its forms) he was intrigued when his wife won an Apple Mac in a competition. This provided a new and fascinating direction for Simon as it made the process of creating layered images much quicker and easier than by traditional methods.
He uses Photoshop in a simple way, beginning always with scanned images of his own sketches which involve bold mark-marking (sometimes using found objects such as seedheads), textures and brushstrokes. He often floats colour onto the surface of water in order to take a print - this gives delicate layers in the final work. The selected images can be edited, faded, overlaid, enlarged and blended in all manner of ways. A "history palette" allows work to undo or redo in an experimental way, seeking interesting combinations of marks and textures. Very painterly effects are achieved and Simon demonstrated this on the Wacom tablet connected to his laptop, projected onto a large screen so that all the steps could be observed. The first example was a design for a brochure for a water park and trail in the U.S. He "pulled" the image apart in order to illustrate how it had been designed using his library of images. He then demonstrated how a cool blue and green landscape could be altered, by adjusting colours and overlaying layers into a sunset effect. Direct drawing and editing can be done at any stage in the process, figures and features added. All the stages are saved allowing Simon to go to and fro until he judges the image to be completed.
Working to commission has its issues and clients sometimes like to be given alternatives. With this process this becomes quite simple although Simon remarked that he doesn't like to give the client too much choice! He showed us some recent work which includes:
- The cover for Shackleton's Boat Journey, the wave image for which needed to wrap around in an exciting manner. The colour scheme was selected with care to portray a fierce and stormy sea.
- Illustrations for Songlines, by Bruce Chatwin. Having read the book Simon proposed illustrations for certain passages - these are bold and stylised, reflecting Simon's personal feelings on this extraordinary book.
Simon also produces limited edition prints and exhibits regularly.
Some Members have experience of Photoshop programmes or similar and Simon's advice was to use your own sketches and artwork to form the backbone of the work, experiment with it, work quickly, keep making mistakes and enjoy it! He was thanked for taking us through his working practice and showing us so many exciting images which bring illustration and fine art together in such a professional way.