2017-2018 Critique Winners
Critique winners of the 2017 – 2018 season as chosen by Members

Bill Dean
April 2017
Display Cabinet 13 - Oil


Craig Lee
September 2017
Evening Stroll, Southwold - Oil

Shirley Keeble
3 October 2017 - Joint Critique Winner
Windflowers - Acrylic


Heather Brown
3 October 2017 - Joint Critique Winner
Barn In Snow, Birchanger - Watercolour

Linda Radford
Joint Winner 31 October 2017
Woodbridge - Watercolour


Michael Radley
Joint Winner 31 October 2017
The Old Farm - Watercolour

Pauline Hazelwood
Joint Winner 31 October 2017
Waterfall - Oil


Craig Lee
Joint Winner November 2017
Munchkin Pumpkin - Oil

Chris Hewitt
Joint Winner November 2017
Fruit Bowl - Acrylic

Bill Dean
January 2018 Critique Winner
Anemones - Oil
Collage Workshop at Hertford Museum - 15th November 2017
This was the last in a series of Workshops, led by artists from Hertford Art Society, which have run throughout the year in the well-appointed studio at Hertford Museum, 18 Bull Plain, Hertford SG14 1DT. Sara Taylor, Museum Curator, presented some well-known images from 20th Century artists who have used collage in their work. Collage truly emerged as a medium in its own right in the early years of the 20th century with the Cubist experiments of Pablo Picasso and Georges Braque who coined the term Collage (from the French: coller, "to glue). Many artists enjoy working in this medium and examples by David Hockney and Robert Rauchenburg were included in the presentation.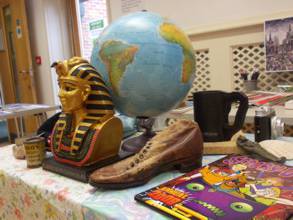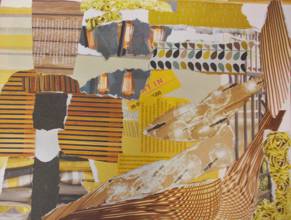 A still life had been set up using items from the Museum's varied collection of artefacts as a source of inspiration. These included a globe and a Tutankhamen bust.
Participants began the session by sketching the still life set up with emphasis on bold forms and interesting contrasts and transferred their design to thick paper. Artist Kathy Burman gave advice on design, materials and techniques. Magazines and newspapers provide a huge range colourful and stimulating images and additional papers can be created using acrylic paint. Papers can be torn or cut to shape, layered and glued using PVA or wallpaper paste.
Gradually, interesting images began to take shape - some abstract, some with personal references. Unexpected results can result - using found materials in this way gives free rein to the imagination. The final pieces were colourful and exciting - referring to the items on display but in very personal ways. Some of the participants had experimented with collage previously - for others it was a new medium.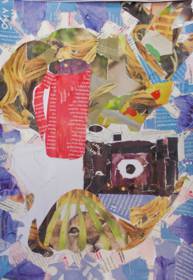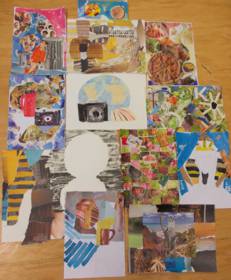 The earlier sessions in Watercolour, Printing and Clay Modelling gave participants an opportunity to gain new skills with guidance from artists and "try out" working in these various media. The Collage session was also very successful. A wide variety of styles and images resulted. These can be completed later and, perhaps, used as the basis of further artwork.
It is hoped that further art workshops will be organised in the future and there is always something interesting going on at the Museum for visitors of all ages. Check the museum website for details www.hertfordmuseum.org.
Deconstruction / Reconstruction
Workshop with Denise Allen - 7th November 2017
The principle of this workshop involved tearing up old paintings, rearranging and making a new image out of the pieces. The session was led by Denise Allen, an experienced artist who runs workshops and classes in painting with acrylics and watercolours.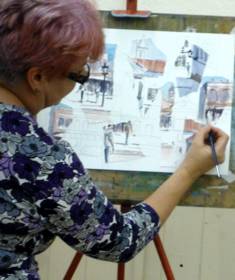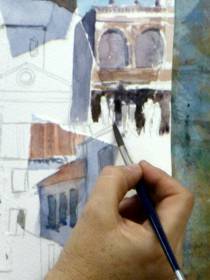 Members were asked to bring along two or three paintings which they were prepared to tear up. These could be either watercolour or acrylic, preferably on paper. This was an ideal opportunity to reuse paintings which, for one reason or another, did not quite work out. The best paintings to choose for this are ones that have some structure in them. This could be buildings, people or objects. Also needed was a new piece of paper to work on, pencil or pen, Pritt stick or PVA glue, and painting materials, whatever medium the artist prefers.
Denise began by giving a short demonstration of the process, tearing elements of her chosen paintings and placing them with a view to composing an interesting juxtaposition of forms and shapes. These were then linked, imaginatively, with a fresh drawing. Paint was then applied to enhance the chosen colour scheme and bring the new image together.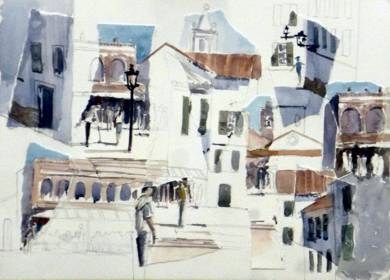 Members then began to work on their own interpretation of this deconstruction/reconstruction process, enjoying the freedom to play around with selected parts of their own paintings and endeavouring to find a new, interesting composition.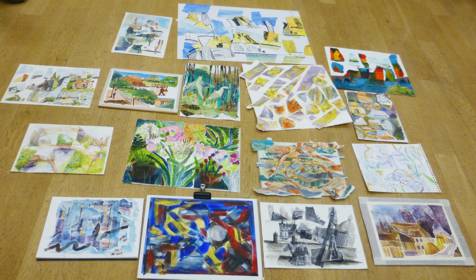 Denise gave advice and guidance as the evening progressed. The resulting images were quirky and personal - with abstract qualities. Denise was warmly thanked for leading such an interesting session. This is certainly a good technique to utilise old work, either to make a finished piece or as a route towards a further painting.
Art Society Members' Art Show and Sale
27th - 29th October 2017
This was the 20th Members' Show and the third to be held at The Cowbridge Hall in Hertford. It was open over three days from 27-29th October (with a preview on the 26th) and showed work by 64 artists. Twenty two framed works were sold, also 11 unframed and 110 cards.
This is a show which is always a joy to visit, as our visitors regularly tell us. There is such a wide variety of subject matter and painting styles and the standard of work is high. So much to see - so difficult to choose a favourite (the Visitors' Choice voting box held over 225 votes!). The tea stall (offering home made cakes) at the back of the hall was a good place to sit and admire the paintings. There were portraits, like Anthony Parke's masterly 'Edward Lucie-Smith' and Sharon Wright's gentle and delightful portrait of an elderly person, 'Blue'. Glorious landscapes such as Rosemary Tinney's ' Burnham Overy Staithe' with its luminous sky, and Linda Radford's glowing watercolour scenes (she sold out!). Animal paintings, like Malini Croxson's extraordinary red and white zebras, 'Tangled' and Margo Ward's colourful and lively 'Hens in the Snow'. There was finely painted work such as Paul Swinge's 'Goldfinch and Pot' and Christine Flintham's 'Rosehips' and more expressionist work which describes the scene in a few expert brush strokes and colours such as David Quantrill's 'Carlton Marshes'. June Pickard's sculpture 'What on Earth' used an abstract form to describe the many textures and features found on the planet - fascinating: I wish we had more sculptors exhibiting! An unusual entry this year was a 3D miniature train layout with the countryside depicted (by Gillian Harman) in the style and colours of David Hockney, which created a lot of interest. At this stage I have to stop and apologise to all those artists who remain unnamed here. Their work was certainly appreciated.
Our prizewinners were as follows:

The May Bennett Annual Award for the best still life:
'Stella's Pots' by Sandra Edney Lynch.
A still life with harmonious colours and a rich surface.

The Most Intriguing Work Award, selected by Mark Ely:
'Abstract' by Maureen Emerton.
Another very rich surface which drew you in to explore the shapes and colours.

The Visitors' Choice Award:
'The Quiet before the Storm' by Alyson Sharpe.
A little girl on the beach, her back to us - a lovely image, beautifully painted.

The Members' Choice Award:
'Tabletop with Mosaic Vase' by Kathy Burman.
Kathy is a master of the mosaic-like collage and this was a lovely example.

The Marie Goldsmith Annual Award:
for a Member with a consistently high standard of work who has served the Art Society well without formal recognition of their work or service: 'Tunnel at Stapleford' by Geoff Bennett.
This strong and colourful image graced our posters this year.
Of course, none of this would be possible without the help of so many Members of the Society, who worked long and hard to make the show a success. If you missed the show this year, make a note in your 2018 diary. We will be back again for the last weekend of October.
Frances Stevenson
Members' Show Co-ordinator
Wildlife Painting in Acrylics
Demonstration by Marie Antoniou, Wildlife Artist - 17th October 2017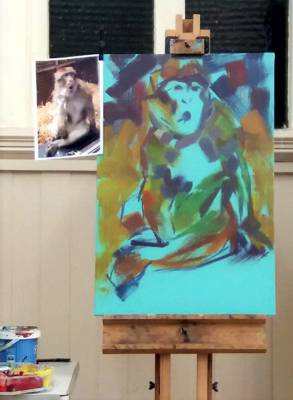 Marie Antoniou won the BBC Wildlife Artist of the Year 2013 and has been a finalist or highly commended in recent David Shepherd Wildlife Artist of the Year Exhibitions. She contributes to Artist magazine and runs workshops in Essex and elsewhere. Her unique depictions of wildlife have earned her numerous awards and accolades. She enjoys using acrylics as they allow her to explore traditional subject matter in a more contemporary way.
Marie introduced us to her kit. She uses a large lidded nibbles tray for her paints. This large tray is loaded with her chosen acrylics - 2 blues (Process Cyan and Cerulean), 2 reds (Alizarin Crimson and Cadmium Red), 2 yellows (Cadmium Yellow and Yellow Ocre) plus Burnt Sienna and Phthalo Green. The paint remains usable in this sealed tray for ages, she simply tops it up. Marie mixes colours on a large tear off palette and works with a variety of large flat brushes (both artist quality [Liquitex] and decorating brushes) from 4" to ½" wide. These give the expressive brush strokes which are her signature style.
Marie invites the audience to choose which image she paints and although the baby hippo was adorable, a photo of a barbary macaque was chosen. Her canvas had been primed with a strong aqua green acrylic. She has a variety of canvases ready to work on, all with bright or subdued primers - to avoid white and unify the finished painting where it is visible between brush strokes. She advises dampening the brush before use (to avoid the brush becoming clogged) and using very little water as this dilutes the paint. Using the edge of a 3" brush loaded with a strong dark purple, Marie marked the position of the monkey on the canvas with swift stokes and lines, indicating features and shadows loosely. With a larger brush the background was established with dark blues, purples and reds to vary the colours within the eventual shadows. Shadow areas were added to the figure. She added yellow strokes to indicate the position of the straw on which the monkey was sitting. Her approach is very much trial and error, risk taking and working with the surprises which result. Marie tends to use larger brushes to establish the groundwork and tones, with smaller brushes used as work progresses. She twists and turns the brush to vary the marks, working around and within the form of the figure, gradually building areas of light and dark. She leaves areas to dry, thus avoiding making the colours "muddy". A crisp, fresh "portrait" of the macaque gradually begins to materialise. Highlights are added, defining the figure further while leaving the underpainting here and there to add depth.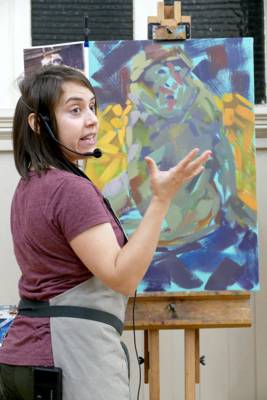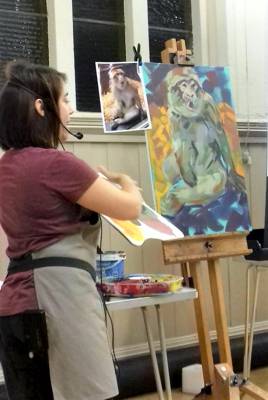 Her working practices is to build up layers of marks, painting loosely and enjoying the process. She avoids using white as far as possible adding a chalky colour such as Yellow Ocre to the mixture. She begins with muted shades and "turns up the volume" later with bright tones and fresh clean brushes. Marie always works from her own photographs and regularly visits zoos and wildlife areas around the country, seeking out newborn rhinos or gorillas when the opportunity arises. She is passionate about the plight of endangered animals. In her work she tries to capture the essence of the animal and create something different, trying to express the wildness of the animal or bird, adding life to the painting with the large, lively brush strokes. Her bold use of colour gives a slightly abstract fe el to the work.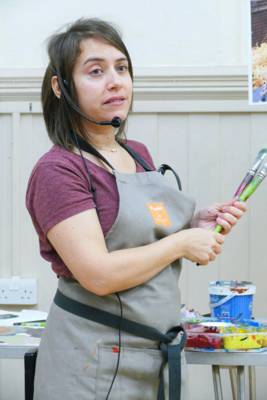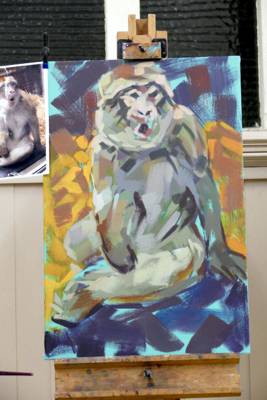 Marie finishes the demonstration by adding bright oranges, reds and purples to the straw and background, dark strokes to the shadows and adding white to the mixture to define the facial features of the monkey and final highlights to shoulder and leg, thus bring the image of the monkey forward. It really had great character and everyone enjoyed watching the painting take form.
Marie was warmly thanked for giving us such an exciting demonstration and for sharing her experience, knowledge and enthusiasm. Her painting style is brave and confident and should certainly inspire some of us to experiment with large brushes and bright colours in the future.
Abstract Art - What is it about?
Talk and Demonstration by Chris Tkacz - 10th October 2017
Chris Tkacz was welcomed and began the session with an illustrated review of Abstract Expressionism, the term applied to forms of abstract art developed by American painters such as Jackson Pollock, Mark Rothko and Willem de Kooning in the 1940s and 1950s. Many of these strange images were ridiculed at the time but have since opened doors in visual art.
The artists of the time drew on the work of previous masters. The world became smaller in the 19th century. Early 20th century artists were influenced strongly by the Impressionists, their lives and struggles. Van Gogh and Cezanne expressed themselves with bold colours and mark-making. Gaugin experienced primitive cultures. Primitive objects such as masks had a great impact on Picasso and his peers. Symbolic, spiritual influences from previously hidden places found a place in their artworks. Cubism emerged. Artists had a new language to explore. Mondrian took his initial tree sketches on a journey, abstracting them by degrees. They were simplistic but significant. Kandinsky, Malevich, Gorky explored in their art the rapidly changing new world, creating images about energy, force, colours, shapes, forms. In Britain, the work of Ben Nicholson, Barbara Hepworth, Peter Lanyon and their contemporaries leaned heavily towards abstraction.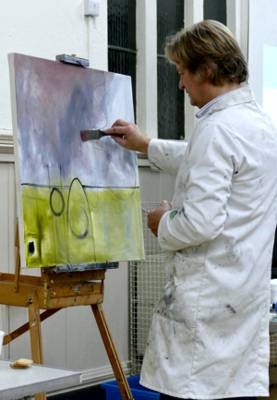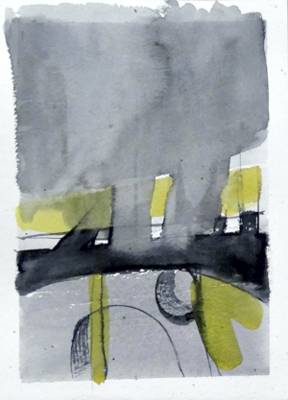 Abstract Expressionism was the first specifically American movement to achieve international influence and put New York City at the centre of the western art world. Post-war, there had been an influx of European artists into the United States. The scale and size of the US made a huge impact and these visual and emotional experiences were synthesised in abstract images.
Chris is Art School trained, an experienced art tutor, runs workshops from his Derbyshire studio and works in various media, including egg tempera. The Derbyshire countryside with its beauty and dynamism have been a great source of inspiration in his art. He continued his talk with his own feelings about the abstract paintings which he creates. These are often childlike. He doesn't know where the image is going and has no "plan" at the outset. Themes reoccur. Landscape has a huge influence with occasional figurative influences. Childhood memories, feelings, smells - these all figure in his work. Chris brought a variety of sketchbooks and paintings to illustrate his current work.
He often begins with a series of sketches, done quickly in watercolour to distil the elements of a scene. He paints en plein air and in the studio and allows time for paintings to develop and be reworked (often months or years!). He works primarily in oils (recommends Mike Harding colours) and adds layers of paint (often thinned with medium to aid quick drying). He has no idea of the eventual outcome, just makes a mark, a line, a shape, a form - judging each one against the last. He adds and substracts forms and colour intuitively in a subconscious, reactive manner. Using the palette to create just the right colour and shade is an important part of the process. He loves the names of certain colours, they create feelings and his work is all about feelings and responses. The canvas is a theatrical space, the edges important. Shapes emerge, forms created by illusion.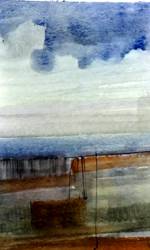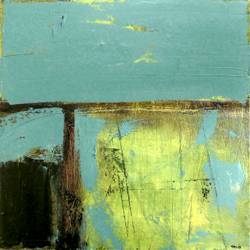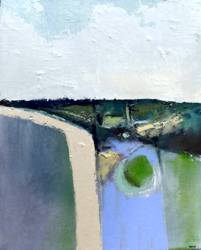 While talking about his approach, Chris "doodles" on a large square canvas then puts it to one side. He takes an old painting (mostly green trees) and begins overpainting, following some of the shapes within the original. He blocks in what might be an intense sky, then rotates the canvas which gives a totally different feel. Returning to the original canvas he refers back to a watercolour sketch as a starting point then adds some line and colour. Forms begin to emerge. Warm and cool colours create perspective and distance. A horizon appears. Glazing medium allows delicate layering of paint as the underlayer dries quickly, almost like watercolour technique in places. Bold scratching integrates one shape with another and adds texture. He picks up one of the earlier marks and adds a dynamic wavy shape. Each additional line or colour changes the relationships within the image and forces the artist to make judgements and move forward. At the end of the evening he invited participants to make some marks on his canvas. Neither of the demonstration pieces was finished, they were just used to illustrate his approach and techniques.
Members thanked Chris for a very enjoyable evening. The short history of the development of Abstract Expressionism was key as it, together with a more romantic English landscape tradition, shaped his work during his formative years as an artist. His very personal approach to creating abstract works was fascinating and inspirational. .
Clay Sculpting Workshop at Hertford Museum - 27th September 2017
The third Workshop in the series by Members of the Art Society at Hertford Museum was to make a relief on a tile inspired by an exhibit in the museum. This Workshop was led by June Pickard, Artist and Sculptor.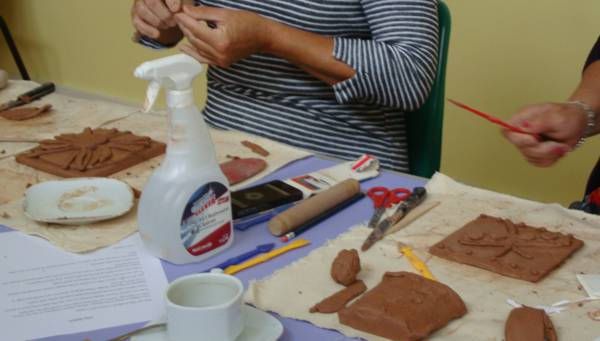 After the introductory talk on what to look for in the museums artefacts and having been shown examples of what could be done at different levels, the seven members of the public who attended looked around the museum to photograph or sketch items suitable for a relief. On their return the various tools and how they were used were explained.
When they had decided which design they wanted to use the outline was lightly etched onto a flat tile they had made by rolling out and trimming the air drying clay. Once this was done the serious work began by adding small pieces of clay to produce a raised image.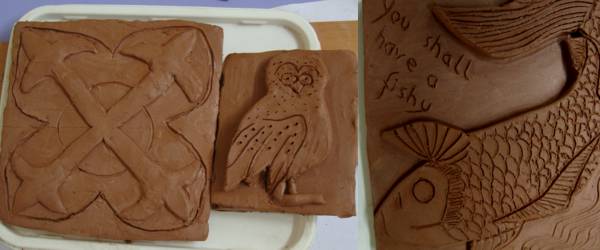 There was a large range of abilities from one person with experience who had prepared her design the night before, to others who had no experience at all. As they got more used to the medium and what effect different tools produced some got carried away and made more than one tile. The designs were bold and exciting.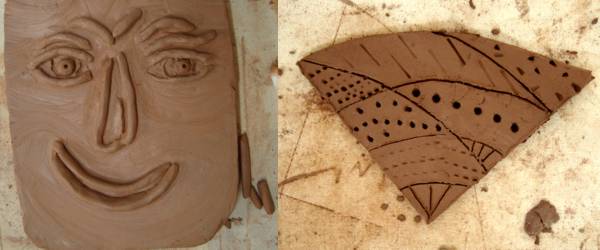 Everyone was very enthusiastic and even the organiser joined in. They all left happily with their pieces saying they would like to do more.
This is a marvellous way to further the popularity of the Art Society and, needless to say, mention was made of the Members Show which will be held at Cowbridge Halls, Cowbridge, Hertford on 27th to 29th October and the Collage Workshop which will be held at the Hertford Museum on 15th November.
Summer Programme Review 2017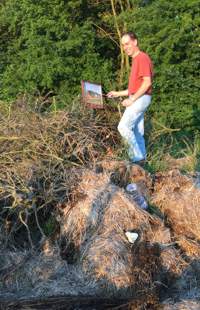 Each summer Hertford Art Society Members enjoy painting and sketching out of doors on Tuesday evenings at various venues in the Hertford Area.
This year's programme included familiar locations around Hertford and Ware and featured (by kind invitation) visits to The Garden of the Mill - Westmill, Bengeo Hall, Essendon Place Farm Stables, Walkern|Hall Estate and Carnwell Farm - Much Hadham.
The weather was mostly kind (one rainy evening involved three hardy artists and a longer than usual session at the pub) and the variety of venues provided some exciting sketching and painting opportunities.
A new Member of the Society, Oksana Melenevska, comments:
"Not so long ago I joined HAS and cannot stress enough how fortunate I am. The Summer Programme was organised in the best possible way with the variety of the picturesque spots round Hertfordshire.

As the time is limited (about 2 hrs) it has giving me a chance to practice a looser approach that's as much about the paint as the subject. Exploring the paint and reacting to your surroundings was such a fun! At the same time it's a great way of warm up for more serious work that can be continued back in the studio.

Painting outdoor with the fellow artists also is a great opportunity to be encouraged just to sketch and keep on being a sketch hunter as it's the most effective way to train your eye and hand which is essential.

These are my Notan quick drawings which I always do before starting to paint.

Happy painting everyone!

Whats is Notan:

The Japanese use the term 'Notan' to describe an important element of design. Notan means dark versus light harmony. The Japanese concept of two value Notan uses the simple concept of contrasting light and dark shapes."
Art Workshops at Hertford Museum
14th June 2017 - Printmaking with Geoff Bennett
27th September 2017 - Clay Sculpting with June Pickard
15th November 2017 - Collage with Kathy Burman
In collaboration with Hertford Art Society, Hertford Museum is running a further series of Art Workshops during 2017. These Workshops will use the exciting and varied range of artefacts available at Hertford's Museum as a starting point for the design of the finished article and are suitable for beginners and those more experienced. The first session, on Watercolours, was run by Denise Allen and was a great success. The downloadable leaflets give full details of times, cost etc. Booking is directly with Hertford Museum - www.hertfordmuseum.org (Tel: 01992 582686)
Haydn's Mass and Te Deum - All Saint's Church, Hertford - 1st April 2017
The Art Society was once again invited to illustrate Hertford Choral Society's Spring Concert – Haydn's Mass and Te Deum. This is a tricky score to illustrate – the works contain devotional phrases familiar to us all but few descriptive terms that readily transform to figurative pictures.
Persis Limbuwala did the sensible thing and painted an abstract of 'Heaven and Earth full of the Majesty: of thy Glory' - a Mondrian-style image of colourful panels edged in black which gives the picture a stained glass effect, entirely appropriate to its church setting.
Jenny Stratfold worked in a human theme with a panoply of worshipers from different lands to convey 'The holy Church throughout all the world doth acknowledge Thee' and Geoff Reynolds also decided to go for a group of people to illustrate 'We praise You, we bless You, we worship You, we glorify You'.

Paul Swinge created cubist images depicting 'You alone are the Most High, Jesus Christ with the Holy Spirit in the glory of God the Father'; John Jarratt selected just one of the Holy Trinity but was able to add in Planet Earth to illustrate 'You who take away the sin of the world'.

Sarah Merry painted 'Light through a stained glass window falling on the music of the Te Deum' and Oksana Melenevska, a newcomer to the Art Society, cleverly took her cue from the title of the piece – The Lord Nelson Mass – and showed Nelson resplendent in his naval uniform with a French frigate burning in the background.

For all of us creating images to illustrate the Choral Society's Spring Concert is an annual challenge, privilege and pleasure. And it brings with it an invitation to all members of HAS to come along to the final rehearsal on the afternoon of the performance to draw or paint the orchestra, soloists, choir and conductor: there never was a better chance to get up close and personal to a large scale musical event, free to capture the folk at work, great music swirling around you.
The large scale pictures were much appreciated by a packed audience on the night of the concert and for a month afterwards as the vicar of All Saint's Church enjoys keeping the pictures hanging in the church for her subsequent congregations to take in.