Portrait in Oils Demonstration - by Rob Wareing
16th October 2018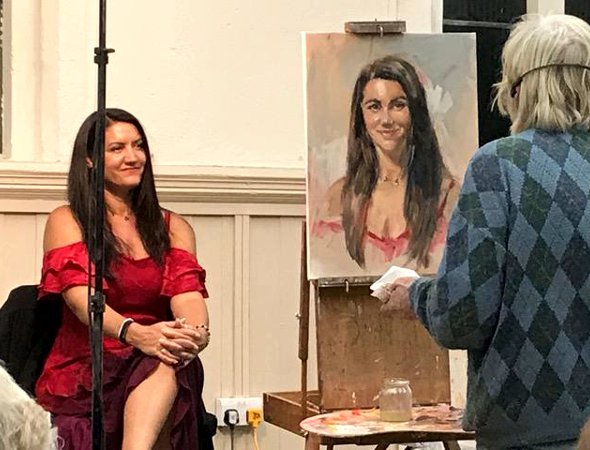 Rob Wareing was born and grew up in South Africa and still spends a great deal of time there. He studied the techniques of traditional classical painting and became a professional portrait painter at the age of 23. Since then he has had a very fulfilling career spanning over 40 years. He has painted numerous portraits of people of all nationalities and travelled extensively. His work is regularly featured in art magazines. He runs workshops, has demonstrated (on TV and YouTube) and published DVDs of his tutorials.
We are delighted to welcome Rob and his model, Amanda Allen, for this demonstration. He has prepared a canvas, painted in muted shades of acrylic - a typical background to his portraits. His first step is to sketch the model lightly in charcoal, indicating the features and measuring the distances from hairline to eyebrow, eyebrow to mouth, mouth to chin. This initial drawing is critical. He measures and plots the relationships of the model's features, sketches in the hair, the curve of the cheek and roughly indicates her clothes. The eyes are boldly drawn followed by the nose and the lips. He remarks that the drawing will alter as the painting progresses. He then sprays the sketch to prevent the charcoal mixing too much with the paint.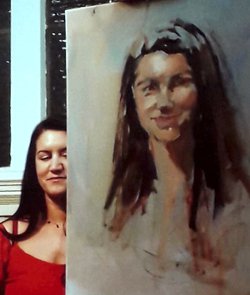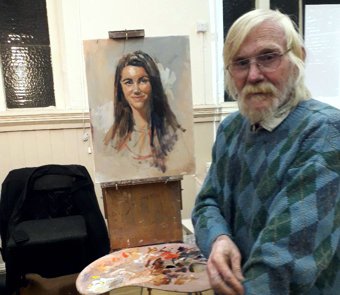 Rob mixes Burnt Sienna and Ultramarine Blue to achieve a rich, almost black, shade. This he thins with a varnish and turps mixture and boldly establishes the "dark notes"- the hair, eyebrows and eyes. Beginning with the dark hair gives him something to compare the other tones with as the work progresses. Burnt Sienna and Alizarin Crimson is mixed with white to varying degrees to apply mid tones and the highlighted areas of forehead, cheeks and chin. He then uses Cadmium Red and Burnt Sienna (or Yellow Ochre) , again in mixtures with white as he works around the face, placing bold strokes of colour and often smudging with his finger. He uses a variety of brush sizes as he works. Rob changes to a small brush in order to re-draw features in darker paint, re-measuring the distances between the eyes and using a plumb line for the verticals. He adds the whites of the eyes which really starts to bring the portrait to life. He defines the eyelids with small touches of paint. It seems that he likes to get some finishing touches in early, almost completing an element before moving on.
When he is working, he likes to complete a painting in one sitting to get a spontaneous effect. He remarked that "a much better likeness but a much worse painting can be the result of too much fiddling". He tries not to emphasise areas which are unimportant. He always uses life models, only occasionally resorting to photographs to complete a portrait if times runs out.
Rob now has many colours and shades on his palette and he works around the painting adding highlights, mid tones and darker shades, trying not to mix into the underlying paint, avoiding it becoming "muddy". Strong brushstrokes are an important aspect of Rob's work so he aims not to disturb them too much.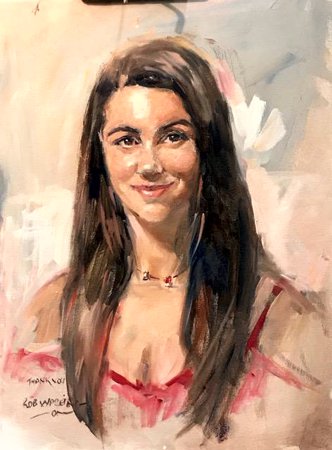 Having worked extensively on the face, Rob adds a variety of tones to the long dark hair. The model is lit with a spotlight, which really helps him to show the highlights on brow, nose, cheek and chin. Broad strokes of a light shade are applied behind the right side of the head which really brings it forward when set against the dark hair. Rob's portraits seem to blend into the background in a soft manner with the clothes rendered in loose strokes. The model's gorgeous red dress, which complements her complexion and rich dark hair, is finally indicated and some light tones added to shoulder and chest. Amanda was delighted to be presented with the portrait at the end of the session.
This demonstration gave a vivid insight into Rob's techniques and approach to portrait painting. To be able to bring this portrait to life in such a short time was remarkable. Rob was warmly thanked for giving us such an enjoyable evening and for sharing his hints and tips along the way.
2018-2019 Critique Winners
Critique winners of the 2018 – 2019 season as chosen by Members

Chris Baker
February 2018
Sun & Ice - Oil

Craig Lee
March 2018 - Joint Winner
Summer Fruits - Oil

Celia Sanders
March 2018 - Joint Winner
Bamford, Hope Valley - Pastel

Craig Lee
May 2018 - Winner
A Father's Gift - Oil

Jean Halford
May 2018 - Runner Up
Reflections - Oil

June Pickard
April 2018 - Joint Winner
Woodland Stream - Oil

Linda Radford
April 2018 - Joint Winner
Taomina, Sicily - Watercolour

Craig Lee
September 2018
Cambridge, An Early Summer Afternoon - Oil

Jill Rolfe
October 2018 Joint Winner
Dancer In Green - MM

Marianne Dorn
October 2018 Joint Winner
Music - Charcoal

Craig Lee
October 2018 Joint Winner
Amelia - Oil

Celia Sanders
November 2018 Winner
BramfieldWoods - Pastel

June Pickard
December 2018 Winner
All Together Now! - Acrylic

Jill Rolfe
January 2019 Winner
Cocky Locky - Mixed Media

Ray Ward
February 2019 Winner
Portrait Study At Mall Gallery - Oil

Emma Perring
March 2019 Winner
Two boats and a flag, Morston - Oil
Summer Sketching & Painting Evenings 2018
Phew, what a scorcher!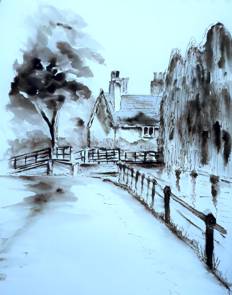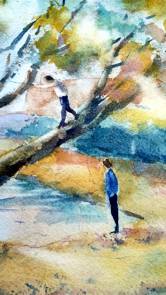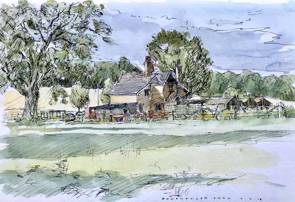 That expression describes simply the wonderful weather we have experienced for our outdoor sketching evenings this summer, which was in complete contrast to last year's cold and dull Tuesdays. For over 25 years now I have organised the Hertford Art Society's Summer Programme and do not recall better conditions.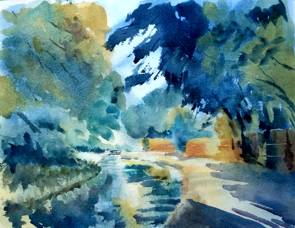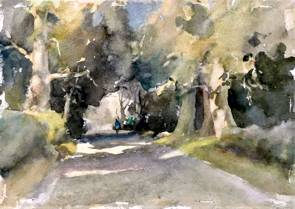 For the start of the Art Society's Summer Programme we met around the Port Hill area of Hertford, followed by a Tuesday evening at Dobb's Weir then another at Chapmore End Pond. The weekend at Blakeney in early June was thoroughly enjoyed by those attending with good work produced.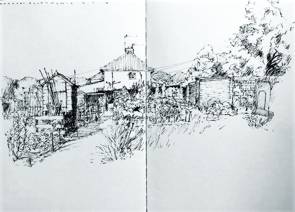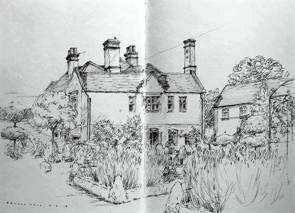 Cedars Park was the next sketching destination. On 3rd July, after two years of being thwarted by bad weather, Members enjoyed a truly delightful summer evening at Panshanger Park, with a welcome from Murray Brown of the Herts and Middlesex Wildlife Trust. The Tuesday following was at Wheathampstead village, followed at the weekend by a memorable visit to the Henry Moore Foundation. Four more fine evenings were spent at Great Amwell, Carnwell Farm, Braughing and Ware, although at Ware we did endure a light shower, as if to remind us that we live in England.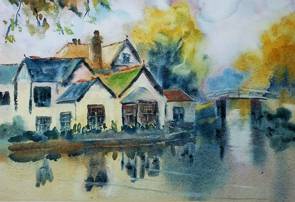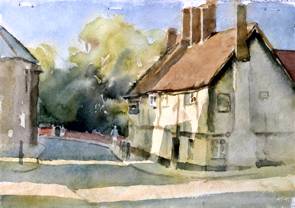 The last evening in mid-August saw 23 Members painting around Hertford Town prior to having a convivial meal at the Salisbury Arms.
This was truly a summer to remember.
Comments by Persis Limbuwala

[Left] This picture was started at Braughing Village and finished at home with the aid of photographs taken on the spot that evening. These three completely different buildings appeared to compliment this corner situation so typical of an English village over a long period of time. Buildings from different centuries seem to look like good neighbours and that was what attracted me to choose this location from all the other wonderful locations within this friendly village. I completed the basic sketch in situ and applied the first coat over each area and then waited for it all to dry - bringing it home to finish with several layers of watercolour paints.

[Right] This rough sketch is of a friend of mine who I invited to join our group on a practice summer evening and being local we met at the Ware riverside but the heavens decided to rain on us so we ended up in the pub where we were due to meet up eventually and in order to do some art work that evening we decided to sketch each other across the table and this was the result of my effort on that summer outing with our HAS group.

Comments from Craig Lee

[Left] Cowbridge Hertford. This was from my first evening painting with HAS this summer and was surprisingly chilly. What caught my attention here was the long shadows typical of early evening. Painted with oils on panel 12x10 palette knife.

[Right] The Caravan. The diversity in an individual's choice of subject matter when in the same place always fascinates me. On this occasion I believe I was the only person drawn in by this caravan and the last dappled rays of the evening's light. Oil on panel 12x10 palette knife
Trevor Chamberlain
Wildlife in Acrylics
Demonstration by David Hyde - 18th September 2018
David Hyde is a self-taught professional artist who lives and works close to the river Great Ouse in St. Ives, Cambridgeshire. He has combined a keen interest in wildlife and bird watching with a life-long passion for painting.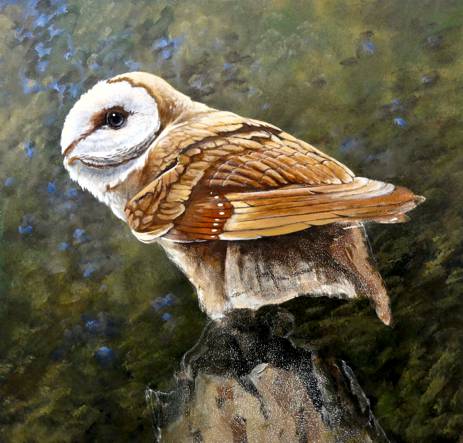 Having worked mainly in watercolour, David has, over time, developed a technique in acrylics to suit his style of portraying wildlife. He works mainly from photographs and had chosen an image of a barn owl against a dark background for his demonstration. He favours MDF board as a support, primed with several layers of Liquitex gesso on both sides and then sanded to a smooth finish as fine brushwork and detail is needed for wildlife painting. (He uses a board cut to the size of his framed painting with the area for painting masked around. The process of adding a mount and framing is thus simplified.) He favours Liquitex Soft Body acrylics as they can be applied thinly, rather like watercolour, without loss of colour. He uses a Liquitex medium to thin the paint and normally paints standing with the work on a tilted board.
David had prepared a sketch from the photograph and using a mix of Raw Umber and Paynes Grey he painted onto his sketch using a fairly large brush and light directional strokes to indicate the groups of feathers. He left this layer to dry so that further paint did not disturb the under layer. Acrylic can be used in countless layers as long as the surface is dry and he uses this technique to "build" the image, taking note of the underpainting and leaving some areas uncovered by further paint. Using a dark mix he blocked in the eye and shadows under the wing to give the bird character and form at this early stage, using a wetted finger to blend. He began to paint white feathers around the face using thinned gesso, following the direction of growth. As it is diluted the colour fades as it dries giving the feathers a soft appearance. The dark underpainting forms the gaps between feathers and separates the feather groups. David then added another layer of white for extra texture observing the direction and turning the board for ease. He floated a dark wash around the eye socket and added a light area to the iris of the eye to give life to the image. He defined the mask of the face by adding shadow below, blending with a damp brush. He created form and texture to the face area with a small brush, refining the image with Titanium White to highlight and lift the edges of the feathers around the face.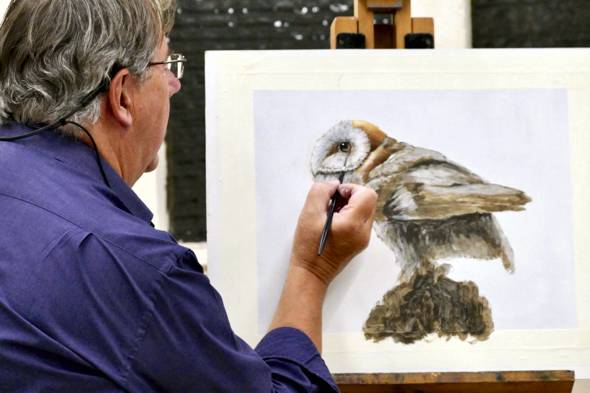 The Old Masters used the technique of underpainting, laying in the form and adding glazes of colour as the work progressed. David feels this technique works well with wildlife painting. He next used Cobalt Blue mixed with Burnt Sienna and Liquitex Gloss Medium as a glaze on the darker areas, allowing the underpainting to remain sharp. Opaque colour was added to the top of the head, a warm ochre, lightened at the top of the head with white, blended with feathery strokes into a rich red in the shadows. He prefers Galeria brushes by Windsor and Newton for these details. They hold their shape, come to a point and are quite robust.
David's process is one of building up the form by adding darks and lights gradually with the underpainting showing through a little, thus giving depth and form to the image. At the end of the demonstration the painting was well under way and will be completed later, the dark background adding drama.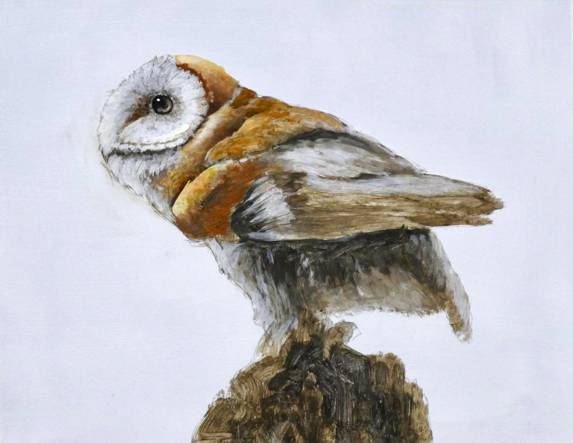 This was an absorbing demonstration, the owl gradually coming to life though the careful and skilful application of layer upon layer of paint, with David generously sharing his knowledge and insights into the process he has developed. David was warmly thanked for making the evening so interesting and enjoyable.