22nd Members' Art Show & Sale
1st - 3rd November 2019
Our 22nd Members' Show attracted a good number of visitors, in spite of the poor weather and there were many comments on the variety and excellent quality of the artwork. There was great variety of paintings, in a range of media - something to suit every taste. 58 Members contributed 211 pieces of artwork and 3D, plus 3 browsers of unframed work and many cards.
The prizes this year were as follows:
The May Bennett Award for best Still Life went to Brenda Thompson for her acrylic painting, "Autumn Harvest of Gourds"
The Marie Goldsmith Award for service to the HAS went to Ray Ward for his watercolour painting, "River Lea, Bircherley Green".
The Enid Fairhead Award for the Members' choice went to Sandra Edney-Lynch for her oil and pastel painting "Quinbury with Snow".
The Visitors' Choice Award went to Shuli Han Dulley for her watercolour sheep dog portrait "Waiting for his Master".
This year we had no entries for the new prize, the First Time Exhibitor Award. Hopefully we can encourage some shyer artists to exhibit their work next year.
Finally, our thanks go to all those Members who worked hard for their Society's Show, whether setting up or dismantling, stewarding or making teas (and cakes!). This is a show which involves a great many members in its production. Once again, it was a great success and provided a vibrant and exciting show for the many visitors who called into Cowbridge Halls over the weekend.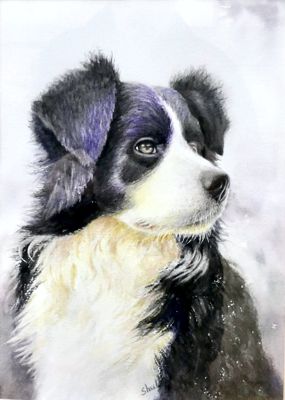 The Visitors' Choice Award:
'Waiting for his Master' byShuli Han Dulley - Watercolour.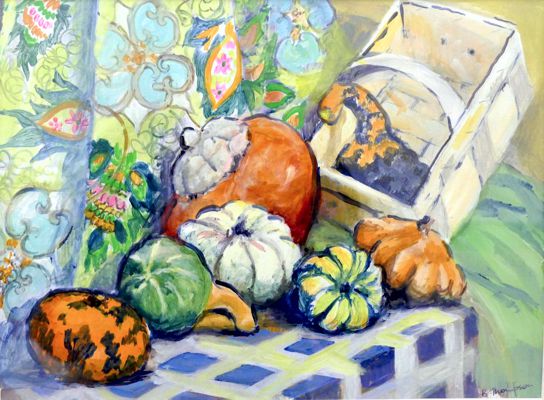 The May Bennett Annual Award for the best still life:
'Autumn Harvest of Gourds' by Brenda Thompson - Acrylic.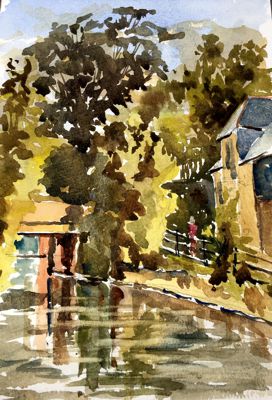 The Marie Goldsmith Annual Award:
'River Lea, Bircherley Green' by Ray Ward - Watercolour.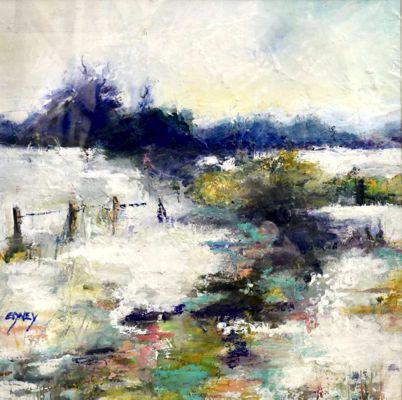 The Enid Fairhead Award:
'Quinbury with Snow' by Sandra Edney-Lynch - Oil and pastel.
The Joy of the Unexpected
Printmaking workshop with Jude O'Sullivan
15th October 2019
Jude O'Sullivan's knowledge of printmaking is extensive. Her background is in design and she began her career in advertising and as a freelance graphic designer. She has 25 years plus experience in teaching and was formerly Head of Art at Oaklands, St. Albans. Luckily for us she moved to Hertford and is still teaching classes and workshops.
For full report, click here for more details.
Print Workshop at Hertford Museum
25th September 2019
Hertford Museum sponsor practical arts workshops for the general public and these are tutored by Hertford Art Society Members in their well-appointed studio at 18 Bull Plain, Hertford SG14 1DT. September was print time and the workshop was run by artist Geoff Bennett. Attendees got a brief introduction to the prints held by the museum and were then invited to look at the displayed exhibits for likely subjects to print. They were shown how to draw their chosen subjects onto polystyrene sheets, creating indentations similar to gouges in a woodcut or linocut. They rolled printing ink onto the polystyrene images, to produce a print plate able to create good looking prints.
For full report, click here for more details.
Summer Sketching Evenings 2019
The 2019 Summer Evening Open-Air Sketching Programme opened on 21st May with a visit to an indoor venue. Hertford Art Society Members were invited once again to sketch at one of the Hertford Choral Society's rehearsal evenings. This was an evening full of music and movement and was greatly enjoyed.
The following week saw us enjoying the bright evening sunshine on Hartham Common and the Folly Allotments. This particular evening turned out to be probably the best evening weather of the Programme.
Painting the villages of Bayford and Brickendon on 4th May was disappointingly cloudy, and the following week was no better at Sawbridgeworth Maltings with only 4 Members attending. However, the painting weekend at Aldeburgh on 7th to 9th June was enjoyed by about 19 Members.
For full report, click here for more details.
Pastel Demonstration and Workshop with Artist, Jan Munro
17th September 2019
Jan Munro is a Member of the Pastel Society, has won many awards for her contemporary paintings and has recently exhibited at the Mall Galleries. She paints in pastels, watercolour and acrylics and runs workshops and classes.
Jan brought examples of her vibrant work, sketch books, irresistible cards and an array of pastels to make your mouth water.
The evening began with a quick and lively still life demonstration on Sennelier pastel card. This 400gsm ph neutral board has a slightly abrasive fine tooth surface. Jan much prefers this to regular pastel paper.
For full report, click here for more details.
Encaustic Art - Demonstration by Phil Madley
10th September 2019
Phil Madley is an experienced graphic artist and photographer and has developed his own style of working with encaustic wax. Encaustic painting, also known as hot wax painting, involves using heated beeswax to which colored pigments are added. The liquid or paste is then applied to a surface using a small iron or other heated tools. He brought along various examples together with the kit needed to demonstrate this unique medium.
Phil explained that the ancient Egyptians had used beeswax and minerals with hot tools to decorate objects and tombs.
For full report, click here for more details.
Winter Programme 2019 - 2020
From September each year Society Members and visitors enjoy a Programme of talks, critiques, demonstrations and workshops. These sessions are on Tuesday evenings from 7.30pm to 9.30pm at Cowbridge Hall, Cowbridge, Hertford SG14 1PG. Approximately half the evenings in the Winter Programme are for Members to paint or draw either from still life arrangements or a life model. The remaining evenings are taken up with talks, critiques of paintings brought along by Members, demonstrations from a professional artist or workshops. Visitors are welcome to enjoy the non-practical evenings (marked with an asterisk).
Winter Programme 2019-2020 (pdf) - click here for more details
Saturday Life Workshops
WHY LIFE DRAWING AND PAINTING? – Some may say it is old fashioned, but practising Life Drawing enhances observation and accuracy. Interpreting the shape of the human body trains the artist to see almost every curve line and subtle undulation found in nature. The satisfaction of producing an acceptable image can be quite intense. It does not happen immediately and demands a great deal of practice to achieve.
Hertford Art Society runs Life Workshops in Cowbridge Halls, Hertford, SG14 1PG on the last Saturday of 9 months during the year. Although these are primarily run for Members we welcome enthusiastic visitors at £16.00 per session (£8.50 per half day), this includes coffee, tea and biscuits, available all day. The sessions are untutored and last from 10.00am – 4.00pm with a break of 1hr at lunchtime. We work in in all mediums including prep work for sculpture. Bring whatever medium and equipment you require with you. The photographs below illustrate the exciting variety of work produced by the artists.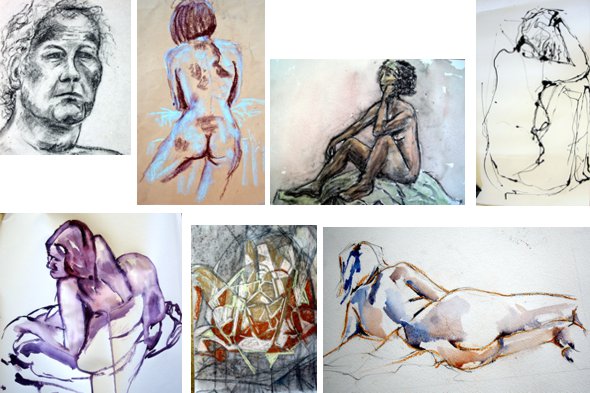 There are many different approaches to life drawing which become very obvious during the sessions. We are a very enthusiastic group artists and in a relaxed atmosphere we learn from each other different skills and methods of working, as well as experimenting with different mediums etc. There are normally 2 models unless the group is small, when there is only one. We do not have a set programme of poses, but usually include short poses, mostly in the morning and longer poses for artists who wish to produce a more finished piece of work. So why not join us if you haven't already.
Workshops take place on the last Saturday of the month for nine months of the year. They do not take place in April, August and December due to the annual Open Exhibition and holiday periods.
Life Models Workshops within HAS Winter Programme for 2019 - 2020
Saturday - 28 September 2019
Saturday - 26 October 2019
Saturday - 30 November 2019
Saturday - 25 January 2020
Saturday - 29 Febuary 2020
Saturday - 28 March 2020
Saturday - 30 May 2020
Saturday - 27 June 2020
Saturday - 25 July 2020
If you are interested please contact workshops@hertfordartsociety.co.uk for further details.
Summer Painting Weekend - Aldeburgh, Suffolk
June 7th, 8th and 9th 2019
In terms of numbers attending (17) the Aldeburgh trip was the best so far and I'm sure those who made it for the first time will join us again next year.

John Jarratt
On Friday it pretty much rained all day forcing most of us to sketch from our cars. Ever the brave souls, HAS members took it as an opportunity to get into the painting zone knowing that our reward would be "Fish & Chips" from the best chip shop in England. This certainly proved to be the case followed by a sociable evening in the put next door.

Stephen Lowe, Left: Aldeburgh estuary - Oil; Right: Aldeburgh Fish Hut - Oil
On Saturday, just as our enthusiasm began to be tested by the wind and rain, out came the sun followed quickly by the paints and for me two quick oil sketches went down - satisfaction at last!
That evening we all met up at the "Lighthouse Restaurant" where we had another delightful meal thus confirming the rumours that in reality we were just a bunch of gastronomes.

John Jarratt
On Sunday, under bright blue skies and a passive breeze, we made our choices of location, some on the beach and others, like myself, went to Snape where I tackled a large canvas which I hope one day to finish - where have I heard that before?
So what of next year? One suggestion has been put forward - Winchester - but we have not finalised our choice yet, however maybe Members could pencil in the first weekend of June 2020.
Happy painting friends.
Stephen Lowe
Painting and drawing the Hertford Choral Society
21st May 2019
The first session of the Summer Programme was held at Sele School in Hertford where the Hertford Choral Society were in rehearsal for their Summer Concert. A hundred singers arranged three sides of a square in front of a pianist plying his trade on a grand piano, and of course the conductor, Derek Harrison. So plenty of perspective challenges to go along with that of capturing on paper a mass of people standing up, sitting down, leafing through scores and generally shifting around on their hard school chairs. It's Gareth Malone meets The Painting Challenge.
For full report, click here for more details.
HERTFORD ART SOCIETY OPEN EXHIBITION
May 5th to 18th 2019
"Wonderful Exhibition - never disappoints!!" "Some spooky things here" "Always a good variety & high Standard. It's a joy to see." "Brilliant - so many styles." "Fantastic artwork, such a high standard." "Really impressive collection of works. Great Show. Thanks." "Artist talents alive and well in Hertford. Glad I made it over from the Isle of Wight."
These are just a few of the comments made by visitors during the course of this year's Exhibition.
There was something for everyone in Cowbridge Hall, a light and airy venue which shows work at its best. There were impressive and atmospheric landscapes, townscapes and seascapes; beautifully crafted abstracts which looked like puzzles; still life images which made your mouth water; delicate and dramatic flower paintings; engaging portraits; figures resting or rushing around, and a gorgeous variety of animals (cats relaxing on window ledges, a curious giraffe, a quiet elephant, a pouncing cheetah and a running badger to name but a few). Some works were colourful and bold, others subtle and elusive. There were some large monochrome pen and ink scenes, some spooky images crafted in charcoal and graphite and an intriguing painting of a pair of old boots. The exhibits included oils, acrylics and watercolours; etchings, lino and screen prints; pastel, pencil, charcoal and ink and collage. The 3D work included some gorgeous sculpture in stoneware, bronze resin and wire, ceramic portraits, shapely pots and a stack of kitchen pots topped off by a head and chef's cap, to add a touch of variety.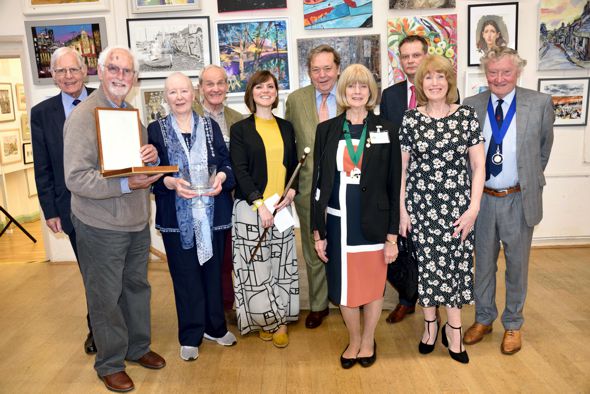 left to right: Lord Laming, Bert Wright, June Pickard, Gerald Dale, Nicola Dobrowolski, Marquess of Salisbury, Linda Radford, Craig Morton, Kathy Burman, Peter Ruffles, Deputy Mayor of Hertford.
A childrens' quiz kept children (and their parents) engaged as they explored the hall for solutions to some very quirky questions. As usual additional works were displayed at other venues in Hertford.
The Hertford Annual Open Exhibition covers just about every genre and the work is judged each year by a panel of four eminent, practising artists who are completely independent of the Society. This year's judges were:
Marie Antoniou, an artist and tutor well known for her unique depictions of wildlife in acrylics which have earned her numerous awards and accolades.
Hashim Akib, an award winning artist who works in acrylics, runs workshops in the UK and abroad, gives art demonstrations and has published DVDs and books, the latest being 'Portraits in Acrylics' published by Search Press.
John Walsom ROI, a Surrey artist who's renowned for his paintings of landscapes and architectural subjects. He began his career as an architect, and later a scenic artist for live theatre, a theatre design consultant, an architectural photographer, and an illustrator.
Rodney Mundy, a sculptor who works in clay, wax or plaster to produce sculpture to be cast in bronze or bronze resin. He has executed many commissions for figurative and animals subjects and is based in Hertfordshire.
We thank the judges for their professional and expert input and are also very appreciative of our sponsors who so kindly contribute to the Society each year. It is a great honour and incentive to receive one of their donated awards.
Award Winners
The prize winners this year were as follows:
The John Goss Award for the Best in Show was awarded to Nicola Dobrowolski for her picture - Movement and Moments in a Great British Meadow - 53x112cm.
The Lady Laming Award for the best Abstract work was awarded to Kathy Burman for her sculpture - Sofia Emerging No 3 - Stoneware - 37cm tall.
The Bill Dale Award for an outstanding work by a Member of the Society was awarded to Craig Lee - Evening Light Cambridge - Oils - 63x74cm.
Mayor's Award (sponsored by The Arts Society East Herts) for the best 3D work was awarded to June Pickard - Echo of Scheherezade - Stoneware - 29cm tall.
Edward Mason Brushes award for the best Watercolour painting Bert Wright - Honfleur - Watercolour - 25x33cm.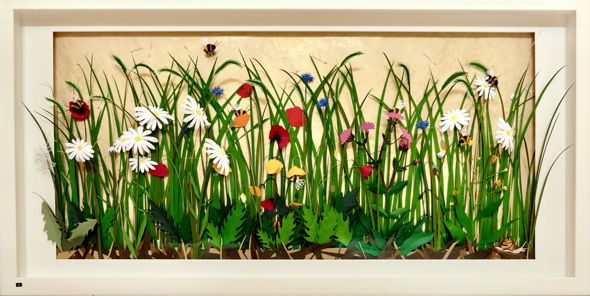 John Goss Award - best in show
Nicola Dobrowolski - Movement and Moments in a Great British Meadow - 53x112cm.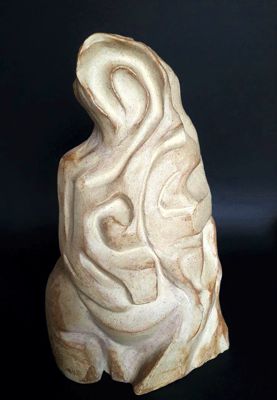 Lady Laming - Abstract prize
Kathy Burman - Sofia Emerging No 3 - Stoneware - 37cm tall.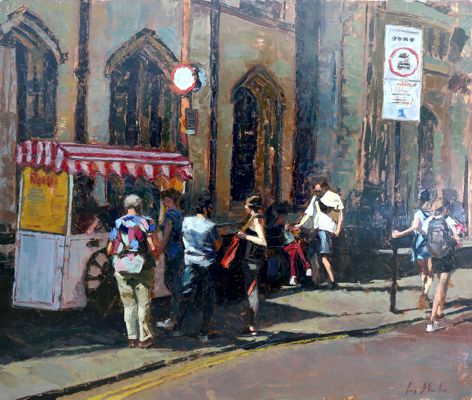 Bill Dale Award
Craig Lee - Evening Light Cambridge - Oils - 63x74cm.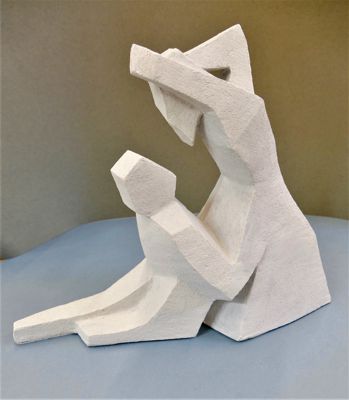 Mayor's Award for 3D
June Pickard - Echo of Scheherezade - 29cm tall.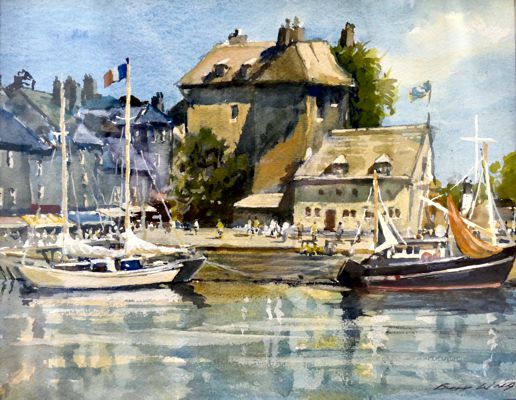 Edward Mason award
Bert Wright - Honfleur - Watercolour - 25x33cm.
Open for an entire fortnight the Exhibition attracted many visitors from a wide area. Hundreds of visitors cast their votes for their favourite exhibit.
This year The Visitors' Choice Award was won by Shuli Han Dulley for her painting Lucy, in watercolour
The runners up were:

Tracy Pinnington - "On your marks - Get set - Go"
John Jarratt - Early Sun, Marford Allotments
Sharon Wright - Honey Trail, and
Michael Radley - Evening Light, New River
Thanks go to all the people who contributed in making this, the 67th Open Exhibition, such a success - it was another exciting and popular show. This comment is by our Member, John Jarratt and really sums up the pride with which the show is presented and the pleasure that this annual event gives to all its visitors.
"I usually spend a little time, while stewarding the Exhibition, in wandering here and there studying all the pictures. Amazingly, every such stroll brings up pictures I seem to have missed. It seems that with a show of such diverse and excellent artworks my mind is captured anew over and over. I have exhibited at several shows and over many years and I really believe that the Hertford Art Society's Annual Exhibition can't be beaten."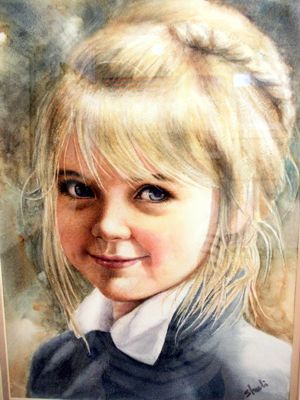 The Visitors' Choice Award, Shuli Han Dulley - Lucy.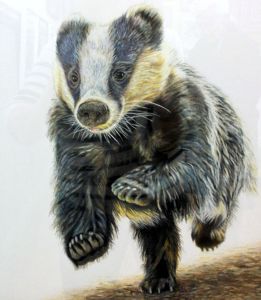 Runner up, Tracy Pinnington - "On your marks - Get set - Go".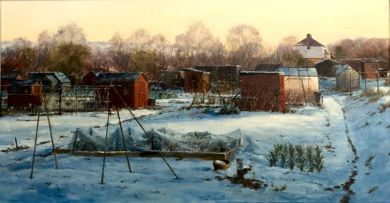 John Jarratt - Early Sun, Marford Allotments.


Sharon Wright - Honey Trail.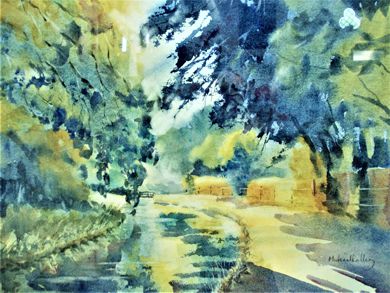 Michael Radley - Evening Light, New River.
For full report, click here for more details.
Chines Brush Painting
Talk and Demonstration by Sho-Jen Dowell - 23rd April 2019
Sho-Jen Dowell is a Cambridgeshire-based artist and musician. Born in Taiwan, she has practiced Chinese Art and Calligraphy since childhood. Formally trained in fine art and commercial design, she is schooled in both Chinese and western artistic disciplines.
Sho-Jen introduced us to the materials which are essential for Chinese brush painting.
For full report, click here for more details.
Summer Programme 2019
Each summer following the indoor Winter Programme and the Open Exhibition, Hertford Art Society Members enjoy painting and sketching out of doors on Tuesday evenings at various venues in the Hertford Area.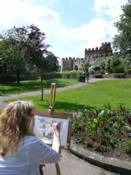 Painting in the grounds of Hertford Castle
Members usually meet at around 7.00pm (or beforehand by private arrangement) for sketching & painting, then gather socially in the suggested public house when the light fails. Any local artists from these villages or areas are welcome to come along for the outdoor painting sessions etc.
Pictures at a Concert
Verdi's Requiem at All Saints Church Hertford - 30th March 2019
Each year the Society is invited to paint seven large pictures to hang in All Saints church, Hertford to illustrate Hertford Choral Society's Spring concert. The concert is a very grand affair – a choir 120 strong, an orchestra of 50 professionals, four brilliant soloists and the conductor, Derek Harrison. The performance this year was Verdi's Requiem, a dramatic piece requiring an augmented brass ensemble and a specially large 'Verdi drum' to give full value to the musical score.

Lux Aeterna

Janet Dobney


The trumpet, scattering a marvellous sound

Brenda Thompson

The trumpet, scattering a marvellous sound

John Jarratt


I pray, suppliant and kneeling with a heart contrite as ashes: take my ending into your care

Jenny Stratfold
The libretto quotes 'the trumpet, scattering a marvellous sound' and it was this text that inspired paintings by John Jarratt, Brenda Thompson and Geoff Bennett. Persis Limbuwala fastened onto 'May the holy standard-bearer Michael show them the holy light', Jenny Stratford pictured a praying figure 'suppliant and kneeling with a heart contrite as ashes', and Janet Dobney picked up on the theme of figures climbing from the depths into eternal light. Chris Pantry, the one newcomer to our team of concert painters, opted to listen to the music rather than peruse the words. He imagined things rising upwards, heading towards a destination. As the music progressed he turned his painting upside down, to allow the paint to run down, so that the final effect would be of a medium defying gravity and normal conventions.

May the holy standard-bearer Michael show them the holy light

Persis Limbuwala


A response to atmosphere: A depiction of things rising upwards, heading towards a destination.

Chris Pantry

The trumpet, scattering a marvellous sound through the tombs of every land

Geoff Bennett


Hertford Choral Society

Rehearsal
The seven pictures hanging down the central aisle of All Saints Church as Verdi's music burst out looked splendid – a testimony to the strong links between the Hertford Arts and Choral societies.
Garden Landscape - 20th November 2018
Acrylic painting demonstration by Kit Leese
Kit Leese is a professional artist who has been painting and selling his work for the last 40 years. He has always had a passion for landscape and likes to paint on the spot, often in East Anglia where catching the immediacy of changing light across the landscape is key.
Painting a garden is a major challenge – lots & lots of 'stuff', most of it green with some unpleasant brown. The challenge of demonstrating how one might tackle this was taken up by Kit who paints in a number of mediums but prefers watercolour, acrylics or gouache.
For full report, click here for more details.
Remembrance Sunday - 11th November 2018
Display of paintings in All Saints Church, Hertford

Christian Soldier
- Chris Hewitt

Everyone's voice was suddenly lifted;
And beauty came like the setting sun:
My heart was shaken with tears; and horror Drifted away ...
(Siegfried Sassoon)
- John Jarratt
The Vicar of All Saints Church, Jo Loveridge, asked the Art Society if artists would provide large aisle paintings to commemorate the hundredth anniversary of the signing of the armistice. A chance to paint & display large, dramatic pictures? Well, of course we would.
The result was seven very different images – three were figurative (Chris Hewitt's Christian Soldier, Gillian Harman's scenes from the war in Egypt and Sudan, Geoff Bennett's despondent ploughman); one – John Jarrratt's 'Everyone's voice was suddenly lifted' - was largely textual; and three combined figurative and symbolic images (Janet Dobney's Hertford Lad, a soldier returning to scenes from Hertford, Persis Limbuwala's biplanes flying over text and poppies, Janet Benge's wry reference to WW1 Propaganda).
The overall effect of the seven pictures hanging down the central aisle of All Saints Church gave a varied representation of the Great War. The Vicar felt that these heartfelt images would be very well received during the service. They will remain on display for a further 3 weeks.

In memory of my grandfather William Angus 1884 -1919
In 1917 & 1918 he served in the Royal Army Medical Corps in Egypt as A.D.M.S. (Sanitation), 1st Echelon with the rank of Lieutenant – Colonel. I have a good collection of his photographs from this time, showing rarely seen views of WW1 in the Middle East, and have used some to create my picture. - Gillian Harman

[Left] Untitled - Janet Benge. [Right] Hertford lad - Janet Dobney.

No more the ploughman turns the turf
Exploding shells now churn the earth.
He gathers up their bitter harvest.
And dreams of home.
- Geoff Bennett

"Standing on the ridge it is possible to see what a lot of the country we have taken now."
(from a letter home)
- Persis Limbuwala
Review of 21st Members' Show
2nd - 4th November 2018
The 21st Members' Show took place in the well lit and spacious Cowbridge Hall in Hertford from 2nd to 4th November 2018. Two hundred framed artworks, submitted by 58 Members, were on show and browsers were full of unframed work. Thirty five pieces of work were sold as well as a good number of artists' greetings cards.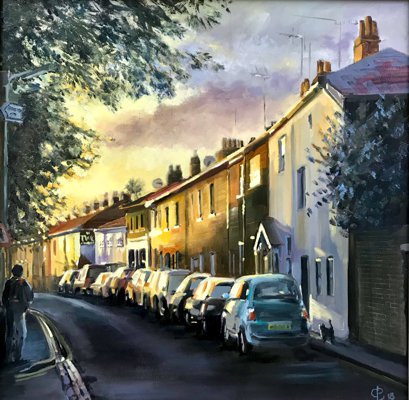 The Visitors' Choice Award:
'Port Vale, Sunset' by Chris Baker - Oils.
The range of subjects and styles made this a truly enjoyable show to visit, with something for everyone and prices to suit all. The Children's Quiz was appreciated by children and parents alike and, as usual, tea and coffee and cake were a popular attraction. Although Friday was a quiet day for visitors, the weekend was particularly busy.
Everyone who visits and revisits the show has their favourites. The problem is choosing which one to vote for! Particularly popular among the visitors were the following: 'Nose in the Air' (camel) by Donna Chamberlain; 'Quinbury in Winter' by Sandra Edney-Lynch; 'Ladies at Ascot' by Jill Elliott; ' Rose and Cow Parsley' by Stella Green; 'Tufty' (squirrel) and also 'Alpes-Maritimes' by Pete Kelly; 'Gazebos, Ware' by Chris King; 'South Devon, plein air' by Craig Lee; 'Strolling in the Sun' by Linda Radford; 'Lion No.1' by Alyson Sharpe; 'A Sunny View' by Paul Swinge and 'Panshanger Country Park' by Fiona White.
For full report, click here for more details.
Programmes