The Spring Show 2020
Opened 6pm on Saturday 25th April
Covid-19 has prevented the Society holding its traditional springtime Open Exhibition. In its place we have mounted an on-line Spring Show – 150 pictures and two 3D works from 55 of our Members.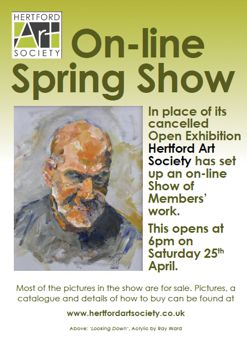 Click here to view the Spring Show
Print Workshop at Hertford Museum
25th September 2019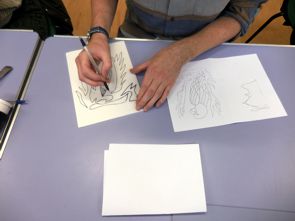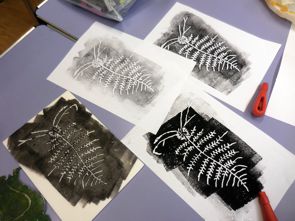 Hertford Museum sponsor practical arts workshops for the general public and these are tutored by Hertford Art Society Members in their well-appointed studio at 18 Bull Plain, Hertford SG14 1DT. September was print time and the workshop was run by artist Geoff Bennett. Attendees got a brief introduction to the prints held by the museum and were then invited to look at the displayed exhibits for likely subjects to print. They were shown how to draw their chosen subjects onto polystyrene sheets, creating indentations similar to gouges in a woodcut or linocut. They rolled printing ink onto the polystyrene images, to produce a print plate able to create good looking prints.

Here are some of the results (the lady with not many clothes on was not a museum exhibit lurking in a glass case; she is from a drawing made at a HAS Saturday workshop & brought along by a HAS member who joined the printing class).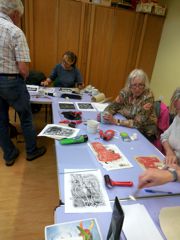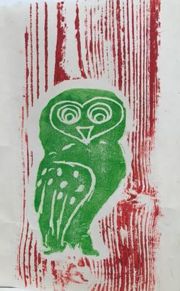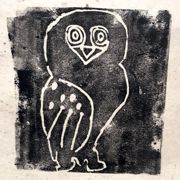 There is always something interesting going on at the Hertford Museum for visitors of all ages and it is hoped that further art workshops will be run in the future. Check the Museum website www.hertfordmuseum.org for details of their activities.
Pastel Demonstration and Workshop with Artist, Jan Munro
17th September 2019
Jan Munro is a Member of the Pastel Society, has won many awards for her contemporary paintings and has recently exhibited at the Mall Galleries. She paints in pastels, watercolour and acrylics and runs workshops and classes.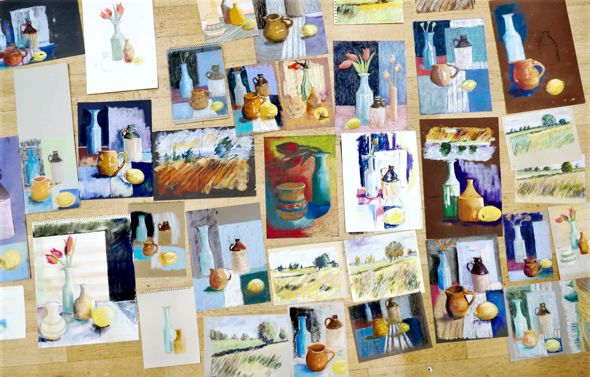 Jan brought examples of her vibrant work, sketch books, irresistible cards and an array of pastels to make your mouth water.
The evening began with a quick and lively still life demonstration on Sennelier pastel card. This 400gsm ph neutral board has a slightly abrasive fine tooth surface. Jan much prefers this to regular pastel paper.
Jan had lightly sketched a still life arrangement and begins with the objects, starting with the lightest tones of a vase and using the side of a piece of broken pastel. She applies the pastel firmly and the surface of the card "grabs" the colour, giving a dense, bold start to the image. She moves on to mid and darker tones for the vase before applying a dark background which makes the object jump forward. Composition and design are key elements of her paintings to achieve a feeling of balance with a sense of light and space.
Inspired by her skill and enthusiasm we followed her lead to produce an array of intriguing still lifes of our own, using photographs which she provided.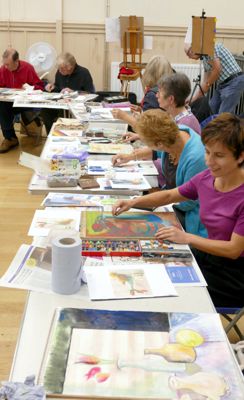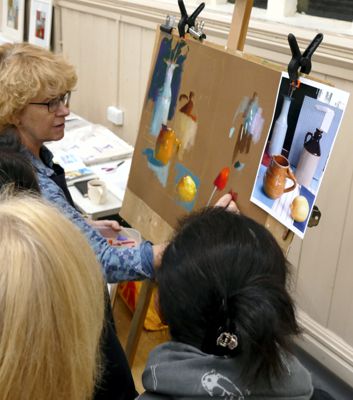 She also uses Uart paper which has the advantage of being able to take water. Some of us progressed to doing a landscape for which she gave us another short demo. This was very much less is more and immediately convincing.
Jan's pastel technique was bold and vibrant. Her paintings have great energy with a strong focus on design. She gave us lots of practical tips, individual instruction and encouragement and the display of work at the end of the evening illustrated how much we had learned. This was a productive an enjoyable evening which was very well attended by members and Jan was thanked for sharing her skills and enthusiasm with our Members.
Encaustic Art - Demonstration by Phil Madley
10th September 2019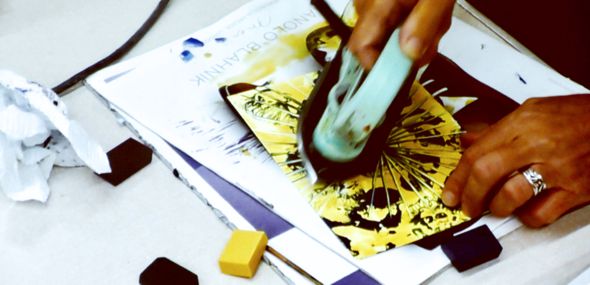 Phil Madley is an experienced graphic artist and photographer and has developed his own style of working with encaustic wax. Encaustic painting, also known as hot wax painting, involves using heated beeswax to which colored pigments are added. The liquid or paste is then applied to a surface using a small iron or other heated tools. He brought along various examples together with the kit needed to demonstrate this unique medium.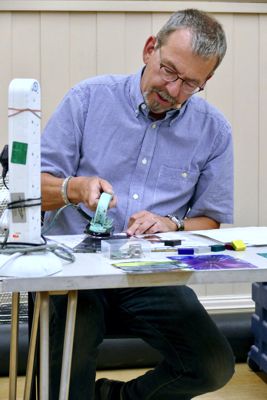 Phil explained that the ancient Egyptians had used beeswax and minerals with hot tools to decorate objects and tombs.
The paintings are done on glossy card and Phil had a range of coloured wax blocks together with a small iron which can be set to various levels depending on the colour chosen. Lighter colours have a lower melting point. He also had a hot stylus which comes with a variety of shaped tips and a paint stripper to get a blown effect on the melted wax.
He set the card on a scrap magazine (soiled pages can be discarded) and spread some coloured wax onto the surface of the hot iron. This he quickly "ironed" onto the paper, manipulating the iron to achieve thick and thin areas of wax. Using a single colour for this example, he applied different parts of the iron to the paper, with varying degrees of pressure to make an interesting and varied design. This is an exciting process as abstract elements appear. He wiped off the surplus wax from the iron with paper towel and began another work in pinks and purples. Using just the edge of the iron he created a starburst image rather like a flower. The point of the iron made highlights in the centre as did a small brass tool used for scratching off areas. The two colours blended in a very subtle manner. Phil created a range of small images in various colours to demonstrate the very large variety of effects that can be achieved with imagination and deft use of the iron.
Using just the tip of the iron and rotating the card can produce interesting circular shapes. Transparent wax can be used as an undercoat to enable further coats to "float" on top. As well as white glossy card, the wax can be applied to gold or silver card. Phil has worked in this medium on large sheets of prepared MDF board with great results. In his studio he often works on an A2 hotplate with card set on top. When the small paintings were dry, Phil polished the surface with paper towel to bring up a high gloss finish. He then demonstrated a very exciting seascape using dark blue wax on silver card. The tools make a huge variety of marks, some very delicate and fine and this medium can be used successfully for landscapes.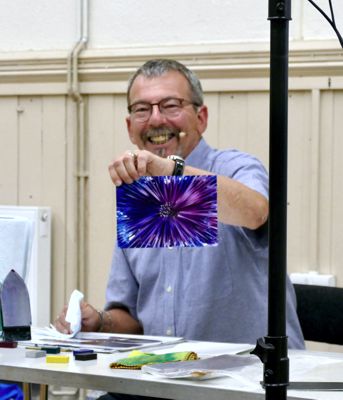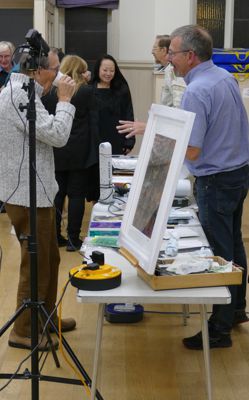 Phil's final piece was rather dramatic. The iron was set to a high temperature and the wax block allowed to melt and run down onto the paper. Several colours were used then the surface was blown with the paint stripper causing the colours to blend and flow. Silver was then applied to some areas. The outcome was very abstract and subtle.
Encaustic wax is certainly a very colourful and dramatic means of making images. Phil was thanked for providing a very different and exciting demonstration and for sharing his insights into this unusual art form.
Collage Workshop at Hertford Museum
19th June 2019

Artists from Hertford Art Society have run a number of workshops at Hertford Museum in their well-appointed studio at 18 Bull Plain, Hertford SG14 1DT. The latest was a Collage workshop - with a still life set up using items from their varied collection of artefacts as a source of inspiration.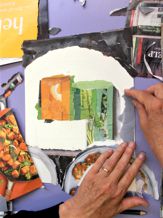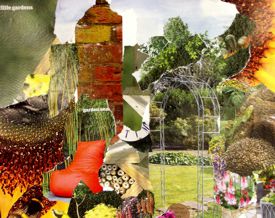 The early years of the 20th century saw Collage truly emerge as a medium in its own right with the Cubist experiments of Pablo Picasso and Georges Braque who coined the term Collage (from the French: coller, "to glue). Sara Taylor, Museum Curator, presented some well-known images from these early 20th Century artists and others, such as David Hockney and Robert Rauchenburg, who use collage in their work.
Participants then developed a sketch using elements of the still life set up with emphasis on bold forms and interesting contrasts and transferred their design to thick paper. Artist Kathy Burman gave guidance on design, materials and techniques. Magazines and newspapers provide a huge range colourful and stimulating images and additional papers can be created using acrylic paint. Papers can be torn or cut to shape, layered and glued using PVA or wallpaper paste.
Choices were made and, gradually, interesting images began to take shape. On this occasion the participants worked primarily from their imagination, some in an abstract manner. The final pieces were very exciting and, although collage was a new medium, all found it absorbing. The session ended with a review of everyone's work and it was fascinating to see such a wide variety of styles and images emerge from this Workshop.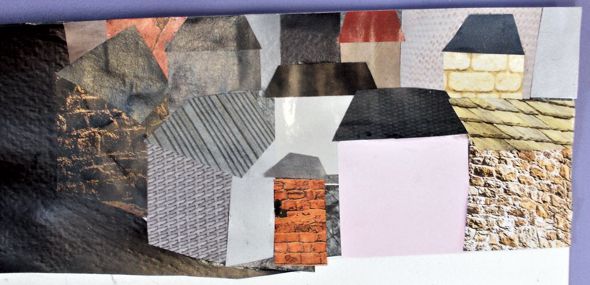 A Print Workshop is planned for Wednesday 25th September 2019, 10am - 12.30pm. There is always something interesting going on at the Hertford Museum for visitors of all ages. Check the Museum website www.hertfordmuseum.org for details.
Summer Painting Weekend - Aldeburgh, Suffolk
June 7th, 8th and 9th 2019
In terms of numbers attending (17) the Aldeburgh trip was the best so far and I'm sure those who made it for the first time will join us again next year.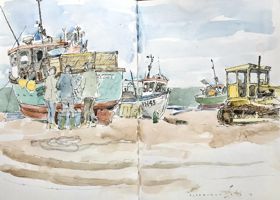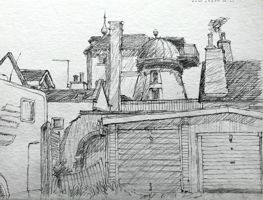 John Jarratt
On Friday it pretty much rained all day forcing most of us to sketch from our cars. Ever the brave souls, HAS members took it as an opportunity to get into the painting zone knowing that our reward would be "Fish & Chips" from the best chip shop in England. This certainly proved to be the case followed by a sociable evening in the put next door.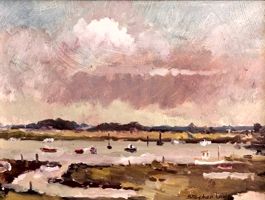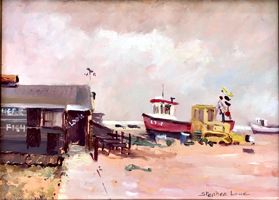 Stephen Lowe, Left: Aldeburgh estuary - Oil; Right: Aldeburgh Fish Hut - Oil
On Saturday, just as our enthusiasm began to be tested by the wind and rain, out came the sun followed quickly by the paints and for me two quick oil sketches went down - satisfaction at last!
That evening we all met up at the "Lighthouse Restaurant" where we had another delightful meal thus confirming the rumours that in reality we were just a bunch of gastronomes.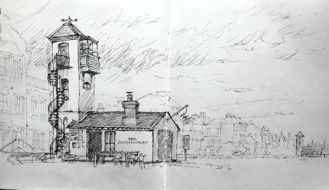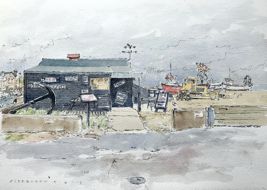 John Jarratt
On Sunday, under bright blue skies and a passive breeze, we made our choices of location, some on the beach and others, like myself, went to Snape where I tackled a large canvas which I hope one day to finish - where have I heard that before?
So what of next year? One suggestion has been put forward - Winchester - but we have not finalised our choice yet, however maybe Members could pencil in the first weekend of June 2020.
Happy painting friends.
Stephen Lowe
Painting and drawing the Hertford Choral Society
21st May 2019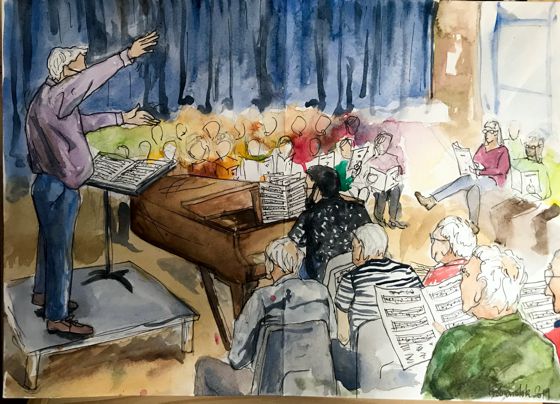 The first session of the Summer Programme was held at Sele School in Hertford where the Hertford Choral Society were in rehearsal for their Summer Concert. A hundred singers arranged three sides of a square in front of a pianist plying his trade on a grand piano, and of course the conductor, Derek Harrison. So plenty of perspective challenges to go along with that of capturing on paper a mass of people standing up, sitting down, leafing through scores and generally shifting around on their hard school chairs. It's Gareth Malone meets The Painting Challenge.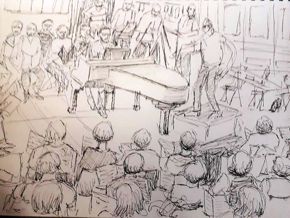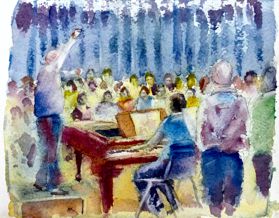 The big decision was whether to focus on a small group of singers or to go for the whole story, get everything in. And whether to spend the evening drawing or to break out the paints and get some colour into the scene. We also had the option of working close to the singers, or taking a longer view from the stage or a balcony.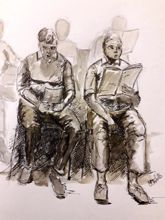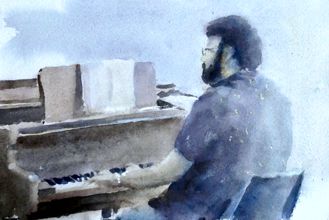 So plenty of choice, and plenty of solutions as evidenced by the variety of images collected in the following days. Thank you Artists who sent in their pictures and thank you Hertford Choral Society for letting us draw and paint you as you filled the Hall with your splendid music. A great start to our Summer Programme.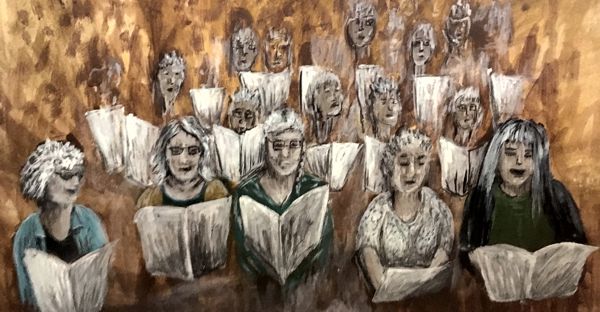 2019-2020 Critique Winners
Critique winners of the 2019 – 2020 season as chosen by Members

David Stowe
April 2019 Winner
Yorkshire Bridge, Derbyshire - Acrylic

Jill Rolfe
April 2019 Runner Up
Hellebore - Mixed Media

Joe Rowson
September 2019 Winner
Bebo Cafe - Oil

Lynne Lawrence
September 2019 Joint Runner Up
Lilies - Water Colour

Marianne Dorn
September 2019 Joint Runner Up
Nude Study - Sanguine

Craig Lee
September 2019 Joint Runner Up
Planter Angelesy Abbey - Oil

Brenda Thompson
October 2019 Joint Winner
My Red Comforter - Acrylic

Marianne Dorn
October 2019 Joint Winner
Flamenco - MM

Ray Ward
October 2019 Joint Winner
Mousehole -Acrylic

Jill Rolfe
November Critique Winner
Musical Interlude - Mixed Media

Ray Ward
January 2020 Critique Winner
Looking Down - Acrylics

Janet Dobney
February 2020 Critique Winner
St Matthew Passion - Acrylic.