Annual Exhibitions
The 15th Members Exhibition 26-28th October at the Millbridge Rooms, Millbridge, Hertford

VISITORS' CHOICE AWARD
won by Terry Woods for 'Woodland Scene No. 2'.
The 15th Hertford Art Society Members' Show opened on 26th October 2012 for three days in the Millbridge Rooms in Hertford. Sixty artists took part with over 100 framed artworks and pieces of 3D work and also unframed work and artists' greeting cards.
The primary purpose of this show, started 15 years ago by Enid Fairhead, is to offer Members of the Art Society an opportunity to exhibit their work without the constraints of its big brother Open Exhibition held in May each year. In this it was a great success, with a broad variety and high standard of work which would be the envy of many art societies and a most enjoyable Members' party on the Friday evening where Members could meet socially.

JOHN GODDEN AWARD - for Members' Choice
won by Sharon Wright for 'Sixteen'.
The awards this year went to:
John Godden Annual Award - Members' choice: Sharon Wright - Sixteen - Portrait in oils.
May Bennett Annual Award for the Best Still Life - Janet Benge - Dishy
Visitors' Choice Award - Terry Wood - Woodland Scene No. 2
Mark Ely Award (most innovative/intriguing artwork) - Broken Glass - a digital image printed on metal by Caryl Beach who receives website design time and support from Mark Ely, of SG7.biz, designer of the Hertford Art Society website.

MAY BENNETT AWARD - for the Best Still Life
won by Janet Benge for 'Dishy'.
The number of votes cast for the Visitors' Choice Award indicated that the Show attracted hundreds of visitors. Sadly, sales of framed works were very disappointing this year although the cold dull weather and current economic climate could have played a part in this. This was offset however by sales of unframed works and greetings cards comparable with previous years. Members will consider how to better publicise this event in future to improve footfall, possibly by altering the date to coincide with another Hertford event such as the Farmers' Market or to September when the Hertfordshire Open Studios event takes place.

MARK ELY AWARD - for the most innovative/intriguing work.
won by Caryl Beach for 'Broken Glass'.
Thanks go to the Members of the society who put in all the hard work before, during and after the exhibition. It is very pleasing to see how many Members are willing to play a part in their exhibition which has become a colourful feature in Hertford's calendar.
Member's Show Awards
We are grateful to our Sponsors for the following Awards.
Each year the following prizes are awarded:
The John Godden Award for the best in Show chosen by the Members, donated by the Godden family.
The Visitors' Choice Award supported by Hertford's Art Shop, Hertfordshire Graphics.
The May Bennett Award for the best Still Life, donated by the Bennett family.
The Most Intriguing/Innovative Artwork - from 2010, the additional prize is a free website design & hosting for 1 year, donated by Mark Ely of SG7.biz.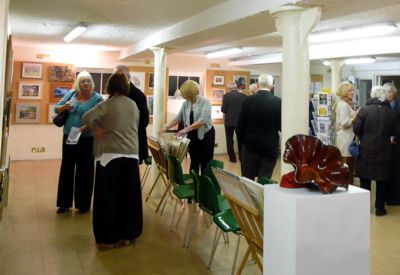 Members Show 14th Anniversary 2011