61st Annual Open Exhibition 5th May to 18th May 2013
DATE FOR DIARY - The 61st Annual Open Exhibition will take place at the same venue as last year (Cowbridge Halls, Cowbridge, Hertford, SG14 1PG) and handing-in will be on Saturday 27th April from 08.30 – 10.00am. Entry forms for Associate Members can be downloaded (see below) or are available on the day.
Running for two weeks each year, the Annual Open Exhibition is a highlight of Hertford's artistic life and attracts hundreds of visitors. Over 300 artworks are exhibited having been selected by a panel of judges from the work submitted. The 2012 Exhibition featured paintings, collage, digital images, prints, sculpture and fused glass and visitors praised the high quality and great variety of exhibits.
Please note that there is an additional form (see below) which needs to be completed if limited edition prints are being submitted and the artist would like to have further copies available from the browser during the Exhibition (should the work be selected by the judges).
Download: Associate member submission form 2013
Download: Browser prints form 2013
60th Annual Open Exhibition – 6th to 19th May 2012

From left to right: Karen Murray: Award winner, best Watercolour; Craig Morton: Manager of Edward Mason Ltd, sponsor/donor of award for best Watercolour; Barbara Groves: Award winner, Bill Dale Award; Lord Laming, sponsor of Lady Laming Award; Diana Dale: Sponsor/donor of the Bill Dale Award;
Christine Spence: Award winner, John Goss award for Best in Exhibition; Richard Harrison of our sponsons, Sworders Fine Art Auctioneers; Councillor Sally Newton, Mayor of Hertford; Kathy Burman: Award winner, Mayor of Hertford Award for best 3D work; Geoff Bennett: Chairman of HAS; Lynne Kirk: Award winner, Lady Laming Award for Abstract Art.
The number of entries for the 60th Annual Open Exhibition of the Hertford Art Society was again very high. As always selection of pictures was entirely in the hands of the 3 external judges, chosen to represent a wide spread of artistic experience. This year they comprised Geoff Hunt, a Past President of the Royal Society of Marine Artists and a leading figure in marine art; Jean Noble RI SWA, whose work explores the boundary between representation and abstraction; Martin Smith, an accomplished artist who runs art classes, gives a wide variety of art lectures and critiques; and Paul Bainbridge a freelance sculptor and member of the Royal Society of British Sculptors. From an entry of over 600 works they selected 253 pictures and 43 sculptures.
The Exhibition opened in style with two very well attended Private Views, the first on Saturday 5th May when prizes were awarded and guests enjoyed the vibrant transformation of The Cowbridge Halls, surrounded by work in a wide range of styles and media. There are currently five prize categories and these are the worthy winners this year:
The John Goss Prize for the painting considered by the judges to be the best in show, won by Christine Spence for "What's in my Bucket?", a brilliant display of acrylic painting which looks like a one-shot dash with no revisions .
The Lady Laming Award for Abstract Art, won by Lynne Kirk for "Breaker" a rather introspective painting with a lot of depth for the viewer to wander around in.
The Bill Dale Award, for a member who supports the whole of the Society's activities, won by Barbara Groves for "Here's Looking at You", a fine, confident watercolour with a touch of humour.
The Mayor's Award, presented for the best 3D work, won by Kathy Burman for "Place", an intriguing and original 8-part stoneware sculpture.
The Edward Mason Award for the best watercolour painting, won by Karen Murray for "Mango", a colourful and meticulous piece which reminds us that not all watercolours are about wateriness.
This year, in addition to the above prizes, three artworks were "Highly Commended" by the judges. These were: "Urban Twilight", a collage by Kathy Burman, "Still Glides the Stream", a mixed media sculpture by Angela Godfrey and "River Traffic off Tilbury", a watercolour by Alan Runagall RSMA.
Once the Exhibition closed, votes were counted for The Visitors' Choice Award. This was won by Cathy Smale for her acrylic painting "Woodland Trees & Ferns".
Running for two weeks, this exhibition attracted hundreds of visitors, many of whom returned several times as there is always something new to discover among the colourful and varied exhibits.
60th Open Exhibition prizewinners, 2012.

The John Goss Prize for Best in Show
Christine Spence
'What's in my Bucket?'

Lady Laming Award for Abstract Art
Lynne Kirk
'Breaker'

The Bill Dale Award
Barbara Groves
'Here's Looking at You'

The Mayor's Award – best 3D work
Kathy Burman
'Place'

The Edward Mason Award – Best Watercolour
Karen Murray
'Mango'

Visitors' Choice Award
Cathy Smale
'Woodland Trees & Ferns'
"Highly Commended" by the judges.

A collage
Kathy Burman
'Urban Twilight'

A watercolour
Alan Runagall RSMA
River Traffic off Tilbury

Aa mixed media sculpture
Angela Godfrey
'Still Glides the Stream'
Open Exhibition Awards
We are grateful to our Sponsors for their Awards.
Each year the following Prizes are awarded:
The John Goss Award for the Best in Show, sponsored by Sworder Auctioneers of Fine Art.
Lady Laming Award for Best Abstract work.
Bill Dale Award, Best Work by an active Member.
The Mayor's Award, for the best 3D Work, sponsored by Hertford's Art Shop, Hertfordshire Graphics.
The Edward Mason Prize for the Best Water Colour, donated by Edward W Mason Ltd, Brush Makers.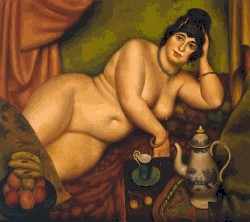 "The Queen of Sheba" by Mark Gertler
In 1963 the Hertford Art Society sold a large nude painting "The Queen of Sheba" by Mark Gertler, to the Tate Gallery.
Background
The Open Exhibition is a celebrated part of the Hertfordshire art scene. Quality is maintained by a panel of three independent judges selecting from the wide range of more than 500 artworks presented by artists both amateur and professional. About half of these are accepted and shown. A number of major prizes are generously awarded by our sponsors.
The exhibition has a national reputation for showing exciting collectable artwork with many buyers returning each year to extend their investment in art.
This prestigious exhibition runs for two weeks at the beginning of May with Private Viewings, by invitation only, for collectors and patrons prior to opening to the public.
A Members' folio illustrates more about the work of our Members, and we are pleased to take details of commissioned works and to put buyers in touch with their favoured artists.