2020-2021 Critique Winners
Critique winners of the 2020 – 2021 season as chosen by Members

David Stowe
September 2020 Joint Winner
Insularity - Oil

Kathy Burman
September 2020 Joint Winner
M Hotel, London - Collage

Stephen Lowe
September 2020 Joint Winner
Pollinating the Roses - Oil

Michael Radley
October 2020 Winner
All Saints' Church - Watercolour

Mitiko Murata
November 2020 Critique Winner
Abstract of Inner Feeling
Lockdown Diaries
Artworks and comments by Members of Hertford Art Society

2020 has been a memorable year. With the UK in lockdown from March due to Coronavirus Pandemic and the balance of the Winter and Summer Programmes 2020 of activities cancelled, leisure activities became restricted. Members of Hertford Art Society were invited to contribute photographs of artworks and comments to the Society's magazine in order to share their experiences. As things stand, it has been possible to launch the Winter Programme 2020-2021, with appropriate restrictions.
This is a selection of the work produced over the Spring and Summer by a number of our Members together with their comments on the impact of the lockdown.

47 image gallery, click here for more details.
London Road Underpass, Hertford Murals
by Members of Hertford Art Society - Formally opened 8th October 2020
Ten Hertford Art Society artists have helped the transformation into an art gallery of the London Road subway near the fire station in Hertford. Their pictures, considerably enlarged, line one side of the subway. This project supports the Hertfordshire Year of Culture 2020.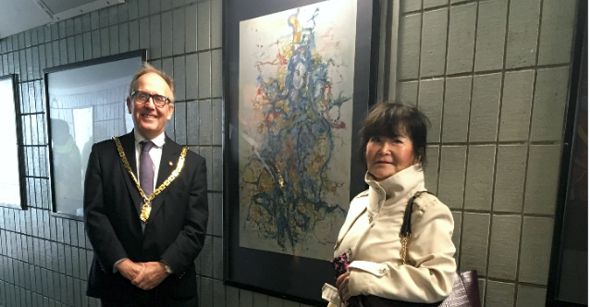 This mini-show was formally opened on 8th October by Hertford Mayor Bob Deering, seen here with Mitiko Murata and her picture 'Mother Earth.
The other artists and their pictures are:
Porto - Kathy Burman


Mother Earth - Mitiko Murata


The Mount - Diane Loan


Water Lily 3 - Sally Steele


Poppies - Lynne Lawrence


Calm Glade - Diane Warburton


Towards Ware - Chris Hewitt


Colourful Bird - Laura Blight


Venice - Oksana Melenevska


Relaxing - Angela Roberts

Congratulations to all ten artists.
Lining the wall opposite the HAS pictures are works by Alan Davie, an internationally acclaimed artist who for 50 years lived and worked at Rush Green, Hertford.
The refurbishment of Hertford's subways is part of a County Council led programme to encourage more walking around Hertford.
Pastel Demonstration by John Tookey
22nd September 2020
East Anglian artist John Tookey resides in the picturesque market town of Saffron Walden, Essex. John trained in Graphic Design and Fine Art at the Sir John Cass School of Art in London during the Sixties. He is justly famous for his dynamic, bold watercolours and pastels that sparkle with light. He has exhibited work with many prestigious galleries, is an author and tutor and a Member of the Pastel Society. John works in all mediums and trys to capture the essence of the subject rather than a very topographical likeness. He will frequently work on-site or from sketches completed at the scene, the effects of light and atmosphere on a subject particularly interest him.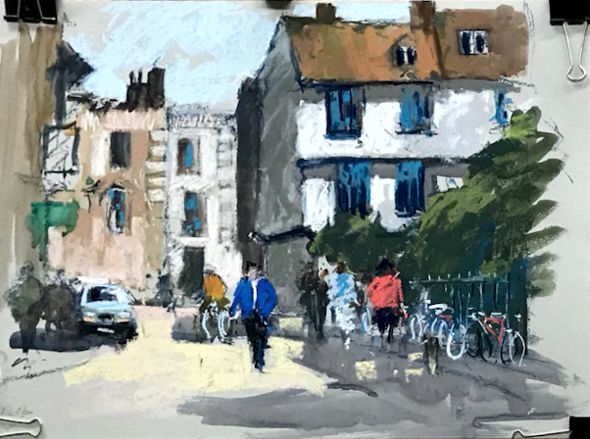 30 HAS members filed into our Cowbridge Hall that was well prepared with CV19 restrictions; it looked like an exam room as the chairs were placed at the required distances. It was good to see familiar faces - partially - as we were all "masked up" as necessary.
John started by informing us about the "Mount Board" he uses that suits this medium, because it doesn't cockle when a water-based paint is applied. He used a grey board as a good neutral base for the picture he was going to demonstrate - "A Street Scene in Cambridge" which he frequents with his sketch book as it is vital to have a sketch from which to produce a picture. He advised that even if we plan to paint from a photograph it would be a good idea to make a sketch of the photo first.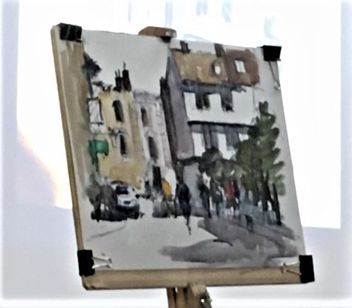 The pastels he had were the softer quality as, in his view, the harder ones are not worth buying. "Choose the softest that you can afford", he suggested. Always make notes of the colours as you sketch for future reference. He attached his sketch to the edge of the mount board and started to draw the outline of the street scene with a thin dark pastel; he said one could use a pencil or charcoal for this too. He went back and forth from the board to check that this outline was correctly proportioned.
Surprisingly he then went on to use water colour as a base for this pastel picture saying that it somehow gave a better base to his picture. Using large brushes he roughly painted in the darker bits of his picture eg: deep reddish colour for the roof / dark brown for the windows / yellow core for another stone building / lighter brown for the side of one of the other buildings / dark green for the bushes on the side etc. He added shadows where required as it was important to assess where the light was coming from. The first photograph of his painting shows his picture at the water colour stage. He kept going back and forth making sure that all the darker bits of the pictures were addressed rather roughly but properly and then dried it all with a hair dryer.
The next stage was to add colour with the pastels starting with the roof outline edges and then white walls of the building and so on till the windows and chimneys were all coming to life so to speak. To give contrast he added lighter shades of green to the bushes and touches of white for railings and bicycles leaning on them as they do in Cambridge. He filled in the car and people along the street in a very rough and suggestive manner with not a single detail outline as such and yet it all looked remarkably full of life at the end of this session. He used colour on the people in order to pick up on the main centre of interest - he dotted and dashed additional colours that brought the painting to life as we sat watching in wonder of his skill.
John ended by saying he did "Suggestive Pictures" with not too much detail of outlines etc and I would add an adjective to that by saying his picture was a "Wonderfully Suggestive Picture" as you can see from the second picture attached to this write up.
John was warmly thanked for sharing his expertise with us. This demonstration was accomplished and exciting and many of us will feel inspired to try and create a pastel painting using his method.