Welcome to the Hertford Art Society Website
For information about the Art Society and how to become a Member click here.
Winter Programme 2021 - 2022
The Society plans to start the Winter Programme from 7th September 2021 subject to any guidelines or recommendations in place at that time. Any such guidelines will be published on our website and sent to Members nearer to the start date.
These sessions are on Tuesday evenings from 7.30pm to 9.30pm at Cowbridge Hall, Cowbridge, Hertford SG14 1PG. Approximately half the evenings in the Winter Programme are for Members to paint or draw either from still life arrangements or a life model. The remaining evenings are taken up with talks, critiques of paintings brought along by Members, demonstrations from a professional artist or workshops.
Visitors are welcome to enjoy the non-practical evenings (marked with an asterisk).
Saturday Life Workshops will recommence on 25th September 2021 and non-Members are welcome - see details on Life Workshops below. The Members' Show will be held from 28th to 31st October 2021.
Summer Programme 2021
Sketching and Painting at local venues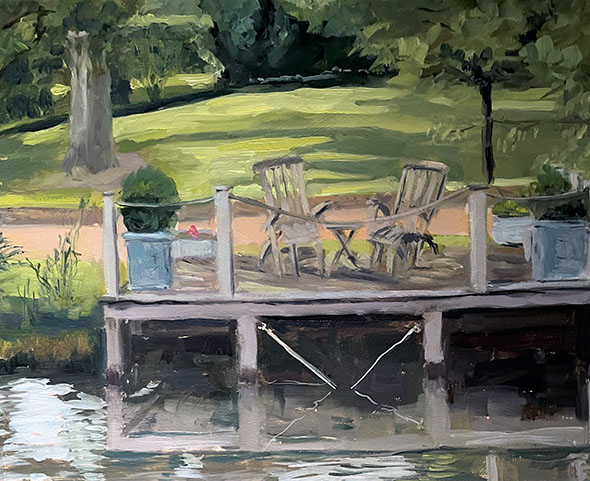 Our Society's twelve Summer outdoor sketching evenings this year were enjoyed by Members in varying degrees. This was reflected in the weather conditions encountered, which ranged from "cold/dull" to "warm/balmy". The Programme included venues around Hertford and Ware, the charming pond at Chapmore End and Walkern Village. The evening spent painting in Sacombe Park for instance was truly a welcome summer evening. Another such sunny evening was our visit to Haileybury College where we were kindly allowed to paint until 9pm.
On three evenings Members were invited to visit and paint in Members' gardens and we were all appreciative of the hospitality received. On the final evening fourteen members rounded off the Summer sketching evenings with a convivial meal at the Salisbury Arms in Hertford.
This is a selection of sketches and paintings produced by Members.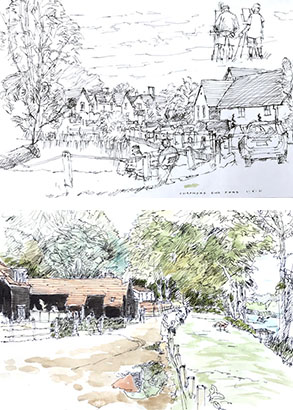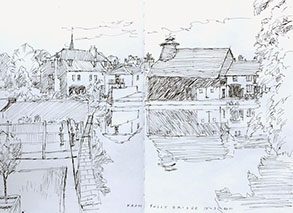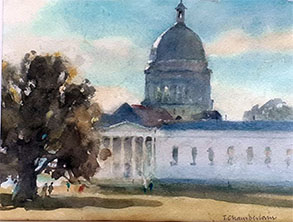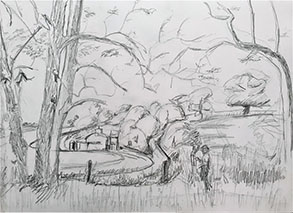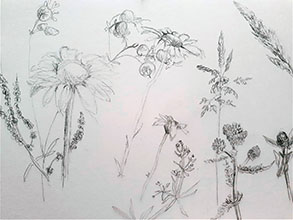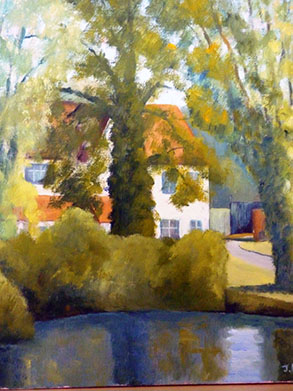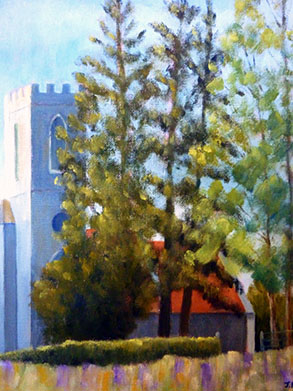 Saturday Life Workshops
WHY LIFE DRAWING AND PAINTING? – Some may say it is old fashioned, but practising Life Drawing enhances observation and accuracy. Interpreting the shape of the human body trains the artist to see almost every curve line and subtle undulation found in nature. The satisfaction of producing an acceptable image can be quite intense. It does not happen immediately and demands a great deal of practice to achieve.
Hertford Art Society runs Life Workshops in Cowbridge Halls, Hertford, SG14 1PG on the last Saturday of 9 months during the year. The only exception is the October Session which is sometimes changed when it coincides with the Members' Show. Although these are primarily run for Members we welcome enthusiastic visitors at £15.00 per session, this includes coffee, tea and biscuits, available all day. The sessions are untutored and last from 10.00am – 2.00pm with a short break midway. We work in in all mediums including prep work for sculpture. Bring whatever medium and equipment you require with you. The photographs below illustrate the exciting variety of work produced by the artists.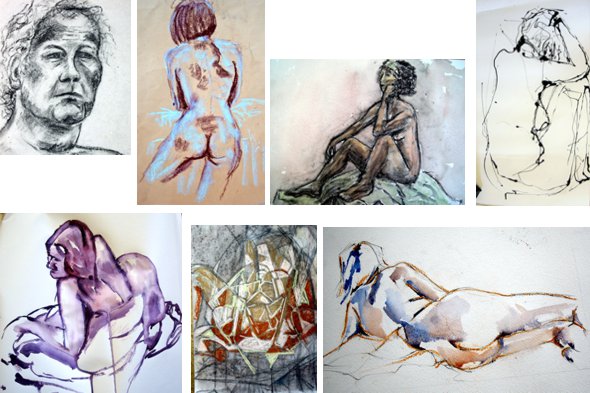 There are many different approaches to life drawing which become very obvious during the sessions. We are a very enthusiastic group of artists and in a relaxed atmosphere we learn from each other different skills and methods of working, as well as experimenting with different mediums etc. There are normally 2 models unless the group is small, when there is only one. We do not have a set programme of poses, but usually include short poses and longer poses for artists who wish to produce a more finished piece of work. So why not join us if you haven't already?
Workshops take place on the last Saturday of the month (except for October 2021) for nine months of the year. They do not take place in April, August and December due to the annual Open Exhibition and holiday periods.
Life Models Workshops within HAS Winter Programme for 2021 - 2022 - 10am - 2pm at Cowbridge Halls, Hertford, SG14 1PG
Saturday - 25th September 2021
Saturday - 23rd October 2021
Saturday - 27th November 2021
Saturday - 29th January 2022
Saturday - 26th February 2022
Saturday - 26th March 2022
Saturday - 28th May 2022
Saturday - 25th June 2022
Saturday - 30th July 2022
If you are interested please contact [email protected] for further details.
Hertford Art Society 68th Open Exhibition 2021
"LOVED IT! - Such a beautiful range." "A fine collection of work. Enjoyed it enormously." "Always love visiting this Exhibition and this year's does not disappoint. Such a high standard. Congratulations to all involved." "Such talent in our locality - Thank you for a splendid show." "As always, a diverse array of styles and artists. Most enjoyable!" "So many different artworks - a magnificent collection." "A terrific range of great work. The variety, techniques and concepts are richly inspiring. Well done!"
We were glad that this year's Exhibition could go ahead. The date was later than usual and the show was for a shorter duration but as can be seen from the selection of comments above, the Exhibition was very well received. A great variety of work was submitted from 94 artists and the judges selected 256 paintings, prints, collages and other 2D work for inclusion together with 30 sculptures in a range of materials and styles. It was wonderful to see visitors enjoying this colourful and diverse collection of work - many by Members of the Hertford Art Society. Two items tied for the Visitors' Choice prize this year.
Award Winners
The prize winners this year were as follows:
The John Goss Award for the Best in Show was awarded to Colin J Clark for 'High Rise to Let 2 Wells-Next-to-the Sea'.
The Lady Laming Award for the best Abstract work was awarded to Rita Dare for 'Stay a While'.
The Bill Dale Award for an outstanding work by a Member of the Society was awarded to Anne McCormack for 'Fleeting Moments'.
Mayor's Award (sponsored by The Arts Society East Herts) for the best 3D work was awarded to Heather Jukes for 'String Woman'.
Edward Mason Brushes award for the best Watercolour painting to Donna Chamberlain for 'Dance in the Sun'.
Visitors' Choice Award to Martin Bushell for 'Important Bunny Announcement' and to Colin J. Clarke for 'The Brook'.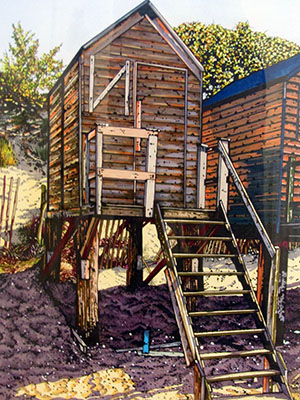 John Goss Award - best in show
Colin J Clark for 'High Rise to Let 2 Wells-Next-to-the Sea'.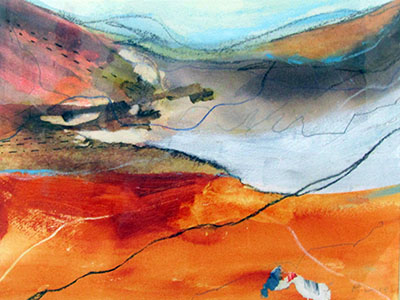 Lady Laming - Abstract prize
Rita Dare for 'Stay a While'.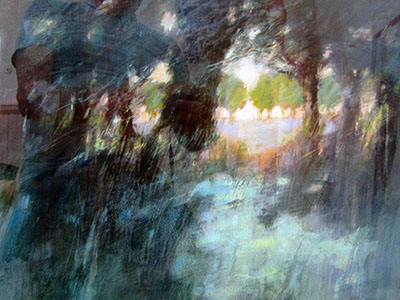 Bill Dale Award
Anne McCormack for 'Fleeting Moments'.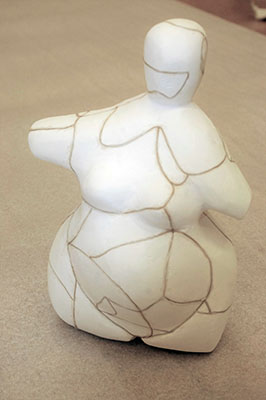 Mayor's Award for 3D
Heather Jukes for 'String Woman'.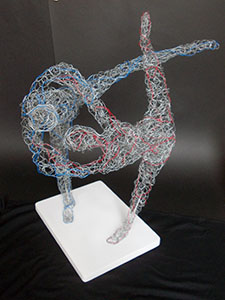 Mayor's Award for 3D
Highly Commended were Kathy Burman for 'Dancers - Sketch 1' .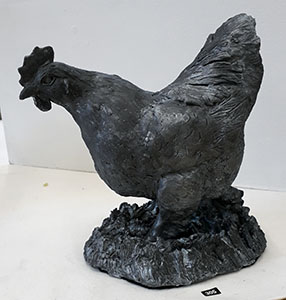 Mayor's Award for 3D
Highly Commended were Ann Gascoine for 'Hen'.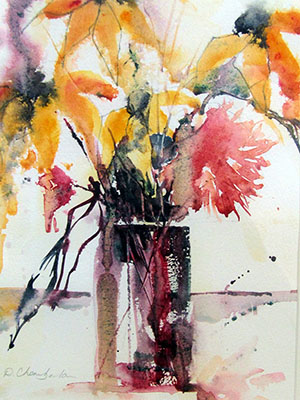 Edward Mason award
Donna Chamberlain for 'Dance in the Sun'.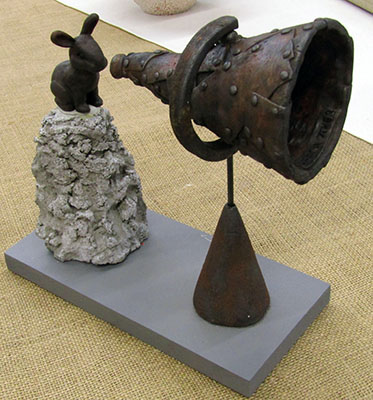 Visitors' Choice Award
Important Bunny Announcement by Martin Bushell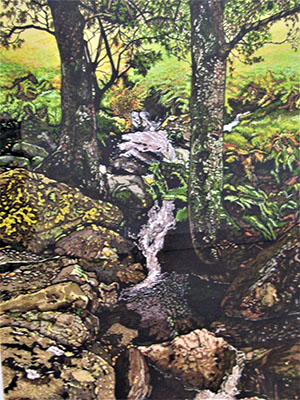 Visitors' Choice Award
The Brook by Colin J. Clarke
Prizegiving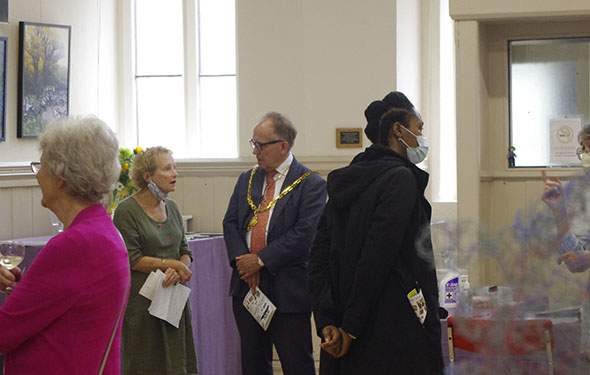 Jill Rolfe with the Mayor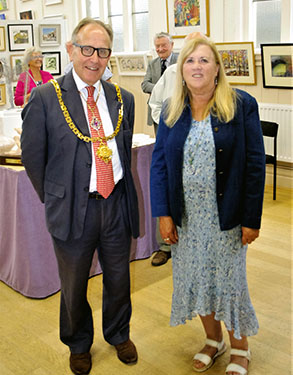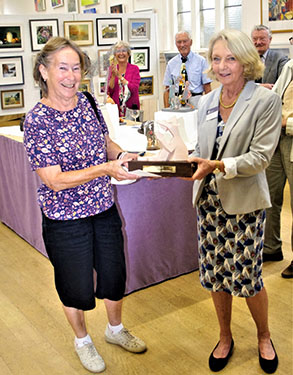 Left: Rita Dare presentation of The Lady Laming Award by The Mayor of Hertford Councillor Bob Deering. Right: Heather Jukes presentation of The Mayors Award by Julia Fulton from The Arts Society East Herts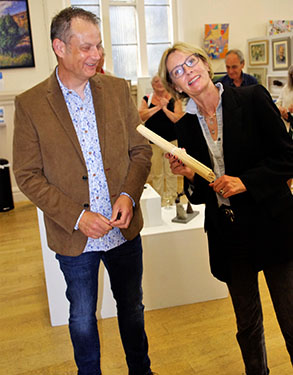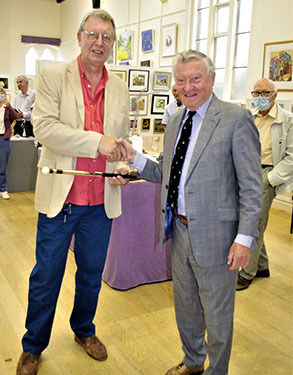 Left: Donna Chamberlain presentation of The Edward Maison Brushes Award by Craig Morton. Right: Colin J Clarke presentation of The John Goss prize by Peter Ruffles MBE.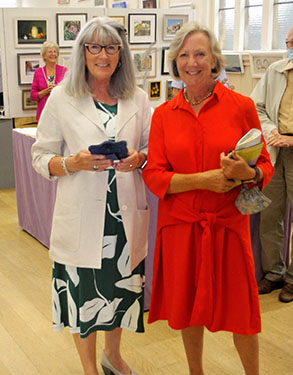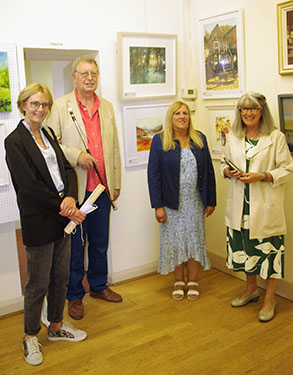 Left: Anne McCormack RI SWA presentation of The Bill Dale Award by Diane Dale. Right: Award winners with their pictures.
For full gallery, click here for more details.
Summer Programme 2021
Hertford Art Society Members have traditionally enjoyed painting and sketching out of doors on Tuesday evenings during the Summer months at various venues in the Hertford Area. These events could not take place in 2020 due to Covid restrictions but it has been possible to plan an exciting Programme for 2021 as detailed below, commencing on Tuesday 18th May as groups of up to 30 will be allowed outdoors with effect from 17th May 2021. Should the Government Guidance change a revised Programme will be published on this site.
Members usually meet at around 7.00pm (or beforehand by private arrangement) for sketching & painting, then gather socially in the suggested public house when the light fails. Any local artists from these villages or areas are welcome to come along for the outdoor painting sessions except for those restricted to Members of the Society, as indicated.
Landscapes in PanPastel - On-line Demonstration by Les Darlow
20th April 2021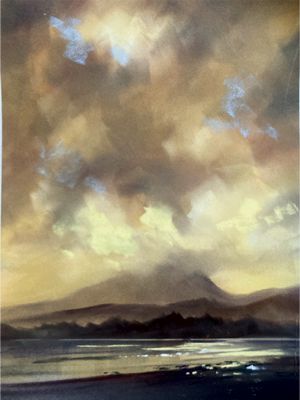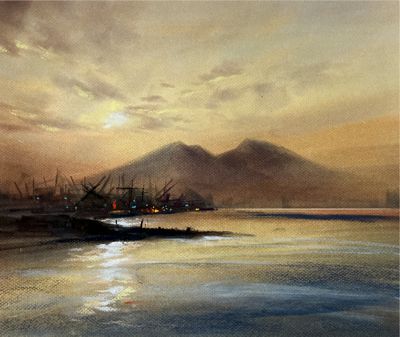 Les Darlow trained as a Technical and Scientific Illustrator, and now paints expressively and creatively, producing paintings that are based on feeling, light, energy and movement. He paints in many mediums, runs extensive workshops and his book "Absolute Pastels" details his approach to this medium and contains 5 workshop projects. He has a love and passion for weather and landscapes as light and weather change the subject continuously.
For full report, click here for more details.
"Try a new format" - Untutored Online Workshop
16th February 2021
"Format is traditionally used to describe the shape or proportions of the support, for example the canvas, of a painting or other essentially flat work of art such as a relief." (Tate website)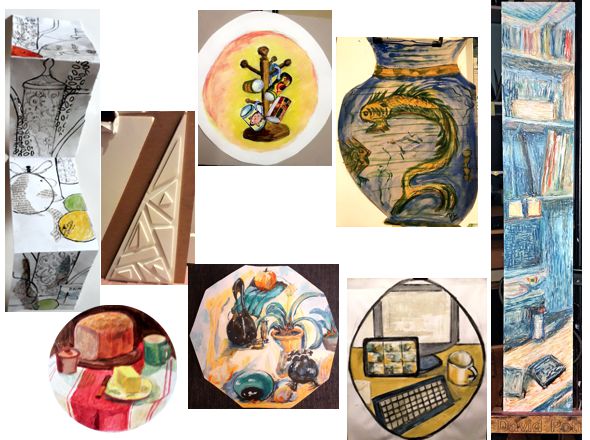 In creating a picture, the shape of the paper or canvas is an important part of the composition. Most pictures are traditionally rectangular or square, but there is no rule to say that a picture cannot be any other shape.
For full report, click here for more details.
The Philosophical Painters Group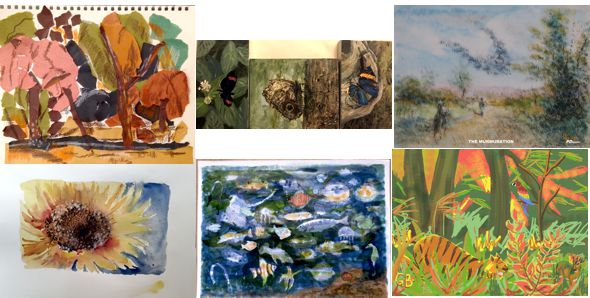 The Philosophical Painters Group (often referred to as the PP's ) Which I joined in 2011 was started by Stella Hunt with the idea of pushing the boundaries of the members work and hopefully breaking new ground by being inspired by each other and trying different techniques. The consequence of which would be improving our standard of work. The Philosophical element in the name reflects our ideas on the subject set, rather than the object(s).
When it started there was a mix of artists from Enfield area and Hertford Art Society but now the members are all members of Hertford Art Society. We keep the membership to approx. 16 as this means we have time to learn from one and other. We are given 2 weeks to think about and prepare between each meeting where we proceed to produce a painting. We meet for 3 hours on a Friday and at the end of each session we spend 30 mins looking at and discussing our piece of work. The following images were on the topic of "Patterns in Nature" and illustrate the broad range of ideas resulting from this initial theme.
Because Stella Hunt has found it more and more difficult to manage, we have become a loose collective, where we all take our turn, where we can, to help run the group.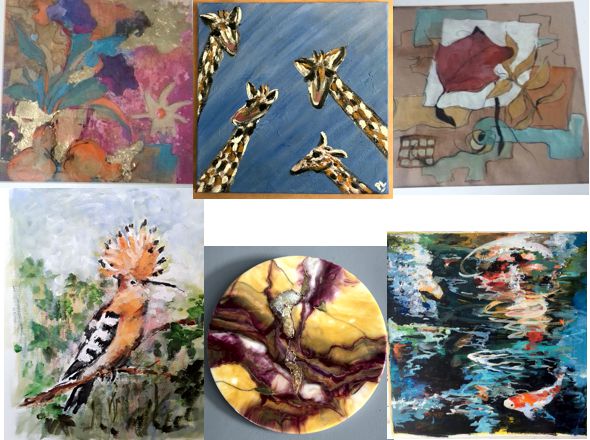 Because of Lockdowns we have moved onto the internet with the same programme except once a fortnight we send our work to the designated member, who assembles them and sends the collection out to all members.
In the absence of a discussion, we send our comments over the internet so are still learning.
It has worked so well for all of us that it is the highlight each fortnight to receive the collection. June Pickard
Many Hertford Art Society Members work with other local groups and we hope to feature these in the future.
Online Life Workshop - 30th January 2021
One of our regular models, offered to undertake our January 2021 Life Workshop via Zoom from her home which made it possible to reinstate this Workshop. The model did an amazing job in structuring a very challenging and enjoyable workshop. These are comments from some of the Members who took part together with a selection of images of their work.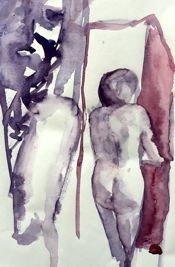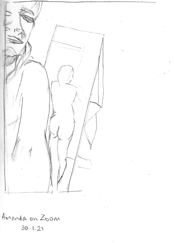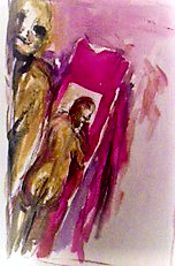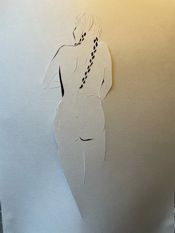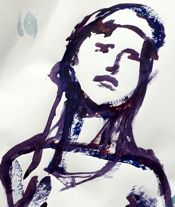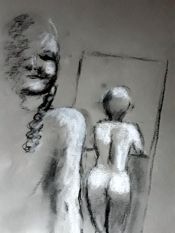 "An excellent model. She organized the session very efficiently with a great variety of poses. I would be very happy to have her again." Pat Mann
For full report, click here for more details.
From Reality to Abstract
Online Workshop with Nick Harrison Jones - 26th January 2021
Nick Harrison Jones studied Graphic Design and has won several awards for his paintings. In his work he focuses on a combination of observed architectural, landscape and abstract elements, based on drawing and technical experimentation.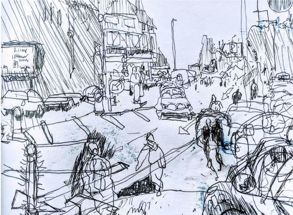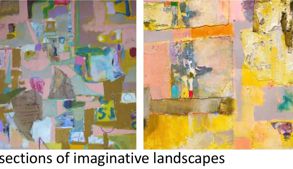 Work by the host, Nick Harrison Jones.
For full report, click here for more details.
Children's Book Illustrations
On-line Talk by Michael Radley - 17th November 2020
In response to Lockdown Mk 2 the Art Society held its first ever on-line Winter Programme event on November 17th: a talk given by Michel Radley on Children's Book illustrations. He based it on material supplied by Annemarie Parker, who was originally scheduled to give the talk, but supplemented it with considerable additional research of his own.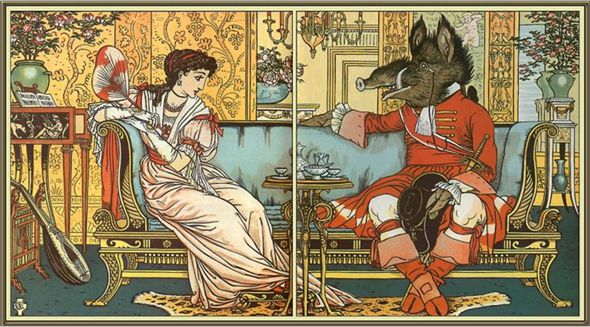 Beauty and the Beast by Walter Crane 1847
For full report, click here for more details.
'Preparation for a large scale commission'
Sculpture Demonstration by Rodney Munday
27th October 2020
Rodney Munday is a local artist who created the sculpture of Alfred Wallace and a bird of paradise adorning the outer west wall of Hertford Theatre. He is renowned for sculpting the human and animal form in an impressionist /expressionist style and works in clay or wax for casting in bronze or resin.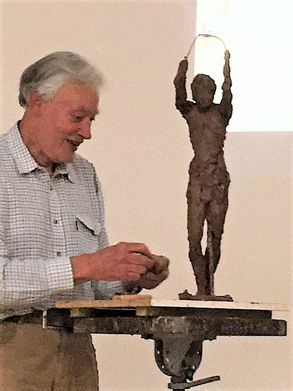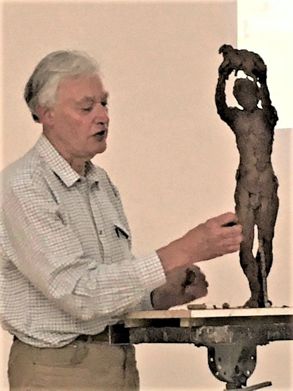 For full report, click here for more details.
Workshop - An Evening of Heads
13th October 2020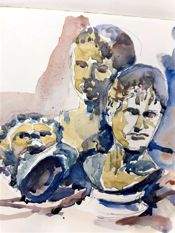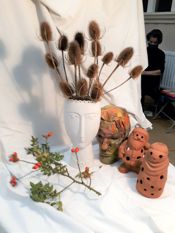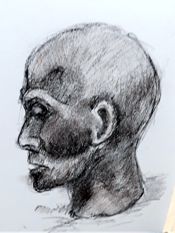 This proved to be a most enjoyable evening. Still life often presents the problem of how to make it interesting and challenging. An assortment of borrowed stone heads from a rather grand garden did the trick together with a few hips, berries and teasels for good measure. Many Members brought further varied and interesting heads and indeed there was almost one each.
The still life groups were set up beautifully with proper lighting etc. and the colourful display of artworks below illustrates a wide range of media and technique.
For full report, click here for more details.
Lockdown Diaries
Artworks and comments by Members of Hertford Art Society

2020 has been a memorable year. With the UK in lockdown from March due to Coronavirus Pandemic and the balance of the Winter and Summer Programmes 2020 of activities cancelled, leisure activities became restricted. Members of Hertford Art Society were invited to contribute photographs of artworks and comments to the Society's magazine in order to share their experiences. As things stand, it has been possible to launch the Winter Programme 2020-2021, with appropriate restrictions.
This is a selection of the work produced over the Spring and Summer by a number of our Members together with their comments on the impact of the lockdown.

47 image gallery, click here for more details.
London Road Underpass, Hertford Murals
by Members of Hertford Art Society - Formally opened 8th October 2020
Ten Hertford Art Society artists have helped the transformation into an art gallery of the London Road subway near the fire station in Hertford. Their pictures, considerably enlarged, line one side of the subway. This project supports the Hertfordshire Year of Culture 2020.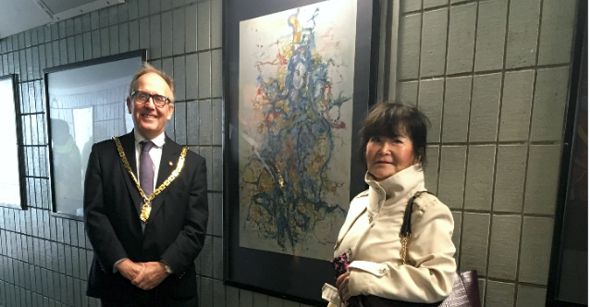 This mini-show was formally opened on 8th October by Hertford Mayor Bob Deering, seen here with Mitiko Murata and her picture 'Mother Earth.
The other artists and their pictures are:
Porto - Kathy Burman


Mother Earth - Mitiko Murata


The Mount - Diane Loan


Water Lily 3 - Sally Steele


Poppies - Lynne Lawrence


Calm Glade - Diane Warburton


Towards Ware - Chris Hewitt


Colourful Bird - Laura Blight


Venice - Oksana Melenevska


Relaxing - Angela Roberts

Congratulations to all ten artists.
Lining the wall opposite the HAS pictures are works by Alan Davie, an internationally acclaimed artist who for 50 years lived and worked at Rush Green, Hertford.
The refurbishment of Hertford's subways is part of a County Council led programme to encourage more walking around Hertford.
Pastel Demonstration by John Tookey
22nd September 2020
East Anglian artist John Tookey resides in the picturesque market town of Saffron Walden, Essex. John trained in Graphic Design and Fine Art at the Sir John Cass School of Art in London during the Sixties. He is justly famous for his dynamic, bold watercolours and pastels that sparkle with light. He has exhibited work with many prestigious galleries, is an author and tutor and a Member of the Pastel Society. John works in all mediums and trys to capture the essence of the subject rather than a very topographical likeness. He will frequently work on-site or from sketches completed at the scene, the effects of light and atmosphere on a subject particularly interest him.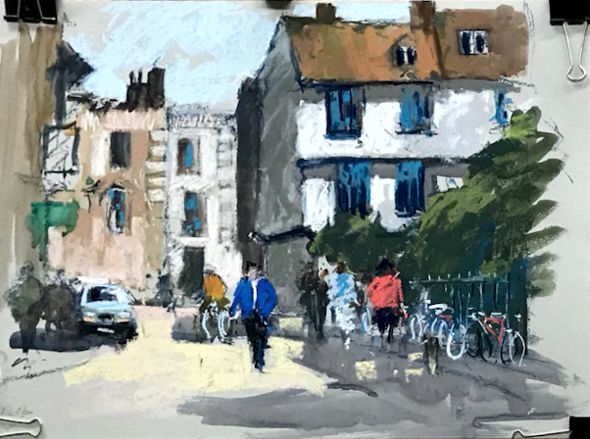 For full report, click here for more details.
Society's aim
The Society's aim is to encourage interest in the visual arts and to provide opportunities to practice, study and exhibit art in Hertford and the surrounding area.
It is well regarded for the high standard of artworks on display at the annual Open Exhibition. Submissions are received from across Hertfordshire as well as other parts of the country.
Members work in a range of media and styles from traditional painting in oils, pastel, watercolours and acrylics to printmaking, collage, multi-media and digital – computer based imagery. Three dimensional work in wood, clay, stone and metal is also well represented.
This diversity and an approach to art which values traditional skills alongside contemporary art forms combine to make Hertford Art Society a leading light in the local art world.