For only the second time in its history, this took place at the Cowbridge Halls, Hertford. Once again the Members rose to the occasion and put on a varied and vibrant show of work of a very high standard. The light and spacious surroundings made this a show which was a delight to walk around and, of course, there was the lure of tea and homemade cakes at the back of the hall! Visitors have told me and other stewards how much they enjoy this show and what a credit it is to the Society. Thirty six paintings were sold and also many cards (always a popular feature of the show).
As always, the subjects of the paintings were many and varied but I did notice that the effects of light on the subject, be it landscape, portrait or still life, were a strong feature of this show. Atmospheric lighting was evident in all the award winners' paintings.
There was great variety of paintings, in a range of media - something to suit every taste. In addition to the framed paintings, artists contributed unframed works and some 3D items. Our 3D artists are encouraged to contribute more of their work in future shows as the Cowbridge Halls is an ideal space to display sculpture and other 3D items.
Finally, our thanks go to all those Members who worked hard for their Society's Show, whether setting up or dismantling, stewarding or making teas (and cakes!). You are too many to name but we all know who you are and we all appreciate the time you put into making this show such a success.
Hashim Akib originally worked as an illustrator. This gave him valuable experience in developing drawing skills, conceptual ideas and various painting techniques. Throughout his career he has won many awards and exhibited in many prestigious galleries. His first book entitled 'Vibrant Acrylics' was published in 2012, has been translated into French, German, Italian and Dutch and includes a companion DVD of the same name. He has further books - 'Cityscapes', 'Absolute Beginners' and 'Portraiture' - in the pipeline. He contributes feature articles to many art publications and runs regular workshops.
Hashim asked the audience to choose from three portrait photographs and had prepared a large canvas with a turquoise ground in acrylic. He prefers to work with a vibrant ground colour on his canvasses, always has a selection prepared and chooses one to compliment the subject. He uses Daler Rowney System 3 Heavy Body acrylics for his demonstrations. Having worked with them in their relaunch of these paints he finds them most suitable for his style of painting. He has a palette prepared with a range of vibrant colours in deep pans and works with large flat Daler Rowney square head brushes and Liquitex paddle brushes.
Following Les Darlow's pastel demo the previous week we all set-to on Tuesday evening to emulate his bold, confident wielding of bright and dark colours. A large skyscape was projected onto the hall's end wall and the lights dimmed at that end. Of course this had the side effect of making some of us work in near darkness with difficulty choosing colours. A couple of sensible members next to me got by with the use of torches!
Despite this and in the better lit end of the hall much excellent work was done including other references. Complete silence reigned for most of the session. The standard of work was quite excellent and, hopefully, much was learned from the exigencies of having to use a medium possibly rarely attempted.
Les Darlow trained as a technical and scientific illustrator (with a 5 year diversion playing in a rock band!) and produced photorealistic images. His art was transformed when someone bought him a set of pastels. He found this medium perfect for painting freely and expressively, creating paintings based on light, energy and movement. He now considers himself an impressionist and loves the medium of pastel for its colour and intensity.
He showed us some examples of recent paintings, introduced us to his chosen materials and announced that he would be producing three paintings over the course of the next couple of hours. The audience was intrigued.
Many artists struggle with pastels and Les feels that this is, to a large extent, due to inferior materials. He often teaches groups where most of the painting ends up as dust on the floor. Having experimented with many different brands he now recommends Rembrandt and Jackson (hard pastels) and Unison (soft pastels) together with Canson "Mi-Tientes" pastel paper containing more than 50% cotton (which reduces absorption of pigments), comes in 50 colours and has one smooth surface and one with an "orange peel effect". This also comes in a micro abrasive surface, Canson "Touch" (like fine sandpaper). Coloured backgrounds can be created on this paper using inks. He also feels that there is a temptation to use pastels too thickly - in his view "less is more". The chosen background colour is important as, using his technique, this will be an integral part of the painting, setting the mood.
For full report, click here for more details.
Painting Weekend at Christchurch and Mudeford, Hampshire 1st - 3rd July 2016
The wind and rain became our companions over the weekend but that only spurred us on to greater things mainly in the wet into wet style!
Most of the party of eight arrived at Christchurch on Friday 1st July after a painting stop-off at Bolder in the New Forest. Some of the better results came from this stop-off as it was more out of the wind. That evening the group dined out bohemian style at Pinocchio's Pizza restaurant an eatery full of Italian character and worth revisiting one day. The serious painting started on Saturday as most of the group took the ferry from Mudeford Quay to Hengistbury Head. In spite of my research the parking authorities still managed to empty our pockets somewhat. I should have suspected this might happen as the area is renowned for pirates! All day Saturday the sun came in and out from behind some heavy clouds which occasional dropped their burden of rain on us but we in turn dodged in and out of the showers through invites from friendly beach hut owners who offered shelter.
For full report, click here for more details.
Winter Programme 2016 - 2017
From September each year Society Members and visitors enjoy a Programme of talks, critiques, demonstrations and workshops. These sessions are on Tuesday evenings from 7.30pm to 9.30pm at Cowbridge Hall, Cowbridge, Hertford SG14 1PG. Approximately half the evenings in the Winter Programme are for Members to paint or draw either from still life arrangements or a life model. The remaining evenings are taken up with talks, critiques of paintings brought along by Members, demonstrations from a professional artist or workshops. Visitors are welcome to enjoy the non-practical evenings - see separate Programme.
Programmes
Hertford Art Society 64th Open Exhibition 2016 - May 1st - 14th
Award Winners
The John Goss Prize for the painting the judges considered best in show - 'Hydrangea', Stella Green.
The Lady Laming Award for Abstract Art - 'River Bank', David Quantrill.
The Bill Dale Award is chosen from works by Members who regularly support the whole of the Society's activities - 'Old Bluecoats School Hall', Trevor Chamberlain.
The Mayor's Award for the best 3D work - 'Queue of Life, Bus Stand 7 figures 7 stories', Maria-Luisa Wilkings.
The Edward Mason Brushes Award for the best watercolour - 'Instant Colour', Anne McCormack RI, SWA.
Visitors' Choice Award - 'Show me the way to go home', Jill Rolfe.

Visitors' Choice Award
Show me the way to go home by Jill Rolfe - Watercolour
The Exhibition was decidedly Representational this year although there are some abstracts and near abstracts but they are well dotted around.
For full report, click here for more details.
East Herts Decorative and Fine Arts Society
For the last five years sponsorship of the award judged to be the best piece of 3D work at the Open Exhibition has been provided by EHDFAS – East Herts Decorative and Fine Arts.
The 2016 winner was "Queue of Life" Bus Stand - 7 Figures 7 Stories by Maria-Luisa Wilkings. Actually it's 8 figures, I think Maria got carried away when she was submitting her figures. Each one comes with a short back-story documented in a mini-booklet accompanying the figure. Their future stories have yet to unravel: Maria says we may well be seeing what happens to at least some of them at a future exhibition. This saga could run and run.
EHDFAS Members enjoy monthly talks at the Spotlight Centre in Broxbourne on a wide range of arts subjects well beyond the decorative and fine. Among other things we also go on visits to outstanding buildings and galleries, hold Special Interest days and sponsor Young Art in local schools. Our most recent success has been this batik abstract ('Lollipops') entered by a 14 year old Sele School pupil into a National competition where the subject was 'Edibles'. It won first prize in the 14-16 year age group.
Several members of the Hertford Art Society are members of EHDFAS. For more information on EHDFAS please visit their website.
Still Life Workshop Tutored by Paul Curtis NEAC - 9th April 2016
Commuting between London and Sheffield, Paul Curtis delivers workshops and courses on painting and drawing throughout the UK, whilst painting full-time. He is a regular and popular visitor to Hertford Art Society, giving demonstrations and critiques, tutoring workshops and has been a judge for the annual Open Exhibition.
A still life set up was created, spanning the hall and using a variety of levels to create interest. Paul's treasure trove of objects included jugs, pots, vases - many of which were in shades of white. Flowers and foliage added an extra dimension to the scene.
This was a full day workshop, which gave time to sketch and draw before moving onto a larger work on canvas or paper.
For full report, click here for more details.
Illustrating Elgar's Dream of Gerontius - A Concert by Hertford Choral Society - 19th March 2016
Our Society was again invited to illustrate Hertford Choral Society's Easter concert, held in All Saints Church, Hertford on 19th March 2016. This year's concert was Elgar's Dream of Gerontius: a significant endeavour involving 140 singers, 55 orchestral players and three brilliant soloists.
Illustrating The Dream of Gerontius proved more challenging than previous HCS concerts. No Great Whales to paint (Haydn's Creation), no magisterial Pharoes (Handel's Israel in Egypt), no chariots of fire (Mendelssohn's Elijah). Instead Gerontius is all thoughts of death, visions of purgatory, spiritual thunderbolts and glimpses of God. Dramatic stuff but not too many strong visual images to get onto canvas.
For full report, click here for more details.
Demonstration & Workshop – Abstract Art by Chantelle Stephenson – 8th March 2016
Chantelle Stephenson is a professional artist who specialises in abstract painting, printmaking, drawing, alternative photography techniques and felt making. She teaches at "The Settlement" in Letchworth where she offers a variety of courses in different art forms. Chantelle has had her work shown in a London Gallery and has travelled to Japan recently where her style of working has been of great interest to the Japanese artists. Obviously she has also brought back a lot of new ideas from that country which will no doubt be shown in her future art classes.
For full report, click here for more details.
A Story of Three Colours in Art- Red White Blue Illustrated Talk by Alexandra Epps – 1st December 2015
We were delighted to welcome Alexandra Epps, a graphic designer, NADFAS lecturer and City of London Guide, to Hertford Art Society. Alexandra is experienced in guiding tours of Public Art and Architecture of the City of London as well as the collections in Tate Modern and Tate Britain.
The talk focused on three colours - Red, White & Blue and Alexandra explored how colour impacts on our perception of art with a wonderful array of paintings as illustration. (Two images from each section are shown here as examples - many are well-known and can be easily sourced on line.)
2015dec-colours07.jpg

Red - one of the most powerful colours associated with passion, aggression and obsession. Historically it is an earth colour...

2015dec-colours08.jpg

White is the colour of snow, of mourning, of innocence, honesty, cleanliness, perfection, spirituality.

2015dec-colours09.jpg

Blue is associated with the unfathomable depths of the ocean and the immensity of the sky - "The Blues".
For full report, click here for more details.
Demonstration – Boat Shed at Richmond in Acrylics by Derek Daniells RBA – 13th October 2015
A member of the Wapping Group of Artists, Derek Daniells is a professional artist who uses a variety of mediums such as oil, acrylic, mixed media and pastel with equal skill on a wide range of subjects. He prefers direct observation, often working on site in all weathers. He aims to complete his paintings in one session and travels extensively, seeking out subjects which excite his eye. He loves working along the Thames and chose to demonstrate an interior scene of one of his favourite boat sheds in Richmond.
Working from a photograph, Derek initially lays down some dilute washes of acrylic in shades of grey, ochre and blue, defining some key shapes of the scene. He likes to paint on mdf board which has been primed by up to four coats of acrylic gesso. These are robust and easy to transport. His chosen palette is: Cadmium Yellow/ Orange/ Red, Yellow Ochre, Burnt Sienna, Naples Yellow, Ultramarine Blue, Cerulean Blue and Phthalo Turquoise.
For full report, click here for more details.
Visit to County Hall Hertford with Blue Badge Guide – 29th September 2015
Members of Hertford Art Society gathered at the main Hall where the two striking stag sculptures stand either side of the entrance. Our Blue Badge guide for the evening was Elizabeth Eastwood and we began the tour at the archive and family tree room in which hung 3 beautiful landscape paintings by a local painter Edward Archibald Brown. Member Trevor Chamberlain, who is a fan of the Artist, gave us a brief history of Brown's life. He had also brought in a folder with some original sketches by Brown. It was also in the archive room we saw a lovely painting of a farmer burning leaves in Ashridge by the "well-known painter (pause for it) Anon", Elizabeth joked.
For full report, click here for more details.
Visit to Gibberd Gallery - 15th September 2015
This year's Winter Programme includes three evenings which have been arranged at interesting local settings and the first of these was a visit to the Gibberd Gallery in Harlow Water Gardens.
The Gibberd Gallery is a purpose built contemporary exhibition space in the centre of Harlow on the mezzanine floor of the Civic Centre. It is run by Harlow Art Trust, a charity formed in 1953, which also commissions and purchases sculpture for the town. It is home to the important collection of British watercolours donated to the town by Sir Frederick Gibberd in 1984. This collection is permanently on display and includes pieces by John Nash, Edward Bawden and Elizabeth Blackadder.
The Gallery Director, Corinna Dunlea gave an interesting talk on the origins of the Gallery and the importance of art in the original concept of the design of Harlow by the architect Sir Frederick Gibberd. There are currently 79 public sculptures situated throughout Harlow.
Members then spent the evening looking closely at the permanent collection of watercolours and sketching the various sculptures, including Harlow Family Group 1954 by Henry Moore, an imposing larger than life work in Hadene Stone which greets visitors to the Gallery.
The gallery also has a variety of on-going temporary exhibitions worth looking out for and it is open and free to all visitors - very conveniently situated between Asda and Matalan in Harlow town centre.
Saturday Life Workshops
Hertford Art Society runs Life Workshops in Cowbridge Halls, Hertford on the last Saturday of 9 months during the year. Although these are primarily run for members we welcome enthusiastic visitors at £14.50 per session, this includes coffee, tea and biscuits, available all day.
The sessions are untutored and last from 10.00am – 4.00pm with a break of 1hr at lunchtime. We work in in all mediums including prep work for sculpture. Bring whatever medium and equipment you require with you. These photographs are from a recent workshop and illustrate the exciting variety of work produced by the artists.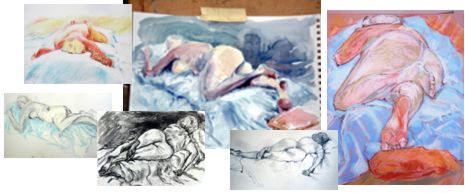 We are a very enthusiastic and relaxed group of artists and welcome looking at each, others' work (the best way to improve). Even so, we try to keep the working area reasonably quiet. There are normally 2 models unless the group is small, when there is only one. We do not have a set programme of poses, but usually include short poses, mostly in the morning and longer poses for artists who wish to produce a more finished piece of work.
Workshops take place on the last Saturday of the month for nine months of the year. They do not take place in April, August and December due to the annual Open Exhibition and holiday periods.
If you are interested please contact workshops@hertfordartsociety.co.uk for further details.
Summer Programme
Every summer following the indoor Winter Programme and the Open Exhibition, Hertford Art Society Members enjoy painting and sketching out of doors on Tuesday evenings at various venues in the Hertford Area.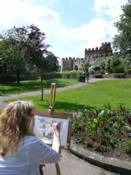 Painting in the grounds of Hertford Castle
Any local artists from the villages or areas to be visited are welcome to come along for the outdoor painting sessions etc. Parish dignitaries or councillors are also invited to join Members socially later.
Society's aim
The Society's aim is to encourage interest in the visual arts and to provide opportunities to practice, study and exhibit art in Hertford and the surrounding area.
It is well regarded for the high standard of artworks on display at the annual Open Exhibition. Submissions are received from across Hertfordshire as well as other parts of the country.
Members work in a range of media and styles from traditional painting in oils, pastel, watercolours and acrylics to printmaking, collage, multi-media and digital – computer based imagery. Three dimensional work in wood, clay, stone and metal is also well represented.
This diversity and an approach to art which values traditional skills alongside contemporary art forms combine to make Hertford Art Society a leading light in the local art world.