Welcome to the Hertford Art Society Website
Summer Painting Weekend - Rye and Camber Sands - September 8th, 9th and 10th 2017
The HAS annual art weekend away for 2017 saw us visiting Rye and Camber Sands. Having moved the weekend to the latter part of the outdoor painting season we had a slightly better response from Members.
Rye proved to be an ideal venue enabling a choice of marine or town subject matter, however, as the streets were narrow and busy with tourists the majority of us stayed in the Old Harbour area.
For full report, click here for more details.
Winter Programme 2017 - 2018
From September each year Society Members and visitors enjoy a Programme of talks, critiques, demonstrations and workshops. These sessions are on Tuesday evenings from 7.30pm to 9.30pm at Cowbridge Hall, Cowbridge, Hertford SG14 1PG. Approximately half the evenings in the Winter Programme are for Members to paint or draw either from still life arrangements or a life model. The remaining evenings are taken up with talks, critiques of paintings brought along by Members, demonstrations from a professional artist or workshops. Visitors are welcome to enjoy the non-practical evenings (marked with an asterisk).
Winter Programme 2017-2018 (pdf) - click here for more details
Summer Programme Review 2017
Each summer Hertford Art Society Members enjoy painting and sketching out of doors on Tuesday evenings at various venues in the Hertford Area.
For full report, click here for more details.
Saturday Life Workshops
Hertford Art Society runs Life Workshops in Cowbridge Halls, Hertford on the last Saturday of 9 months during the year. Although these are primarily run for members we welcome enthusiastic visitors at £14.50 per session, this includes coffee, tea and biscuits, available all day.
The sessions are untutored and last from 10.00am – 4.00pm with a break of 1hr at lunchtime. We work in in all mediums including prep work for sculpture. Bring whatever medium and equipment you require with you. These photographs are from a recent workshop and illustrate the exciting variety of work produced by the artists.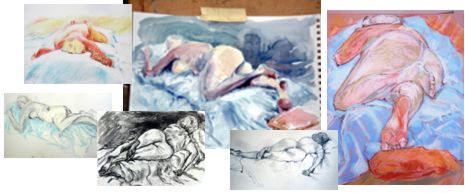 We are a very enthusiastic and relaxed group of artists and welcome looking at each, others' work (the best way to improve). Even so, we try to keep the working area reasonably quiet. There are normally 2 models unless the group is small, when there is only one. We do not have a set programme of poses, but usually include short poses, mostly in the morning and longer poses for artists who wish to produce a more finished piece of work.
Workshops take place on the last Saturday of the month for nine months of the year. They do not take place in April, August and December due to the annual Open Exhibition and holiday periods.
Life Models Workshops within HAS Winter Programme for 2017 - 2018
Saturday - 23 September 2017
Saturday - 21 October 2017
Saturday - 25 November 2017
Saturday - 27 January 2018
Saturday - 24 February 2018
Saturday - 31 March 2018
Saturday - 26 May 2018
Saturday - 30 June 2018
Saturday - 28 July 2018
If you are interested please contact workshops@hertfordartsociety.co.uk for further details.
Printmaking Workshop at Hertford Museum - 14th June 2017
At Hertford Museum's request Hertford Art Society is running workshops on different creative techniques during 2017. In June it was the turn of Printmaking and this session was led by artist Geoff Reynolds. The seven members of the public who signed up to the 2½ hour workshop were given an introductory talk describing what can be found in the Museum. They were then let loose to hunt down exhibits that would make good subjects for printing. Some quick design work, mostly on polystyrene tiles, and then the messy part of the workshop began as folk rolled out their ink and transferred it to the etched tiles.
The result was a wide range of images reflecting what is to be found in the town's Museum. Within a short while complete novices were turning out attractive patterns on paper and cloth, based on the exhibits on display. They left the workshop full of enthusiasm and looking forward to the next HAS Workshop. This link between the Art Society and the Museum can only be good.
Art Workshops at Hertford Museum
14th June 2017 - Printmaking with Geoff Bennett
27th September 2017 - Clay Sculpting with June Pickard
15th November 2017 - Collage with Kathy Burman
In collaboration with Hertford Art Society, Hertford Museum is running a further series of Art Workshops during 2017. These Workshops will use the exciting and varied range of artefacts available at Hertford's Museum as a starting point for the design of the finished article and are suitable for beginners and those more experienced. The first session, on Watercolours, was run by Denise Allen and was a great success. The downloadable leaflets give full details of times, cost etc. Booking is directly with Hertford Museum - www.hertfordmuseum.org (Tel: 01992 582686)
Prize Winners for Hertford Art Society 65th Open Exhibition - April 30th - May 13th 2017
Award Winners
The John Goss Prize is awarded by Judges to the painting considered to be the best in show. This year it has been awarded to Roger Dellar ROI RI PS for his picture 'Sunday Morning, Wexford'.
The Lady Laming Award for Abstract Art is awarded for the best abstract picture in the exhibition. This has been awarded to Stella Green for her picture 'Storm over St. Ives'.
The Bill Dale Award is for the picture deemed by the Judges as showing the most merit chosen from among works by Members who regularly support the whole of the Society's activities. The picture is by T John Jarratt for his picture 'Late Snow near Ayot St. Lawrence'.
The Mayor's Award is presented for the best 3D work. This year's award goes to Nigel Earle for 'After GR'.
The Edward Mason Brushes Award, as deemed by the Judges, is for the best watercolour painting in the exhibition. This has been awarded to Trevor Chamberlain ROI, RSMA for his watercolour 'Evening Shade, Archers Green'.
Visitors' Choice Award - Trevor Chamberlain, ROI, RSMA 'Rainclouds over Malden' Watercolour.

John Goss Prize for Best in Show,
Roger Dellar ROI RI PS,
'Sunday Morning, Wexford'.

Lady Laming Award for Abstract Art,
Stella Green,
' Storm over St. Ives'.

Bill Dale Award,
John Jarratt,
'Late Snow near Ayot St. Lawrence'.

The Mayor's Award – best 3D work,
Nigel Earle,
' After GR'.

The Edward Mason Award – Best Watercolour,
Trevor Chamberlain ROI RSMA,
'Evening Shade, Archers Green'.

Visitors' Choice Award,
Trevor Chamberlain, ROI, RSMA
'Rainclouds over Malden' Watercolour.
2017 Hertford Art Society Open Exhibition Review
I have to say that I am totally awe inspired as to how people can find the words to form a review of an exhibition. With so many varied and intriguing pictures to look at and then somehow describe them will always amaze me. So when I was asked to write a review of the 2017 Open Exhibition I was daunted but definitely up for the challenge.
On thinking how to start I decided that the best way was to be as if entering the exhibition and ambling around as I would if just viewing.
On entry to the exhibition I noticed straight away "The Bubbles" by Sharon Wright, this item brought on great feelings of serenity and calm. The colours were moderate and the subject thought provoking, as well as very well executed. As I continued to shuffle around the pictures I was very impressed with the overall standard, as always. The mix of colour, shape and form was mind boggling.
For full report, click here for more details.
The Making of "The Trinity" - a sculpture by June Pickard for the garden of the United Reformed Church, Cowbridge, Hertford
When the elders of the URC Church in Hertford asked if anyone in Hertford Art Society could make them a sculpture for their Church Garden I immediately thought of the planks of wood I had seen on numerous times on the balcony of the church. Whenever I saw them they suggested that they would make a lovely sculpture.
Working from photographs of each piece mounted on foam board I decided to make 3 standing figures representing the many forms of the number 3 in the bible. After deciding which pieces looked best together it immediately suggested the Father, the Son and the Holy Ghost.
The planks of wood must have been originally cut direct from a tree as they had not been trimmed because they still had the bark on in places and had natural holes and edges. These I left to give character to the figures. The Father is the most solid piece, the Son is made from the two narrowest planks and the Holy Ghost uses the planks that are most irregular. I also carved the top corners off the Father and Son figures so that they appear to connect with each other.
The pieces have a centre post cut from one of the planks and are bolted together with stainless steel bolts. To keep them securely in place they have brackets which are bolted into the ground. The planks were given 3 coats of preservative which enhanced the colours in the wood. To display the sculpture the sculpture at the 2017 Hertford Art Society Open Exhibition base is was covered with pea shingle.
I hope the URC members and others get enjoyment from my interpretation of The Trinity for years to come. They will be installed in the garden to the right of the URC Church, Cowbridge, Hertford, during the summer of 2017 and can be viewed and contemplated by walking through the garden to the patio at the end where they will be positioned.
June Pickard
Summer Programme
Every summer following the indoor Winter Programme and the Open Exhibition, Hertford Art Society Members enjoy painting and sketching out of doors on Tuesday evenings at various venues in the Hertford Area.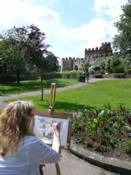 Painting in the grounds of Hertford Castle
Any local artists from the villages or areas to be visited are welcome to come along for the outdoor painting sessions etc. Parish dignitaries or councillors are also invited to join Members socially later.
Public Art in the City of London - Illustrated talk by Alexandra Epps - 18th April 2017
Alexandra Epps, a graphic designer, NADFAS lecturer and City of London Guide was welcomed back for a talk on Public Art in the City of London, concentrating on modern and contemporary art. The City has been her home for over twenty years and since qualifying as a guide she is keen to share the stories of its public art, iconic architecture, and fascinating history.
Paternoster - Elizabeth Frink - 1975
Angels I to V - Emily Young - 2003
Paternoster Vents - Thomas Heatherwick - 2002
City Wing - Christopher Le Brun – 2013
Nail - Gavin Turk - 2011
Relief panels - Mitzi Cunliffe - 1969
Ceramic panels - Rupert Spira - 1992
St Stephen's, Walbrook
Adam and Eve stained glass by John Hayward - 1968 at St Michael Paternoster Royal
Revolution in 2 parts - Rob & Nick Carter - 2005
Time and Tide - Simon Patterson - 2005
Chromorama - David Batchelor - 2015
Memorial to Heroic Self Sacrifice - George Frederick Watts - 1899
Zodiac Clock - Frank Dobson & Philip Bentham - 1959
Gilt of Cain - Michael Visocchi & Lemn Sissay - 2008
Memorial to the people of London who died in the Blitz during World War II - Richard Kindersley - 1999
Three Printers - Wilfred Dudeney RBS - mid 1950s
Monument to Baron Paul Julius Reuter - Michael Black - 1976
Murals - Dorothy Annan - 1960
Resolution - Anthony Gormley - 2012
"The role of Public Art is to enrich the environment in which we work, play, learn and live" - Listing Team, Historic England.
For full report, click here for more details.
Haydn's Mass and Te Deum - All Saint's Church, Hertford - 1st April 2017
The Art Society was once again invited to illustrate Hertford Choral Society's Spring Concert – Haydn's Mass and Te Deum. This is a tricky score to illustrate – the works contain devotional phrases familiar to us all but few descriptive terms that readily transform to figurative pictures.

Persis Limbuwala did the sensible thing and painted an abstract of 'Heaven and Earth full of the Majesty: of thy Glory' - a Mondrian-style image of colourful panels edged in black which gives the picture a stained glass effect, entirely appropriate to its church setting.

Jenny Stratfold worked in a human theme with a panoply of worshipers from different lands to convey 'The holy Church throughout all the world doth acknowledge Thee' and Geoff Reynolds also decided to go for a group of people to illustrate 'We praise You, we bless You, we worship You, we glorify You'.

Paul Swinge created cubist images depicting 'You alone are the Most High, Jesus Christ with the Holy Spirit in the glory of God the Father'; John Jarratt selected just one of the Holy Trinity but was able to add in Planet Earth to illustrate 'You who take away the sin of the world'.
For full report, click here for more details.
The work of Mary Beale (1633 - 1699)
Visit to West Lodge Park, Hadley Wood - 21st March 2017
We were made very welcome by Mr Andrew Beale the current owner of West Lodge Park, a Beales Hotel - originally a hunting ground for kings and queens. It is a family run hotel with a beautiful Arboretum and a heliport within its grounds. The main purpose of our visit was to see the collection of paintings and learn about his famous ancestor, Mary Beale.

Andrew Beale with a self portrait by Mary Beale.
For full report, click here for more details.
Talk and Show - Mixed Media by Val Pettifer - 31st January 2017
Val Pettifer visited HAS on Tuesday 31 January and gave us an interesting evening called "Talk and Show" on Mixed Media.

Right: Val Pettifer - Les Trois Filles - Collage Acrylic
The evening started with a large selection of materials and books laid out on three long trellis tables and a few examples of finished pictures in mixed media with a variety of finishes. She introduced herself as having a passion for art in childhood and after retiring this passion was rekindled. She did various courses with great enthusiasm over a few years before investing in the "Old School Studios" in Whittleford Cambridge - just off the M11 at Duxford. She runs various Workshops and Drop In days. These are very convivial surroundings and Val is encouraging and works to each individual's strengths. She also has visiting artists leading some of these courses.
For full report, click here for more details.
Birds of Prey - An opportunity to draw and paint four birds of prey presented by Kirsty Allen, Falconer - 24th January 2017

Harris Hawk, Kestrel, Lanner Falcon & Peregrine Falcon.
Pennine Falcons is situated in the heart of the Pennines and is led by Kirsty Allen; a young falconer who has been practicing the sport since 2007. She has had a lifelong passion for all birds, particularly birds of prey. She has experience working with the BBC and Silverback Films, Vogue Magazine with Helen Macdonald, has featured in the National Press and is highly regarded within the industry. Kirsty is the daughter of Member Denise Allen and we were delighted to welcome her and four of her Birds of Prey for this very different Members' evening.
For full report, click here for more details.
Tonal Values Workshop with Chris Christoforou - 12th November 2016
Chris Christoforou has been a professional artist for 30 years and has built an international reputation for his work, since he started as a commercial artist. He is well known for his depictions of wildlife, although he enjoys painting all manner of different subjects. He has written many articles for art magazines on various art materials, including his own painting techniques. He visited us on the "Critique" evening that began our Winter Programme for 2016 and when he was invited for a workshop with us he suggested the topic of "Tonal Values" as this subject had arisen during the Critique. Thus this was the subject for the day and it turned out to be a very interesting and enlightening tutorial.
The workshop began with monochrome sketches using photographs which the artists had selected as suitable for this exercise. To create an image with a clear foreground - middle ground - background in black and white for example you can use just black (ink or paint) and progressively dilute it to get a vast range of tones from initial black all the way through shades of greys by reducing the strength of it till it reaches no colour at all. This tonal range can also be achieved in pencil or charcoal. Chris suggested that we experiment (later) with creating a "Grey Scale" for our own use.
For full report, click here for more details.
Demonstration in Acrylics by Hashim Akib - 11th October 2016
Hashim Akib originally worked as an illustrator. This gave him valuable experience in developing drawing skills, conceptual ideas and various painting techniques. Throughout his career he has won many awards and exhibited in many prestigious galleries. His first book entitled 'Vibrant Acrylics' was published in 2012, has been translated into French, German, Italian and Dutch and includes a companion DVD of the same name. He has further books - 'Cityscapes', 'Absolute Beginners' and 'Portraiture' - in the pipeline. He contributes feature articles to many art publications and runs regular workshops.
Hashim asked the audience to choose from three portrait photographs and had prepared a large canvas with a turquoise ground in acrylic. He prefers to work with a vibrant ground colour on his canvasses, always has a selection prepared and chooses one to compliment the subject. He uses Daler Rowney System 3 Heavy Body acrylics for his demonstrations. Having worked with them in their relaunch of these paints he finds them most suitable for his style of painting. He has a palette prepared with a range of vibrant colours in deep pans and works with large flat Daler Rowney square head brushes and Liquitex paddle brushes.
For full report, click here for more details.
Pastel Workshop - 27th September 2016
Following Les Darlow's pastel demo the previous week we all set-to on Tuesday evening to emulate his bold, confident wielding of bright and dark colours. A large skyscape was projected onto the hall's end wall and the lights dimmed at that end. Of course this had the side effect of making some of us work in near darkness with difficulty choosing colours. A couple of sensible members next to me got by with the use of torches!
Despite this and in the better lit end of the hall much excellent work was done including other references. Complete silence reigned for most of the session. The standard of work was quite excellent and, hopefully, much was learned from the exigencies of having to use a medium possibly rarely attempted.
Light, Energy and Movement - Demonstration in Pastel by Les Darlow - 20th September 2016
Les Darlow trained as a technical and scientific illustrator (with a 5 year diversion playing in a rock band!) and produced photorealistic images. His art was transformed when someone bought him a set of pastels. He found this medium perfect for painting freely and expressively, creating paintings based on light, energy and movement. He now considers himself an impressionist and loves the medium of pastel for its colour and intensity.
He showed us some examples of recent paintings, introduced us to his chosen materials and announced that he would be producing three paintings over the course of the next couple of hours. The audience was intrigued.
Many artists struggle with pastels and Les feels that this is, to a large extent, due to inferior materials. He often teaches groups where most of the painting ends up as dust on the floor. Having experimented with many different brands he now recommends Rembrandt and Jackson (hard pastels) and Unison (soft pastels) together with Canson "Mi-Tientes" pastel paper containing more than 50% cotton (which reduces absorption of pigments), comes in 50 colours and has one smooth surface and one with an "orange peel effect". This also comes in a micro abrasive surface, Canson "Touch" (like fine sandpaper). Coloured backgrounds can be created on this paper using inks. He also feels that there is a temptation to use pastels too thickly - in his view "less is more". The chosen background colour is important as, using his technique, this will be an integral part of the painting, setting the mood.
For full report, click here for more details.
East Herts Decorative and Fine Arts Society
For the last five years sponsorship of the award judged to be the best piece of 3D work at the Open Exhibition has been provided by EHDFAS – East Herts Decorative and Fine Arts.
The 2016 winner was "Queue of Life" Bus Stand - 7 Figures 7 Stories by Maria-Luisa Wilkings. Actually it's 8 figures, I think Maria got carried away when she was submitting her figures. Each one comes with a short back-story documented in a mini-booklet accompanying the figure. Their future stories have yet to unravel: Maria says we may well be seeing what happens to at least some of them at a future exhibition. This saga could run and run.
EHDFAS Members enjoy monthly talks at the Spotlight Centre in Broxbourne on a wide range of arts subjects well beyond the decorative and fine. Among other things we also go on visits to outstanding buildings and galleries, hold Special Interest days and sponsor Young Art in local schools. Our most recent success has been this batik abstract ('Lollipops') entered by a 14 year old Sele School pupil into a National competition where the subject was 'Edibles'. It won first prize in the 14-16 year age group.
Several members of the Hertford Art Society are members of EHDFAS. For more information on EHDFAS please visit their website.
Society's aim
The Society's aim is to encourage interest in the visual arts and to provide opportunities to practice, study and exhibit art in Hertford and the surrounding area.
It is well regarded for the high standard of artworks on display at the annual Open Exhibition. Submissions are received from across Hertfordshire as well as other parts of the country.
Members work in a range of media and styles from traditional painting in oils, pastel, watercolours and acrylics to printmaking, collage, multi-media and digital – computer based imagery. Three dimensional work in wood, clay, stone and metal is also well represented.
This diversity and an approach to art which values traditional skills alongside contemporary art forms combine to make Hertford Art Society a leading light in the local art world.