Welcome to the Hertford Art Society Website

What's new
61st Annual Open Exhibition 5th May to 18th May 2013
Running for two weeks each year, the Annual Open Exhibition is a highlight of Hertford's artistic life and attracts hundreds of visitors. Over 300 artworks are exhibited having been selected by a panel of judges from the work submitted. The 2013 Exhibition featured paintings, collage, digital images, prints, sculpture and fused glass and visitors praised the high quality and great variety of exhibits.
A review of this year's Exhibition is in preparation.
61st Open Exhibition Prizewinners

From left to right: Councillor Jane Sartin, Mayor of Hertford; June Pickard, Award winner, Mayor of Hertford Award for best 3D work; Craig Morton, Manager of Edward Mason Ltd, sponsor/donor of award for best Watercolour; Georgina Mersh, Award winner, best Watercolour; Paul Swinge, Chairman of HAS; Jean Nobel RI SWA, Award winner, Lady Laming Award for Abstract Art; Lord Laming, sponsor of Lady Laming Award; Diana Dale: Sponsor/donor of the Bill Dale Award; Kathy Burman, Award winner, Bill Dale Award; Anne McCormack RI SWA, Award winner, John Goss award for Best in Exhibition. (Photograph: Matthew McCormick)
Summer Programme 2013
Every summer following the indoor Winter Programme and the Open Exhibition, Hertford Art Society Members enjoy painting and sketching out of doors on Tuesday evenings at various venues in the Hertford Area.
Members usually meet at around 7.00pm (or beforehand by private arrangement) for sketching & painting, then gather socially in the suggested public house when the light fails. Any local artists from these villages or areas are welcome to come along for the outdoor painting sessions etc.
Elijah comes to Hertford - Concert by the Hertford Choral Society – March 2013
Each year the Art Society is invited to illustrate the theme of Hertford Choral Society's Easter concert. A chance to lay aside the sable no. 2 and pick up a decorators brush and bang out a 2' x 4' pic that will adorn the pillars stretching down the aisle of All Saints Church in Hertford.
This year's concert was Mendelsohn's Elijah. The prophet seems to have spent a frustrating life berating his fellow countrymen for worshipping false gods. Eventually he ascends to heaven in a fiery chariot, pulled by fiery horses - pretty much how I'd like to go, my ascent accompanied by some good looking angels and the scene illustrated by you lot in the Art Society please.
For full report, click here for more details.
"Every mark asks a question" - Demonstration of Abstract Art by Laura Reiter – 29th January 2013
A pleasing number of members attended a very informative and lively demonstration given by Laura Reiter on Abstract Art in Mixed Media. She had brought along a number of colourful, stylised paintings and illustrated books for us to look at, and to whet our appetite.
'Every Mark you make asks a question'
(i.e. need to look at how to balance that mark with perhaps the same colour or mark somewhere else in the picture)
Working from photographs and a reference sketch, Laura began by putting a yellow & green watercolour & and ink wash over Bockingford watercolour paper already coated with a texture gel and a very feint drawing outline. She then stuck some handmade paper on with PVA glue and gave this a wash of ink. Buff Titanium and Cobalt Turquoise Light acrylic paint was applied next, and the shapes of the jug and birds outlined with Oil pastel. Flower shapes were made from a type of thin ''sponge'' material to use as a stamp for coating in paint to add a pattern on the jug, and other shapes were made by using a Lego brick dipped in fairly dry paint.
| | |
| --- | --- |
| | 'The colours or shapes you see in front of you are looking for somewhere to live in your picture' |
After the break, Laura carried on with adding a few more shapes with the stamps and then outlined some of the objects with a gold UNIPOSCA pen. These are apparently available in lots of colours and would look as though they would be a great addition to any art box. Tulips were then added in purple watercolour (she uses St.Petersburg ''White Knights'' ) and acrylic ink. A pipette used as a brush added the stems, also in acrylic ink.
The finishing touches were done by adjusting the colour of the birds and the jug with acrylic paint and again outlining some shapes with oil pastels. A very vibrant, colourful image was the result, and I am sure everybody present enjoyed watching the process.
Laura continued to work on the painting later in her studio and the final photograph is her completed work.
Demonstration by Jamel Akib, Illustrator – Portrait in pastel – 27th November 2012
On the face of it, pastel being a direct and immediate medium, it should be easy to use. To get the best out of pastel, however, experience and practice is needed to obtain the subtleties and tones which make it such a beautiful medium.
In getting commissions for magazines and newspapers, Jamel Akib had already demonstrated some skill with this medium whilst still a student.
The chosen subject for this demonstration was a portrait from a photograph. Jamel started by taking careful measurements with callipers and transferred them to the paper in a dark brown pastel. In doing this he made a framework on which he could place the colours.
The pastels were applied patiently and carefully, the tones and colours being built up by careful overlaying and blending. There are few straight lines in a portrait – the shapes of the features being suggested by the tones and blending one colour into another. All the time, Jamel was checking the proportions – it is easy to unintentionally change shapes whilst working.
Not all pastels are the same, even in the top makes there are differences in softness, pigments and handling. Jamel used a selection of makes to achieve the desired effects. When working from a photograph it is sometimes difficult to put in that little something which can be seen by observing the live model.
At the end of the 1 ½ hours of work Jamel Akib had produced an excellent rendition of the photograph and, during the extremely enjoyable evening, had perhaps inspired members of the audience to experiment with this delightful medium.
The 15th Members Exhibition 26-28th October 2012 at the Millbridge Rooms, Millbridge, Hertford

VISITORS' CHOICE AWARD
won by Terry Woods for 'Woodland Scene No. 2'.
The 15th Hertford Art Society Members' Show opened on 26th October 2012 for three days in the Millbridge Rooms in Hertford. Sixty artists took part with over 100 framed artworks and pieces of 3D work and also unframed work and artists' greeting cards.
The primary purpose of this show, started 15 years ago by Enid Fairhead, is to offer Members of the Art Society an opportunity to exhibit their work without the constraints of its big brother Open Exhibition held in May each year. In this it was a great success, with a broad variety and high standard of work which would be the envy of many art societies and a most enjoyable Members' party on the Friday evening where Members could meet socially.
For full report, click here for more details.
Tuesday sketching evenings 2012

Woolmer Green by Ray Ward
All Winter, we look forward to Summer painting evenings, especially as we have a copy of the Summer programme temptingly given to us during February. After a frustrating start to Tuesday sketching evenings, due to "British weather", i.e. rain, we managed a few glorious painting evenings – although some were beset with pesky mosquitoes or dull, cool weather. On the evening at Little Berkhamstead, I boldly asked permission for us to paint in the pub, as heavy rain was imminent. Our chosen area for painting during the Bengeo venue, proved problematical, as tractors were busy in the fields, raising huge dust clouds and insects! They even seemed to follow us to the pub later that evening!

Left: Walkern; Right: The Bull, Watton at Stone. Both by Margo Ward
Trevor's selection of venues, as always, were excellent, the Summer season ended with the Summer painters meeting for a super meal, at the Axe & Compass, Braughing. Margo Ward
Winter Programme 2013-2014
From September each year Society Members and visitors enjoy a Programme of talks, critiques, demonstrations and workshops. These sessions are on Tuesday evenings from 7.30pm to 9.30pm at Cowbridge Hall, Cowbridge, Hertford SG14 1PG. Roughly half the evenings in the Winter Programme are for Members to paint or draw either from still life arrangements or a life model. The remaining evenings are taken up with talks, critiques of paintings brought along by Members, demonstrations from a professional artist or workshops. Visitors are welcome to enjoy the non-practical evenings .
Programmes
Winter Programme 2013-2014 (pdf) - in preparation.
Visitors' Programme 2014-2014 (pdf) - in preparation.
Summer Programme 2013 (pdf) - click here for more details.
Saturday Life Workshops
Hertford Art Society runs Life Workshops in Cowbridge Halls, Hertford on the last Saturday of 9 months during the year. Although these are primarily run for members we welcome enthusiastic visitors at £14.50 per session, this includes coffee, tea and biscuits, available all day.
The sessions are untutored and last from 10.00am – 4.00pm with a break of 1hr at lunchtime. We work in in all mediums including prep work for sculpture. Bring whatever medium and equipment you require with you. These photographs are from a recent workshop and illustrate the exciting variety of work produced by the artists.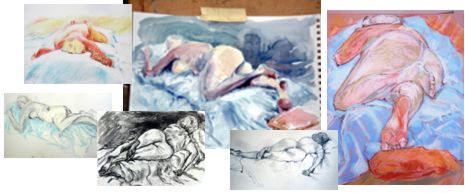 We are a very enthusiastic and relaxed group of artists and welcome looking at each, others' work (the best way to improve). Even so, we try to keep the working area reasonably quiet. There are normally 2 models unless the group is small, when there is only one. We do not have a set programme of poses, but usually include short poses, mostly in the morning and longer poses for artists who wish to produce a more finished piece of work.
The dates for the coming season are:
Life Workshops 2012 – 29th Sept, 27th Oct, 24th Nov
2013 – 26th Jan, 23rd Feb, 30th Mar, 25th May, 29th June & 27th July
If you are interested please contact workshops@hertfordartsociety.co.uk for further details.
Society's aim
The Society's aim is to encourage interest in the visual arts and to provide opportunities to practice, study and exhibit art in Hertford and the surrounding area.
It is well regarded for the high standard of artworks on display at the annual Open Exhibition. Submissions are received from across Hertfordshire as well as other parts of the country.
Members work in a range of media and styles from traditional painting in oils, pastel, watercolours and acrylics to printmaking, collage, multi-media and digital – computer based imagery. Three dimensional work in wood, clay, stone and metal is also well represented.
This diversity and an approach to art which values traditional skills alongside contemporary art forms combine to make Hertford Art Society a leading light in the local art world.