Welcome to the Hertford Art Society Website
Remembrance Sunday - 11th November 2018
Display of paintings in All Saints Church, Hertford

Christian Soldier
- Chris Hewitt

Everyone's voice was suddenly lifted;
And beauty came like the setting sun:
My heart was shaken with tears; and horror Drifted away ...
(Siegfried Sassoon)
- John Jarratt
The Vicar of All Saints Church, Jo Loveridge, asked the Art Society if artists would provide large aisle paintings to commemorate the hundredth anniversary of the signing of the armistice. A chance to paint & display large, dramatic pictures? Well, of course we would.
The result was seven very different images – three were figurative (Chris Hewitt's Christian Soldier, Gillian Harman's scenes from the war in Egypt and Sudan, Geoff Bennett's despondent ploughman); one – John Jarrratt's 'Everyone's voice was suddenly lifted' - was largely textual; and three combined figurative and symbolic images (Janet Dobney's Hertford Lad, a soldier returning to scenes from Hertford, Persis Limbuwala's biplanes flying over text and poppies, Janet Benge's wry reference to WW1 Propaganda).
The overall effect of the seven pictures hanging down the central aisle of All Saints Church gave a varied representation of the Great War. The Vicar felt that these heartfelt images would be very well received during the service. They will remain on display for a further 3 weeks.

In memory of my grandfather William Angus 1884 -1919
In 1917 & 1918 he served in the Royal Army Medical Corps in Egypt as A.D.M.S. (Sanitation), 1st Echelon with the rank of Lieutenant – Colonel. I have a good collection of his photographs from this time, showing rarely seen views of WW1 in the Middle East, and have used some to create my picture. - Gillian Harman

[Left] Untitled - Janet Benge. [Right] Hertford lad - Janet Dobney.

No more the ploughman turns the turf
Exploding shells now churn the earth.
He gathers up their bitter harvest.
And dreams of home.
- Geoff Bennett

"Standing on the ridge it is possible to see what a lot of the country we have taken now."
(from a letter home)
- Persis Limbuwala
Hertford Art Society 21st Members' Show
2th - 4th November 2018
Cowbridge Hall, Cowbridge, Hertford SG14 1PG
We are now in our fourth year of holding the Members' Show at the spacious venue of Cowbridge Hall.
Once again we are previewing the show on the Thursday evening, 1st November from 6.00-8.00pm at our Friends of HAS evening, where artists, family, friends, fans and purchasers can meet over a glass of wine to view the show and perhaps make a purchase.
The members' show runs from 10.00am-6.00pm on Friday and Saturday, 2nd and 3rd November and from 10.00am-4.00pm on Sunday, 4th November. We invite you to drop in for tea or coffee and cake and to enjoy the artwork and the artists' greetings cards, all available for sale.
ADMISSION FREE
Friday November 2nd and Saturday November 3rd: 10am – 6pm
Sunday November 4th: 10am – 4pm
Tea Coffee and Cakes available
21st Members' Art Show & Sale 2018 (pdf) - click here for more details.
The Cowbridge Hall, Cowbridge, Hertford SG14 1PG
Winter Programme 2018 - 2019
From September each year Society Members and visitors enjoy a Programme of talks, critiques, demonstrations and workshops. These sessions are on Tuesday evenings from 7.30pm to 9.30pm at Cowbridge Hall, Cowbridge, Hertford SG14 1PG. Approximately half the evenings in the Winter Programme are for Members to paint or draw either from still life arrangements or a life model. The remaining evenings are taken up with talks, critiques of paintings brought along by Members, demonstrations from a professional artist or workshops. Visitors are welcome to enjoy the non-practical evenings (marked with an asterisk).
Winter Programme 2018-2019 (pdf) - click here for more details
Summer Sketching & Painting Evenings 2018
Phew, what a scorcher!
That expression describes simply the wonderful weather we have experienced for our outdoor sketching evenings this summer, which was in complete contrast to last year's cold and dull Tuesdays. For over 25 years now I have organised the Hertford Art Society's Summer Programme and do not recall better conditions.
For the start of the Art Society's Summer Programme we met around the Port Hill area of Hertford, followed by a Tuesday evening at Dobb's Weir then another at Chapmore End Pond. The weekend at Blakeney in early June was thoroughly enjoyed by those attending with good work produced.
For full report, click here for more details.
Wildlife in Acrylics
Demonstration by David Hyde - 18th September 2018
David Hyde is a self-taught professional artist who lives and works close to the river Great Ouse in St. Ives, Cambridgeshire. He has combined a keen interest in wildlife and bird watching with a life-long passion for painting.
Having worked mainly in watercolour, David has, over time, developed a technique in acrylics to suit his style of portraying wildlife. He works mainly from photographs and had chosen an image of a barn owl against a dark background for his demonstration. He favours MDF board as a support, primed with several layers of Liquitex gesso on both sides and then sanded to a smooth finish as fine brushwork and detail is needed for wildlife painting. (He uses a board cut to the size of his framed painting with the area for painting masked around. The process of adding a mount and framing is thus simplified.) He favours Liquitex Soft Body acrylics as they can be applied thinly, rather like watercolour, without loss of colour. He uses a Liquitex medium to thin the paint and normally paints standing with the work on a tilted board.
For full report, click here for more details.
Visit to Henry Moore Foundation -14th July 2018
A small group of artists from the Society enjoyed an extensive pre-arranged tour of Exhibitions, Studios and Gardens at the Henry Moore Foundation at Perry Green, Much Hadham. Our Guide, Diana Dale, was extremely knowledgeable about the life and times of Henry Moore and gave us an insight into his early life and emergence as a sculptor, his working practices and the themes his work followed throughout his career.

Large Figure in a Shelter 1985-86
The current Exhibition - Out of the Block - displays some of his early carvings alongside later pieces which echo his abiding themes. These are: the reclining figure, mother and child and forms within forms. (This Exhibition runs until October 2018.) There are huge sculptures within the grounds and many in the various studios that we visited - they ranged from a tiny dog (his first effort at sculpture) and grew in size over the years to spectacular forms to walk around in, such as his last sculpture, Large Figure in a Shelter, 1985-86. Depending on location and commission some had to be made at foundries abroad and at home.
For full report, click here for more details.
Summer Painting Weekend
Blakeney, Norfolk - June 8th, 9th and 10th 2018

Work from John Jarratt
The charming coastal village of Blakeney was historically a medieval commercial port transporting spices and oriental cloths, as well as a few smugglers! The estuary today is an amazing landscape of marshes, mud banks and sand hills. It made an ideal venue for the Hertford Art Society annual art weekend.
Malcolm Norris from Lea Valley Art Society joined us on our trip to Blakeney. Inviting other art groups is something we will continue to do in future as it opens up the club to all who are interested in painting outdoors. So feel free to invite others.

Malcolm Norris from Lea Valley Art Society
The members who took part all agreed that Blakeney was ideal for painting, it would have been better if the sun had shone on Friday and Saturday but still it managed to do its job on the Sunday enabling me to produce a pallet knife oil painting of the harbour.

Work from Stephen Lowe
The dining experiences were memorable with an above average Fish & Chip meal on the Friday night in the White Horse followed by a top notch private function at the Blakeney House Boutique B&B. The chef excelled himself and for the second year HAS members gave the Chef a round of applause at the end. Accommodation at the Blakeney Manor Hotel was comfortable and well priced.
Next year we are thinking of discovering Aldeburgh and plan to take in Snape Maltings. Depending on what's on we may go to a concert. This will take place on the first full weekend of June 2019 so please book it in your diary. Members will be advised as soon as details are available. Remember, feel free to bring non painting partners and/or painting friends.
Stephen Lowe
Hertford Art Society 66th Open Exhibition
May 6th to 19th 2018
The style of this Exhibition varies year by year. The selection of work for a place in the Exhibition is made by a panel of four eminent, practising artists who are completely independent of the Society. This year we were delighted to welcome Abel Kestevan, David Sawyer and David Ord-Kerr as judges for 2D work and Jim Brown as the judge for 3D items. The range of expertise and opinion of the judges and the wide variety of work submitted each year, ensures that each show has a unique mix of artworks. This year 145 artists submitted 562 items for consideration. 269 2D works were selected for hanging and these, together with 27 sculptures and 3D items provided visitors with a diverse, colourful and exciting 66th Open Exhibition at Cowbridge Halls.
The exhibits included etchings, lino and screen prints; digital images; oils, acrylics and watercolours; pastel, pencil, charcoal and ink; collage; 3 D works in a variety of materials. A quiz helped to keep children engaged as they searched for elusive entities. There was something for everyone: atmospheric landscapes, townscapes and seascapes, abstracts, figures busily texting, storytelling or on a busy pedestrian crossing., still life images (abundant fruits, flowers, melons and jugs), butterflies, puffins and elephants. Some works were delicate, others rich in colour and boldly executed. Many, this year were in monochrome, ranging from large pen and ink scenes to exquisite life studies in pencil. Additional works were displayed at other venues in Hertford.
Open for an entire fortnight the exhibition attracted many visitors from a wide area. Hundreds of visitors cast their votes for their favourite exhibit - the winner was Storm over NYC by Chris Hewitt. The joint runners up were The River Beane, Hartham Common by Fiona White and 42nd and Lexington by Michael Lawrence.
Thanks go to all the people who contributed in making this, the 66th Open Exhibition, such a success - it was another exciting and popular show.
Award Winners
The John Goss Prize for the painting the judges considered best in show - 'Punk Portrait', William Carney.
The Lady Laming Award for Abstract Art - 'Still Life', Brian Innes.
The Bill Dale Award is chosen from works by Members who regularly support the whole of the Society's activities - 'Blue Storyteller', Marianne Dorn.
The Mayor's Award for the best 3D work sponsored by The Arts Society East Herts - Crouching Hare', Anne Gascoigne. Commendations were awarded to Kathy Burman for "Labyrinth Echo" and to Maria-Luisa Wilkings for "TheScrum".
The Edward Mason Brushes Award for the best watercolour - 'Vaporetto Venice', Andy Lee.
Visitors' Choice Award - 'Storm over NYC", Chris Hewitt. The joint runners up were The River Beane, Hartham Common by Fiona White and 42nd & Lexington by Michael Lawrence.
For full report, click here for more details.
Summer Programme
Every summer following the indoor Winter Programme and the Open Exhibition, Hertford Art Society Members enjoy painting and sketching out of doors on Tuesday evenings at various venues in the Hertford Area.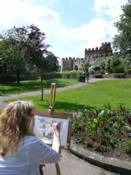 Painting in the grounds of Hertford Castle
Any local artists from the villages or areas to be visited are welcome to come along for the outdoor painting sessions etc. Parish dignitaries or councillors are also invited to join Members socially later.
Self-Portrait Workshop - 24th April 2018
20 or more artists ventured along (somewhat nervously) to this Workshop armed with pencils, paints etc and each with a mirror. Each set up their mini-studio, some with rather smart mirrors on stands, others with small mirrors attached somewhat precariously to the top of an easel with masking tape. After settling in, a hush descended as each of us made tentative marks on canvas or paper in order to start this most challenging of tasks.
We measured, gauged angles, tried out positions and wondered if Rembrandt and Van Gogh ever felt this anxious when face to face with themselves. Some of us stuck to pencil and charcoal, others mixed paint, and fretted about colour and tone as well as whether both eyes were the same size.
For full report, click here for more details.
Artist, Trevor Chamberlain, visits Bengeo Primary School - March 2018
"Good afternoon, Mr Chamberlain!"
This was the chorus of welcome from two classes of 7 - 9 year olds at Bengeo Primary School in mid-March. Headteacher, Mrs J Starkiss had previously contacted me to say that the school had discovered my paintings on the Internet, had used them as visual aids in art lessons, and that it would be fantastic for the children to be able to meet a "real live artist" and to see some pictures first hand.

Left: Arc Welding, Forge in Doncaster. Right: Nagshe-Rostam, Nr. Persepolis, Iran.
After a little "arm-wrestling" I agreed to come to the school and conduct the visit on the basis of a Question & Answer format. I commenced with the pupils sitting on the floor listening to me giving a brief outline of my career. They were fascinated to know that I too attended Bengeo Primary School, albeit when it was located next to Holy Trinity Church and the boys and girls were separated but that was a few years ago now!
For full report, click here for more details.
Rutter-Requiem and Bernstein-Chichester Psalms
All Saint's Church, Hertford - 24th March 2018
The Hertford Art Society has been painting pictures for the Choral Society's Spring concert since 2008 – about 60 pictures and counting. Some years the task has been relatively straight forward: in our first year we went to work on Handel's Creation which was a delight, with 'every living creature that moveth' and Adam & Eve at home in the garden of Eden. 2013 saw Mendelssohn's Elijah which also had some great pictorial opportunities - ravens feeding the prophet; and his subsequent flight to heaven, conveyed in 'a fiery chariot with fiery horses'. Other years the challenge has been much greater – this year for example we have three texts deeply introspective, and with a minimum of landscapes, characters or action to set one's paintbrush alight.

I will fear no evil, for thou art with me; thy rod and thy staff comfort me Requiem Mass

Anthony Parke


He maketh me to lie down in green pastures, He leadeth me beside the still waters. Psalm 23, Chichester Psalms

Brenda Thompson

Thou preparest a table before me in the presence of mine enemies. Thou anointest my head with oil. My cup runneth over. Psalm 23, Chichester Psalms

Geoff Bennett


Awake, psaltery and harp; I will rouse the dawn! Psalm 108, Chichester Psalms

Janet Dobney
We search the libretto for meaning but even the familiar texts are difficult to bottom out: a table is prepared before me in the presence of mine enemies, my head anointed with oil and my cup runs over. The combination is surreal, which suggest one artistic response. Or does one take a literal view and paint a delightful Dutch still life of a table laden with food and drink: but where to put the enemies, let alone the anointing of the head?
I'd like to say we stand back to consider the big themes in a libretto, but more often it is either a moment of drama that catches the eye – let there be light! (The Creation), a rock splits open (St John's Passion), fire mingles with rain (Israel in Egypt); or a telling detail: a little cloud like a man's hand (Elijah), a sullen howl (Dream of Gerontius) or, my all-time favourite, the combine harvester that Persis smuggled into her picture of 'the farmer waits for the precious crop' (German Requiem).

The Lord is my shepherd Psalm 23, Chichester Psalms

Jenny Stratfold


Surely goodness and mercy Shall follow me all the days of my life Psalm 23, Chichester Psalms

John Jarratt

Let eternal light shine upon them, O Lord Requiem Mass

Paul Swinge


Hertford Choral Society

Rehearsal
The collaboration between our two Societies over the last 10 years has been a happy and creative one; we look forward to the next decade of painting difficult texts!
Geoff Bennett
Demonstration by Simon Pemberton - Illustrator and Artist
20th March 2018
Is there a difference between illustration and fine art? Simon Pemberton is an artist whose illustration work has been commissioned by a wide variety of major design, publishing and advertising agencies worldwide. He was born on the Wirral near Liverpool, studied at Central St. Martin's College of Art and now lives and works in London's East End with a studio overlooking London fields. He was much inspired by Andrew Wyeth and landscape figures quite significantly in his work.
Simon originally worked in traditional materials. His grandfather was a commercial artist and Simon initially followed in his footsteps. Having experimented with photography, 3D, welding, printing (in all its forms) he was intrigued when his wife won an Apple Mac in a competition. This provided a new and fascinating direction for Simon as it made the process of creating layered images much quicker and easier than by traditional methods.
For full report, click here for more details.
Workshop with artist, Paul Regan - Using photographs, without copying
13th March 2018
Paul Regan is the founder of Insight School of Art, North London, where he mentors professional practicing artists and teaches painting. His background is in Graphic Design and Illustration.
The hall was set out with three intriguing workstations and began with a short presentation of work by various artists who had used photographs as their starting points. These included David Hockney's photo collages and Tracey Emin's loose figure sketches.
This Workshop focused on using photographs as an inspiration for artworks and not in a literal way.
For full report, click here for more details.
Painting with Pastels - Demonstration by Heather Brown
13th February 2018
Mention Squirrels to most artists and they'll think you're referring to brushes; not so HAS member Heather Brown, whose one time pet, Cyril used to accompany her on country walks safely tucked in her pocket!
Completely self taught, Heather has loved the countryside since childhood when she particularly enjoyed painting trees and sunsets and it was a rural scene she chose for her pastel demonstration.
Working on her favoured cream "Fisher 400"support, she lightly washed over her initial purply darks with water, softening the edges, having previously sketched out her composition in pastel pencil.
For full report, click here for more details.
Still Life Workshop - Tutored workshop with Paul Curtis
10th February 2018
Paul is a professional artist who is based in London and Derbyshire. A Member and regular visitor to Hertford Art Society, he has tutored various workshops, often gives his advice at the monthly critique and has also been a judge at the annual Open Exhibition.
This workshop was well attended and we were greeted by a large and very quirky still life set up which ran the length of the hall. Our first task was to wander around with small paper squares and a pencil in order to observe the items and quickly sketch areas which caught our interest. This exercise encouraged us to look closely at the interaction of the objects on display, the negative spaces between them, and to observe the colours and textures of the items and the fabrics on which they rested. It was a good warm up and, after choosing our favourite sketch, with advice from Paul, we set up to paint or draw a larger version.
As this was an all-day workshop there was time to experiment. Most artists concentrated on one piece but several produced two or more images, perhaps torn between different interesting aspects of the still life set up. Some used watercolours, others acrylics and oils.
For full report, click here for more details.
Birds of Prey - An opportunity to draw and paint three birds of prey presented by Kirsty Allen, Falconer
16th January 2018
We were delighted to welcome back Kirsty Allen of Pennine Falcons, a very experienced and knowledgeable falconry team and breeding project based in the heart of the Pennines. Kirsty and her team offer a range of experiences with birds of prey at various locations. She regularly takes birds across the border into Scotland for exercise and hunting.
For full report, click here for more details.
A talk on Hans Holbein the Younger and a review of the BP Portrait Awards 2014 by Clare Gittings
19th December 2017
Portrait painting is a risky business!
Bad enough that your subject disapproves of your efforts but when several of your sitters have been executed for disagreeing with your boss, it takes things to a whole new level!

Hans Holbein the Younger, self portrait
In Clare Gittings excellent illustrated talk about Hans Holbein the Younger 1497 -1543 (Yes, there was an Elder) the life and times of this incomparable artist were brought to life with familiar and not so familiar images.
The painting of Thomas More for example ( just one of Holbein's sitters who perished at the block ) is one most of us would recognise; less so is this beautiful drawing of one More's daughters Ceciley Heron; a superficially simple study in black and coloured chalks which is so full of life one can imagine she is about to continue in conversation with the viewer after some momentary distraction. The sitter's bodice has been loosened to reveal her yellow kirtle beneath, showing her to be pregnant. The drawing was a preparatory study for a group portrait of More's family.
For full report, click here for more details.
Collage Workshop at Hertford Museum - 15th November 2017
This was the last in a series of Workshops, led by artists from Hertford Art Society, which have run throughout the year in the well-appointed studio at Hertford Museum, 18 Bull Plain, Hertford SG14 1DT. Sara Taylor, Museum Curator, presented some well-known images from 20th Century artists who have used collage in their work. Collage truly emerged as a medium in its own right in the early years of the 20th century with the Cubist experiments of Pablo Picasso and Georges Braque who coined the term Collage (from the French: coller, "to glue). Many artists enjoy working in this medium and examples by David Hockney and Robert Rauchenburg were included in the presentation.
A still life had been set up using items from the Museum's varied collection of artefacts as a source of inspiration. These included a globe and a Tutankhamen bust.
For full report, click here for more details.
Deconstruction / Reconstruction
Workshop with Denise Allen - 7th November 2017
The principle of this workshop involved tearing up old paintings, rearranging and making a new image out of the pieces. The session was led by Denise Allen, an experienced artist who runs workshops and classes in painting with acrylics and watercolours.
Members were asked to bring along two or three paintings which they were prepared to tear up. These could be either watercolour or acrylic, preferably on paper. This was an ideal opportunity to reuse paintings which, for one reason or another, did not quite work out. The best paintings to choose for this are ones that have some structure in them. This could be buildings, people or objects. Also needed was a new piece of paper to work on, pencil or pen, Pritt stick or PVA glue, and painting materials, whatever medium the artist prefers.
For full report, click here for more details.
Art Society Members' Art Show and Sale
27th - 29th October 2017
This was the 20th Members' Show and the third to be held at The Cowbridge Hall in Hertford. It was open over three days from 27-29th October (with a preview on the 26th) and showed work by 64 artists. Twenty two framed works were sold, also 11 unframed and 110 cards.
This is a show which is always a joy to visit, as our visitors regularly tell us. There is such a wide variety of subject matter and painting styles and the standard of work is high. So much to see - so difficult to choose a favourite (the Visitors' Choice voting box held over 225 votes!). The tea stall (offering home made cakes) at the back of the hall was a good place to sit and admire the paintings. There were portraits, like Anthony Parke's masterly 'Edward Lucie-Smith' and Sharon Wright's gentle and delightful portrait of an elderly person, 'Blue'. Glorious landscapes such as Rosemary Tinney's ' Burnham Overy Staithe' with its luminous sky, and Linda Radford's glowing watercolour scenes (she sold out!). Animal paintings, like Malini Croxson's extraordinary red and white zebras, 'Tangled' and Margo Ward's colourful and lively 'Hens in the Snow'. There was finely painted work such as Paul Swinge's 'Goldfinch and Pot' and Christine Flintham's 'Rosehips' and more expressionist work which describes the scene in a few expert brush strokes and colours such as David Quantrill's 'Carlton Marshes'. June Pickard's sculpture 'What on Earth' used an abstract form to describe the many textures and features found on the planet - fascinating: I wish we had more sculptors exhibiting! An unusual entry this year was a 3D miniature train layout with the countryside depicted (by Gillian Harman) in the style and colours of David Hockney, which created a lot of interest. At this stage I have to stop and apologise to all those artists who remain unnamed here. Their work was certainly appreciated.
For full report, click here for more details.
Wildlife Painting in Acrylics
Demonstration by Marie Antoniou, Wildlife Artist - 17th October 2017
Marie Antoniou won the BBC Wildlife Artist of the Year 2013 and has been a finalist or highly commended in recent David Shepherd Wildlife Artist of the Year Exhibitions. She contributes to Artist magazine and runs workshops in Essex and elsewhere. Her unique depictions of wildlife have earned her numerous awards and accolades. She enjoys using acrylics as they allow her to explore traditional subject matter in a more contemporary way.
Marie introduced us to her kit. She uses a large lidded nibbles tray for her paints. This large tray is loaded with her chosen acrylics - 2 blues (Process Cyan and Cerulean), 2 reds (Alizarin Crimson and Cadmium Red), 2 yellows (Cadmium Yellow and Yellow Ocre) plus Burnt Sienna and Phthalo Green. The paint remains usable in this sealed tray for ages, she simply tops it up. Marie mixes colours on a large tear off palette and works with a variety of large flat brushes (both artist quality [Liquitex] and decorating brushes) from 4" to ½" wide. These give the expressive brush strokes which are her signature style.
For full report, click here for more details.
Abstract Art - What is it about?
Talk and Demonstration by Chris Tkacz - 10th October 2017
Chris Tkacz was welcomed and began the session with an illustrated review of Abstract Expressionism, the term applied to forms of abstract art developed by American painters such as Jackson Pollock, Mark Rothko and Willem de Kooning in the 1940s and 1950s. Many of these strange images were ridiculed at the time but have since opened doors in visual art.
The artists of the time drew on the work of previous masters. The world became smaller in the 19th century. Early 20th century artists were influenced strongly by the Impressionists, their lives and struggles. Van Gogh and Cezanne expressed themselves with bold colours and mark-making. Gaugin experienced primitive cultures. Primitive objects such as masks had a great impact on Picasso and his peers. Symbolic, spiritual influences from previously hidden places found a place in their artworks. Cubism emerged. Artists had a new language to explore. Mondrian took his initial tree sketches on a journey, abstracting them by degrees. They were simplistic but significant. Kandinsky, Malevich, Gorky explored in their art the rapidly changing new world, creating images about energy, force, colours, shapes, forms. In Britain, the work of Ben Nicholson, Barbara Hepworth, Peter Lanyon and their contemporaries leaned heavily towards abstraction.
For full report, click here for more details.
Clay Sculpting Workshop at Hertford Museum - 27th September 2017
The third Workshop in the series by Members of the Art Society at Hertford Museum was to make a relief on a tile inspired by an exhibit in the museum. This Workshop was led by June Pickard, Artist and Sculptor.
After the introductory talk on what to look for in the museums artefacts and having been shown examples of what could be done at different levels, the seven members of the public who attended looked around the museum to photograph or sketch items suitable for a relief. On their return the various tools and how they were used were explained.
When they had decided which design they wanted to use the outline was lightly etched onto a flat tile they had made by rolling out and trimming the air drying clay. Once this was done the serious work began by adding small pieces of clay to produce a raised image.
For full report, click here for more details.
Summer Programme Review 2017
Each summer Hertford Art Society Members enjoy painting and sketching out of doors on Tuesday evenings at various venues in the Hertford Area.
For full report, click here for more details.
Saturday Life Workshops
Hertford Art Society runs Life Workshops in Cowbridge Halls, Hertford on the last Saturday of 9 months during the year. Although these are primarily run for members we welcome enthusiastic visitors at £14.50 per session, this includes coffee, tea and biscuits, available all day.
The sessions are untutored and last from 10.00am – 4.00pm with a break of 1hr at lunchtime. We work in in all mediums including prep work for sculpture. Bring whatever medium and equipment you require with you. These photographs are from a recent workshop and illustrate the exciting variety of work produced by the artists.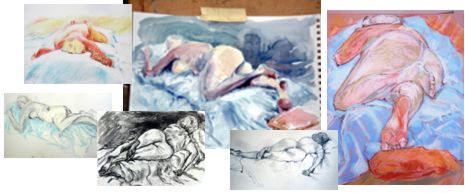 We are a very enthusiastic and relaxed group of artists and welcome looking at each, others' work (the best way to improve). Even so, we try to keep the working area reasonably quiet. There are normally 2 models unless the group is small, when there is only one. We do not have a set programme of poses, but usually include short poses, mostly in the morning and longer poses for artists who wish to produce a more finished piece of work.
Workshops take place on the last Saturday of the month for nine months of the year. They do not take place in April, August and December due to the annual Open Exhibition and holiday periods.
Life Models Workshops within HAS Winter Programme for 2018 - 2019
Saturday - 29th September 2018
Saturday - 27th October 2018
Saturday - 24th November 2018
Saturday - 26th January 2019
Saturday - 23rd February 2019
Saturday - 30th March 2019
Saturday - 25th May 2019
Saturday - 29th June 2019
Saturday - 27th July 2019
If you are interested please contact workshops@hertfordartsociety.co.uk for further details.
Society's aim
The Society's aim is to encourage interest in the visual arts and to provide opportunities to practice, study and exhibit art in Hertford and the surrounding area.
It is well regarded for the high standard of artworks on display at the annual Open Exhibition. Submissions are received from across Hertfordshire as well as other parts of the country.
Members work in a range of media and styles from traditional painting in oils, pastel, watercolours and acrylics to printmaking, collage, multi-media and digital – computer based imagery. Three dimensional work in wood, clay, stone and metal is also well represented.
This diversity and an approach to art which values traditional skills alongside contemporary art forms combine to make Hertford Art Society a leading light in the local art world.